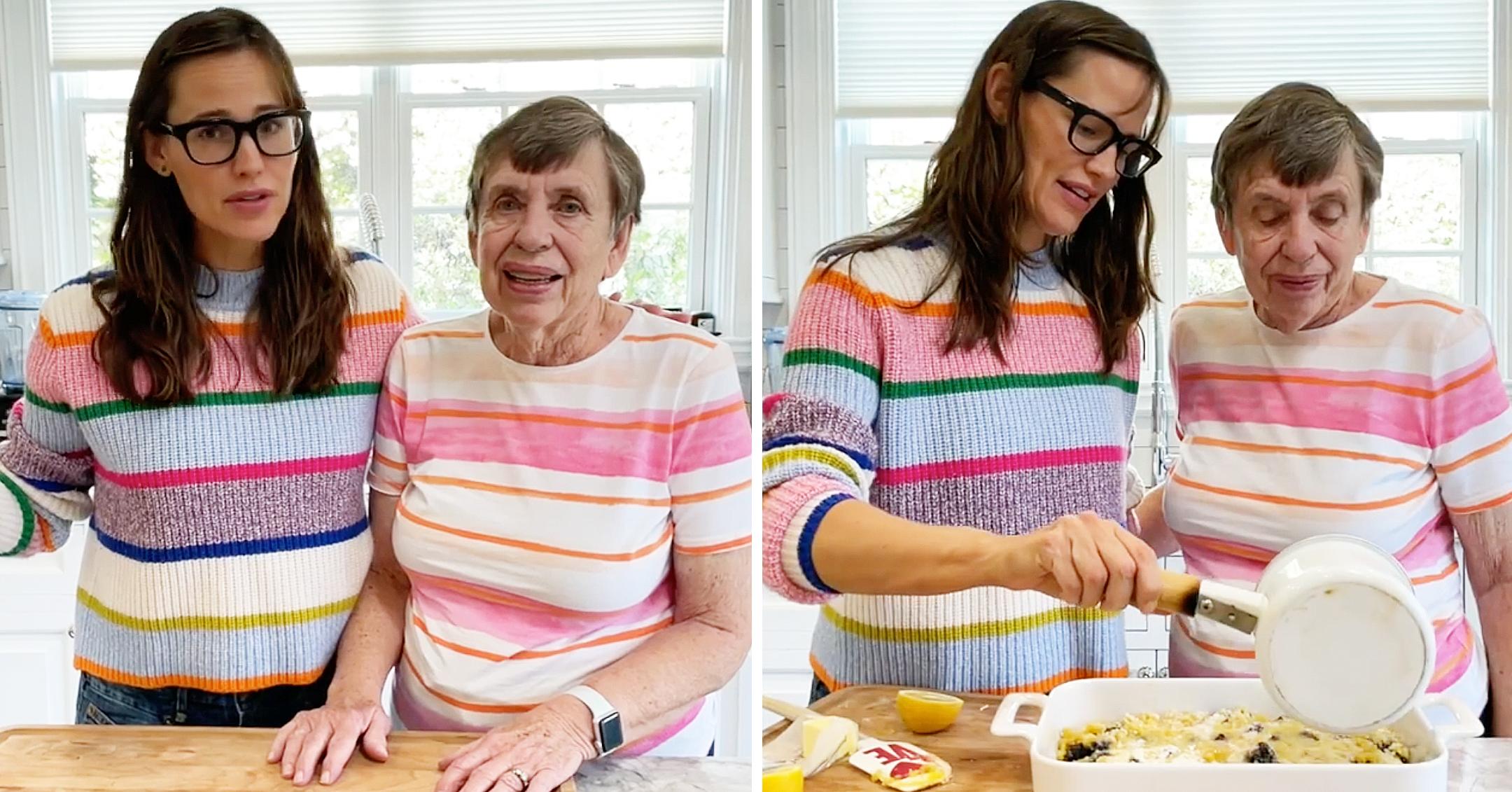 Watch: Jennifer Garner & Her Mom Insist This Bubbling Blackberry Cobbler Recipe Will Have You 'Eating Dessert First'
Jennifer Garner is back with another episode of the #PretendingCookingShow, and this time around, she was joined in the kitchen by her mom, Patricia!
Article continues below advertisement
The duo filmed a video while they whipped up blackberry cobbler, using a recipe from "Mrs. Lantz," a woman the Alias star referred to as her "bonus mom."
"My mom says you'll have everyone at the potluck eating dessert first with this summer staple," shared the actress.
To whip up the treat yourself, you'll need the following:
4 cups blackberries
1 cup sugar
1 cup AP flour
1/4 tsp. salt
1 egg
1/4 tsp. almond extract
1 Tbsp. lemon juice
6 Tbsp. butter
Article continues below advertisement
First, prepare a 9x6 baking dish and preheat the oven to 425 degrees.
"Rinse blackberries and plop them in the dish. Mom doesn't care if you dry them," Garner quipped. Then drizzle the lemon juice and almond extract over the blackberries.
Article continues below advertisement
The next step is to mix together the sugar, flour, salt and egg in a separate bowl, a mixture that will come out "chunky."
"Remember when you taught me how to crack eggs one-handed?" the mom-of-three asked Pat, to which she responded, "I didn't teach you that, you learned that on your own. I still can't do that."
The pair then followed the rest of the directions:
Spread the mixture evenly over the blackberries
Melt butter and drizzle over top of everything
Bake for 25 minutes — until golden and bubbling
Article continues below advertisement
After time is up, Garner takes the cobbler out of the oven, to which her mom declared, "Oh, perfect! Perfect!"
The Neutrogena ambassador suggests serving the treat with "vanilla ice cream for the dreamiest outcome," which she does herself as she digs into her bowl.
Article continues below advertisement
"Delicious!!! I'm making this!❤️," Oscar winner Viola Davis shared in the comments section, while Katie Couric wrote, "Yummmmmmmmm❤️."
The Yes Day star began her Pretend Cooking Show series last year, and it turned out to be a hit with fans.
"Cooking connects me to my family because my mom was such a steady, solid, really great cook. Whenever I smell a roast chicken or fresh bread baking or my neighbor Marge's gingersnaps in the oven, it connects me to my childhood," she told Good Morning America. "And I feel like I'm passing that on, and that comfort and coziness, as much as I can to my kids, as well as an expectation that they will grow up and they know what healthy food is."