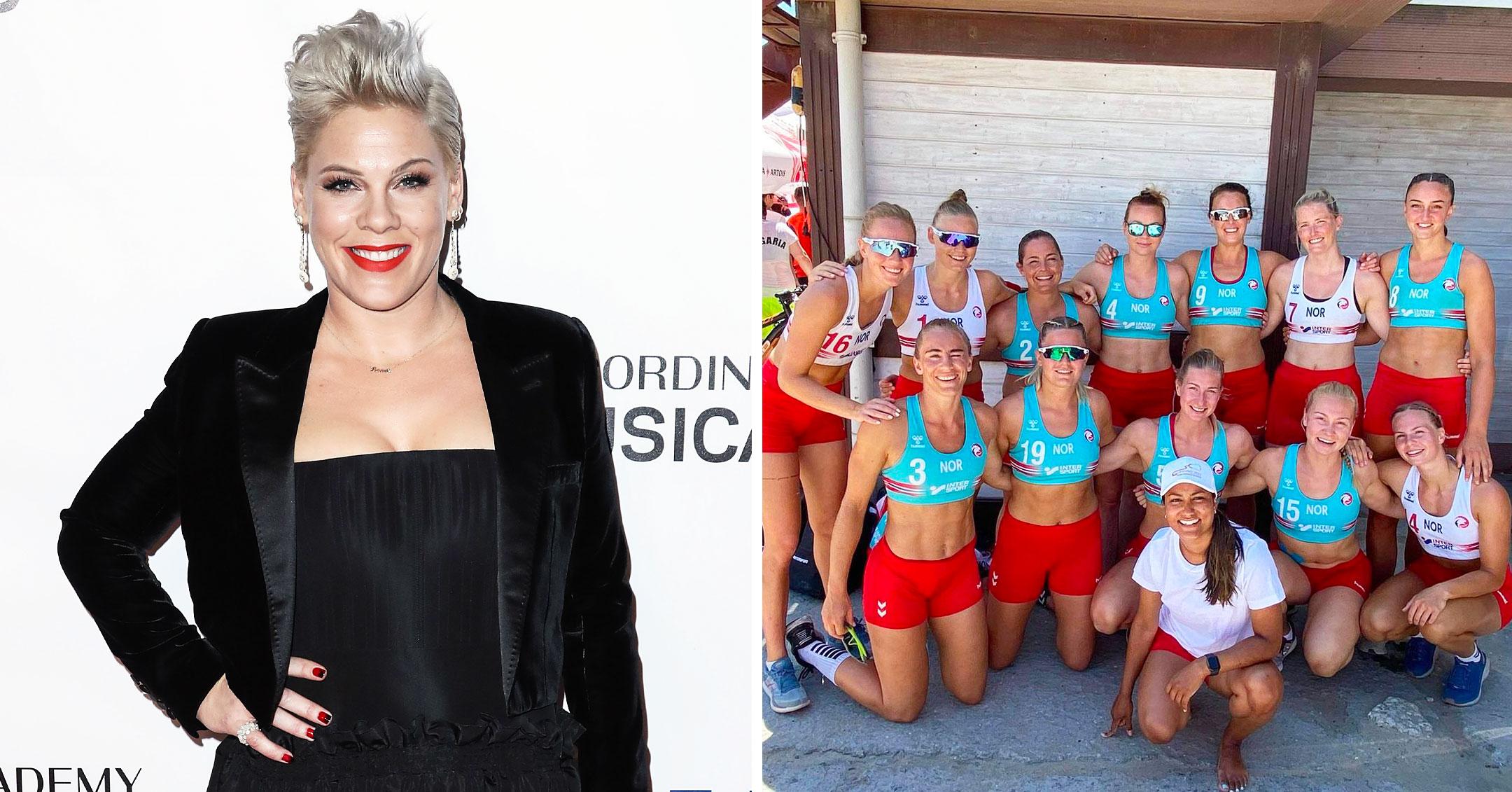 Pink Declares She's 'Very Proud' Of The Norwegian Women's Handball Team For Not Giving Into 'Sexist' Uniform Rules
Women supporting women!
Last week, the Norwegian Women's Handball Team was fined around 1,500 euros ($1,700 USD) because they violated the dress code by wearing shorts instead of the mandated bikini bottoms.
Article continues below advertisement
Many thought the rules were sexist since men are allowed to wear shorts, and singer Pink made it clear that she approved of the ladies taking a stand.
"I'm VERY proud of the Norwegian female beach handball team FOR PROTESTING THE VERY SEXIST RULES ABOUT THEIR 'uniform.' The European handball federation SHOULD BE FINED FOR SEXISM," she tweeted. "Good on ya, ladies. I'll be happy to pay your fines for you. Keep it up."
Article continues below advertisement
The team was ecstatic to receive the unexpected response, which currently has over 100,000 likes.
"Wow!" their Twitter page commented to the singer. "Thank you so much for the support."
Article continues below advertisement
Article continues below advertisement
The team's decision to wear shorts came at the eleventh hour. "It was very spontaneous," player Katinka Haltvik revealed. "We thought, 'Let's just do it now, and then see what happens.'"
The response they received has been overwhelmingly positive.
"We are very proud of these girls who are at the European Championships in beach handball. They raised their voice and told us that enough is enough," Norway's Handball Federation stated. "We are the Norwegian Handball Federation and we stand behind you and support you. We will continue to fight to change the international regulations for attire so that players can play in the clothing they are comfortable with."
Article continues below advertisement
Aside from uniform discrepancies, female athletes around the globe have also been publicizing their fight for equal pay.
Last month, the topic was at the center of HBO Max's documentary, LFG, which explained how despite their Olympic wins, the U.S. Women's soccer team is paid much less than the men's team.
Tennis superstar Venus Williams also wrote an essay about the gender wage gap, where she pointed to a study that claimed it would take 275 years to close.