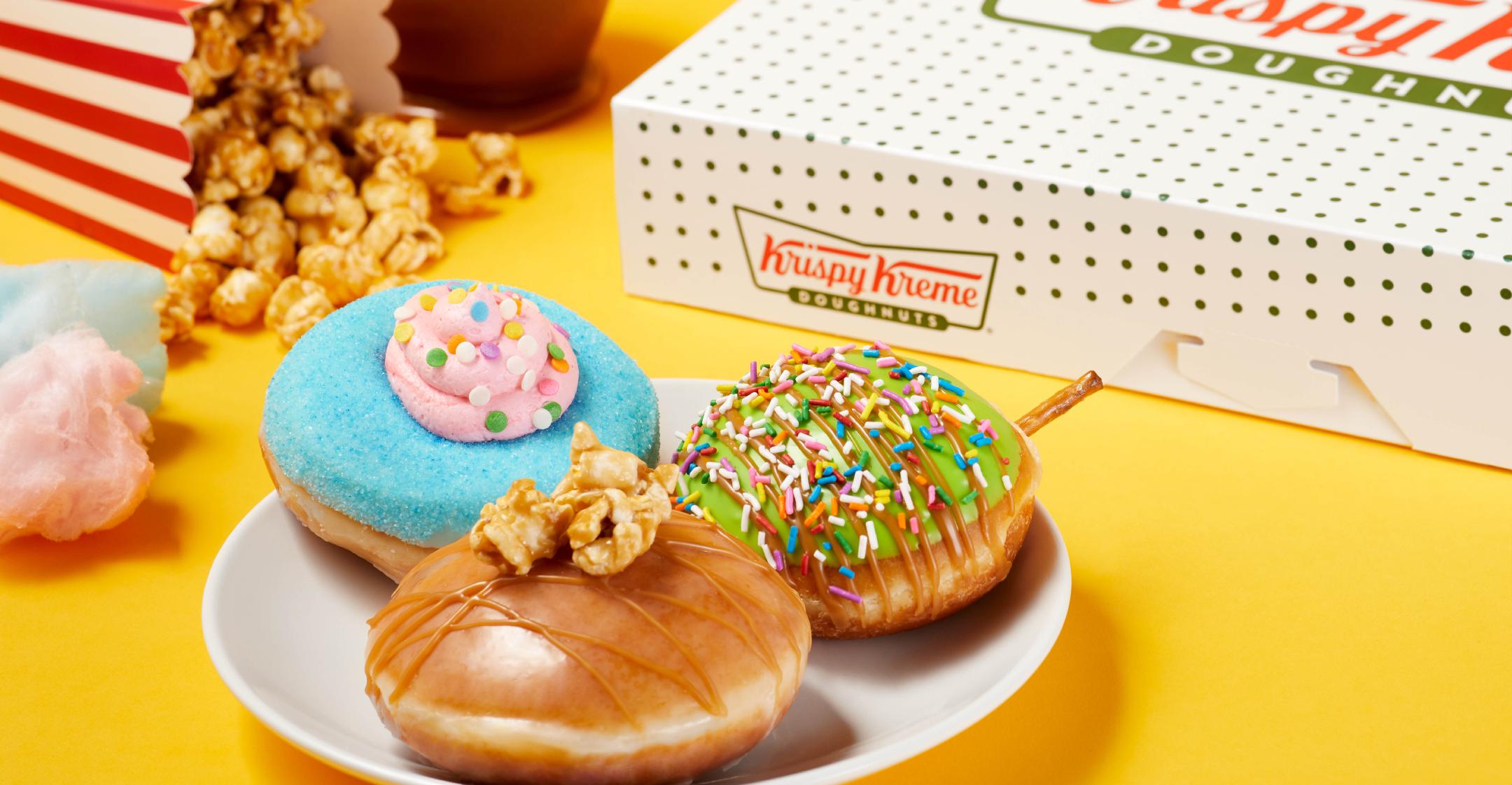 Krispy Kreme's New Carnival-Themed Doughnuts Are The Sweet & Salty Treats Of Your Dreams
Krispy Kreme is the gift that keeps on giving!
The eatery has just announced the release of their new carnival-themed collection, which consists of three limited-edition flavors.
Article continues below advertisement
First up is the Caramel Apple Doughnut, which is stuffed with Caramel Apple Kreme and topped with green apple icing, caramel drizzle, rainbow sprinkles and a pretzel stick that mimics an apple stem.
Next is the Caramel Popcorn Doughnut, a treat filled with Caramel Popcorn Kreme, covered in caramel drizzle and adorned with a few pieces of actual caramel popcorn.
Article continues below advertisement
Rounding out the trio is a carnival staple: cotton candy! The colorful concoction features an original glazed doughnut that's dipped in blue cotton candy flavored icing and then topped with real cotton candy sugar, pink buttercream and confetti sprinkles.
Article continues below advertisement
"Carnivals are a summertime tradition and whether yours has returned or not after a year off, you can get a taste of your favorite fair flavors with these delicious new doughnuts," shared Dave Skena, Chief Marketing Officer for Krispy Kreme.
You can buy the treats individually or buy a carnival 12-pack, which will give you four of each flavor. The new collection is available at participating locations until August 8.
Article continues below advertisement
If you aren't able to get to you local shop in time, you can still try plenty of other options Krispy Kreme has to offer. And if you're vaccinated, you can show your card to receive a free original glazed doughnut every single day this year!
"We all want to get COVID-19 behind us as fast as possible and we want to support everyone doing their part to make the country safe by getting vaccinated as soon as the vaccine is available to them," Skena explained of the deal.
To encourage the vaccination process, the company offered their employees paid time-off to schedule their appointment.
"Providing free Original Glazed doughnuts to those who get vaccinated is just another gesture that we hope sweetens people's lives as the country accelerates to put this virus behind us," stated the brand.
Find your nearest location by visiting Krispy Kreme's website.