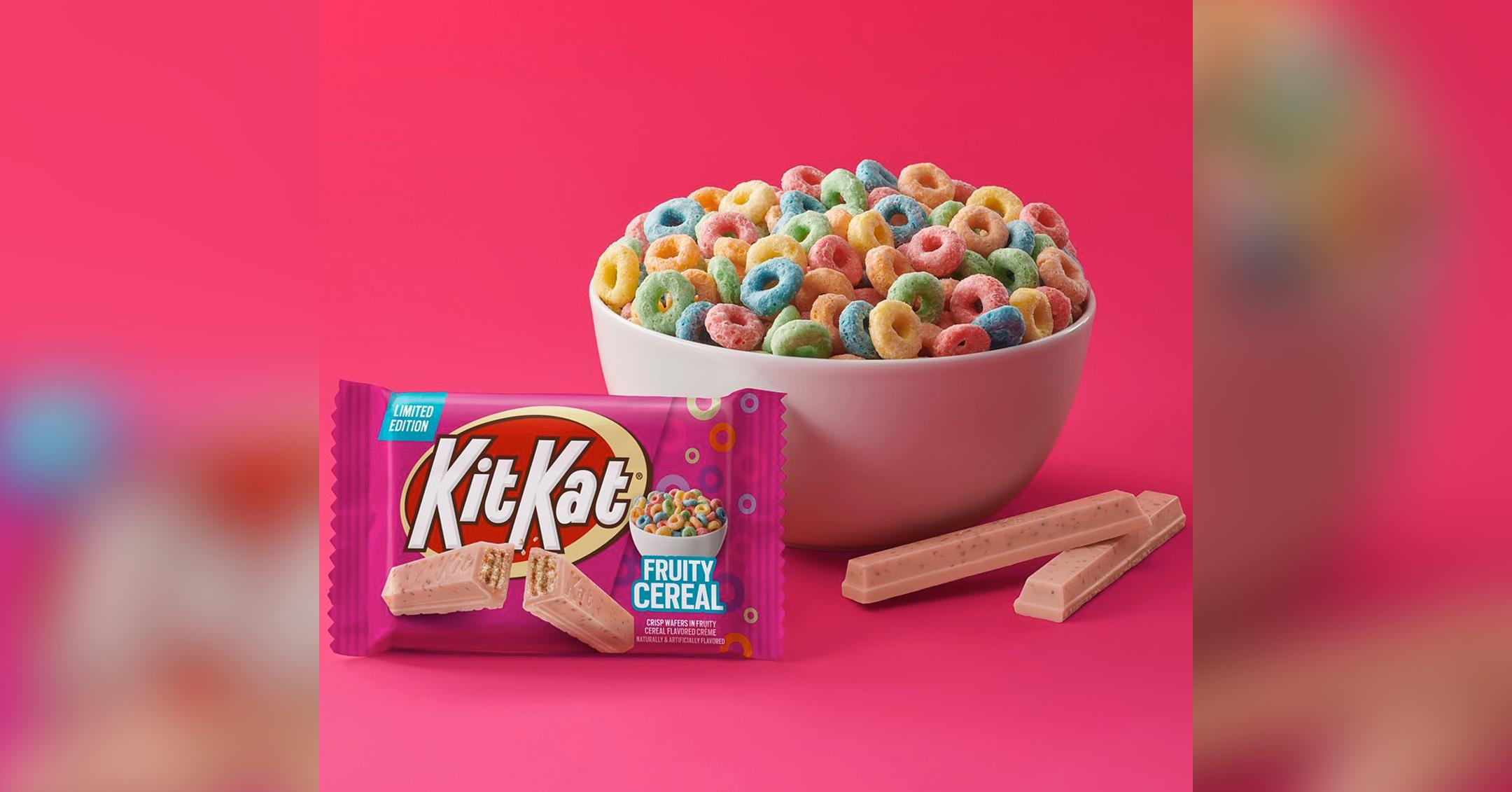 Candy For Breakfast, Anyone? Kit Kat Unveils Limited-Edition Fruity Cereal Flavor
One of your favorite breakfasts as a child is now available in Kit Kat form!
"Cereal just got an upgrade," an announcement on the brand's Instagram page read. "Break into NEW KIT KAT®️ Fruity Cereal bars for a limited time."
Article continues below advertisement
The treat features the classic crunchy wafers, but instead of milk chocolate, these bad boys are covered in fruity cereal-flavored crème. The cereal — which judging by the candy's packaging, is based on Fruit Loops — features a rainbow of colors, which seems to have turned the crème into a pretty pale pink color.
While we've yet to get our hands on the 1.5-ounce limited-edition candy, an editor over at Delish gave a positive review after a taste test.
"When you bite into the new Kit Kat you get that familiar crunch from the wafer but then get hit with a creamy, subtly fruity taste," they wrote. "It reminds me of the delight you feel when drinking all of the leftover milk after you finish the cereal. Basically, it hits the nail on the head when it comes to flavor."
Article continues below advertisement
Fruity Cereal is just of the fresh varieties Kit Kat has unveiled in 2021.
In March, they announced the Key Lime Pie flavor, which they called a "sweet and tangy treat." Prior to that, they brought the candy into their Thins line, turning the classic chocolates into reduced-calorie individually-wrapped portions.
Article continues below advertisement
Other new flavors include Apple Pie, Pumpkin Pie and Birthday Cake — the latter of which featured white crème and colorful sprinkles.
In addition, the brand expanded their new-founded Duos line with the Mocha + Chocolate edition, which combines the essences of mocha, chocolate and coffee.
"The expanding DUOS line is special because we can explore both flavor innovation and flavor pairings," shared Amy Minderman, senior manager KIT KAT® brand. "Consumers clamor for the latest and greatest from the KIT KAT® brand and we believe our newest star will not disappoint; with real coffee bits wrapped in a mocha flavored creme surrounding the undeniable KIT KAT® wafer, what's not to love."
Stay tuned for more fun flavors!