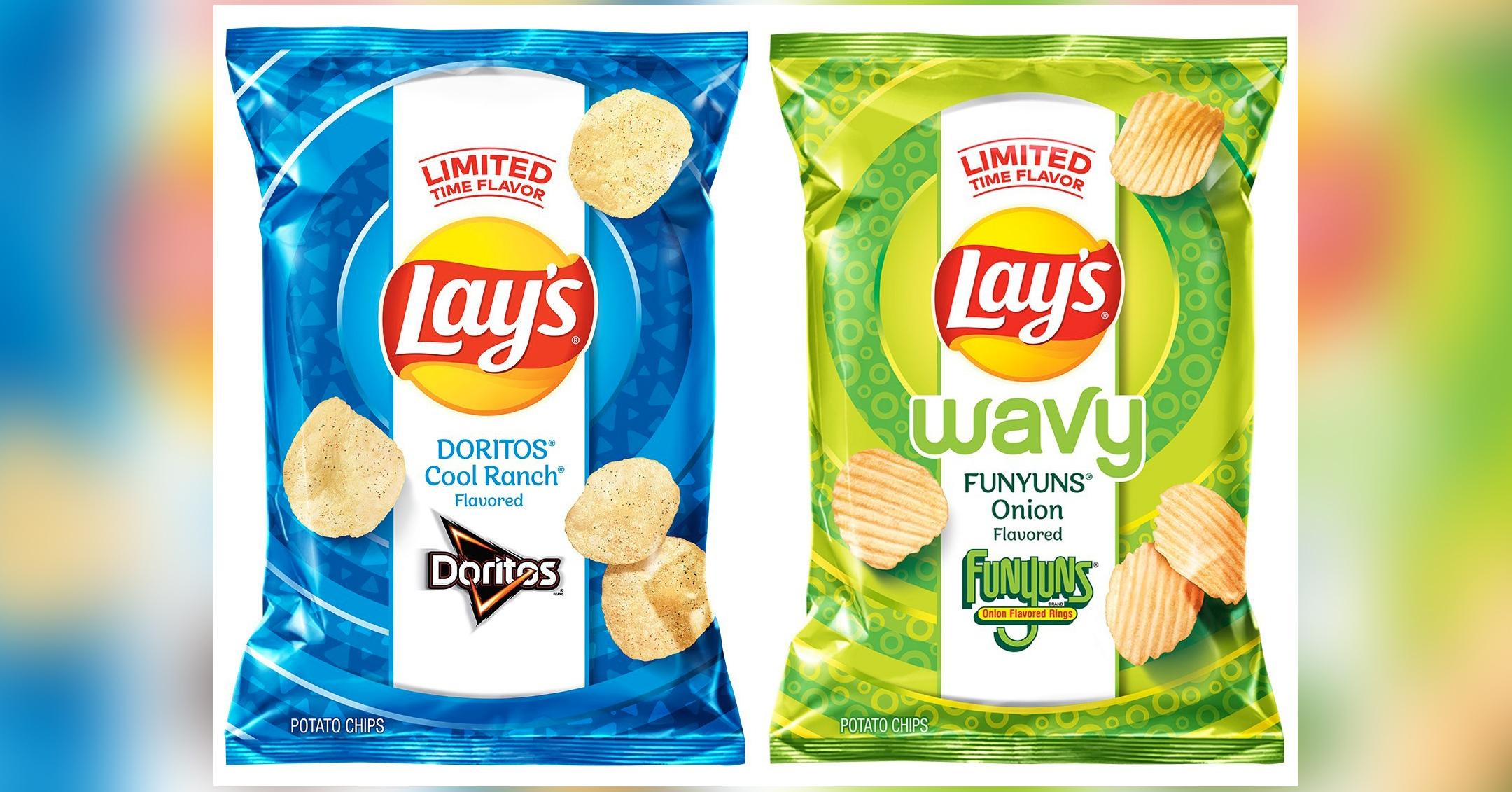 You Can Now Buy Potato Chips That Taste Like Cool Ranch Doritos Or Funyuns Thanks To Lay's New 'Flavor Swap' Collection
So much for our summer diet!
Lay's is changing the game by combining popular salty snacks with their classic potato chips. The result is two limited-edition flavors: Lay's Doritos Cool Ranch and Lay's Wavy Funyuns Onion.
Article continues below advertisement
"Ever wondered what Doritos Cool Ranch flavor would taste like on Lay's chips?" the description for the first variety reads. "Saddle up, because Lay's put this beloved Doritos flavor on its iconic potato chips."
The blue bag features both logos and offers a peek at the chips, which look like Lay's original chips sprinkled with lots of seasoning.
The second mash-up asks, "Who said you needed rings to have fun? Get the flavor of Funyuns rings now on Lay's Wavy potato chips." That bag comes in a lime green color and shows the ridges in the chips, making them ideal for dipping.
Article continues below advertisement
"From local cuisine to restaurant favorites to fan-submitted flavor ideas, Lay's has drawn inspiration from so many different places over the years to bring our fans joy through new and exciting flavor experiences," revealed Melissa Miranda, senior director of marketing, Frito-Lay North America. "This time, we've partnered with two beloved Frito-Lay brands to give our fans an innovative, one-of-a-kind flavor experience like no other chip brand can do. We can't wait for people to try these new Lay's Flavor Swap flavors for themselves."
Article continues below advertisement
The brand teased the collab on Instagram by declaring, "Y'all. Aren't. Ready."
The new snacks will be released in grocery stores sometime this month and are available in two sizes, which retail for $3.79 and $1.99.
The announcement comes more than a year after Frito-Lay combined popcorn with the flavoring of regular and Flamin' Hot Cheetos.
"We've seen the way Cheetos lovers don their red- and orange-dusted fingers like a badge of honor, and we're always looking for ways to help them step up their snacking game," Brandi Ray, senior director of marketing, Frito-Lay North America, said at the time. "The only way to truly take popcorn to the next level is to add the iconic Cheetle, the cheesy dust that will entice Cheetos fans to snack on this popcorn all year long."