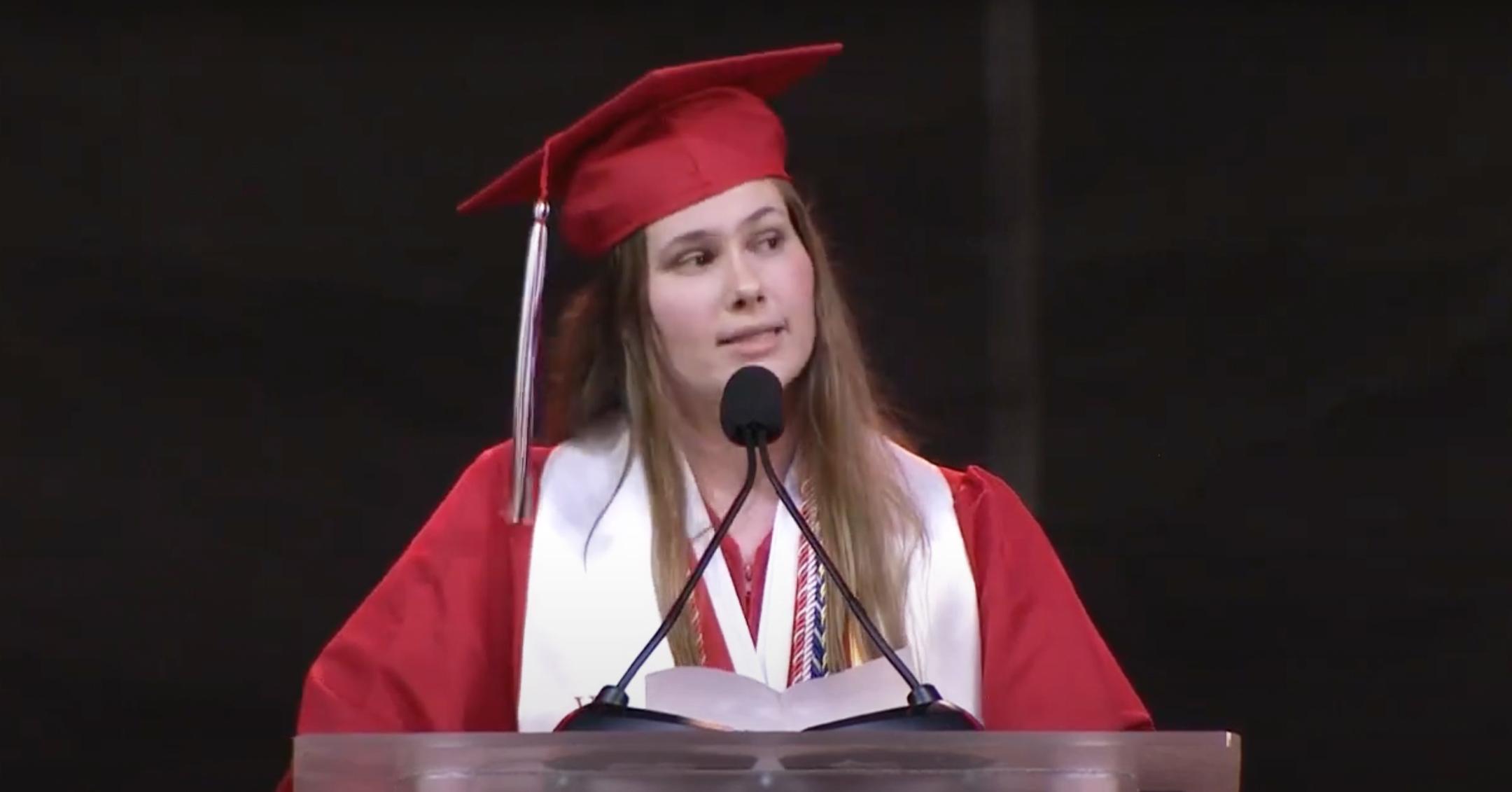 Raising Her Voice! Dallas Valedictorian Slams Texas' Strict New Abortion Law In Viral Graduation Speech — Watch
Aside from receiving a diploma, one of the most important parts of a high school graduation ceremony is undoubtedly the valedictorian's speech. And since Dallas student Paxton Smith knew she would have everyone's attention when she stood at the podium, she took the time allotted for her to address Texas' new abortion law.
Article continues below advertisement
After thanking her "coach," she revealed that originally, she was going to talk about "TV and media and content" since it's something "very important" to her.
However, after the state passed the "heartbeat bill" — which bans all abortions from as early as six weeks on — she felt the need to revise her message so her voice could be heard.
The Lake Highlands student began by pointing out that the new bill even applies to pregnancies that resulted from rape or incest.
Just as important to note is the fact that the majority of women don't realize they're pregnant by 6 weeks, "so before they have a chance to decide if they are emotionally, physically and financially stable enough to carry out a full-term pregnancy, before they have the chance to decide if they can take on the responsibility of bringing another human being into the world, that decision is made for them by a stranger," she explained.
Article continues below advertisement
"I have dreams, hopes and ambitions. Every girl graduating today does," Smith continued. "We have spent our entire lives working towards our futures, and without our input and consent, our control over that future has been stripped away from us."
Article continues below advertisement
"I am terrified that if my contraceptives fail, I am terrified that if I am raped, then my hopes and aspirations and dreams and efforts for my future will no longer matter," she admitted. "I hope you can feel how gut-wrenching that is. I hope you can feel how dehumanizing it is to have the autonomy over your own body taken away from you."
Smith received a round of applause before she finished sharing her message.
"On a day where we're all gathered together, on a day where you are most inclined to listen to a voice like mine, a woman's voice, to tell you that this is a problem. A problem that cannot wait," she insisted. "I cannot give up this platform to promote complacency and peace, when there is a war on my body and a war on my rights. A war on the rights of your mothers, a war on the rights of your sisters, a war on the rights of your daughters. We cannot stay silent."
Paxton concluded by thanking the crowd, and as she made her way back to her seat, she was greeted by roaring applause, with a few faculty members even giving her a standing ovation.