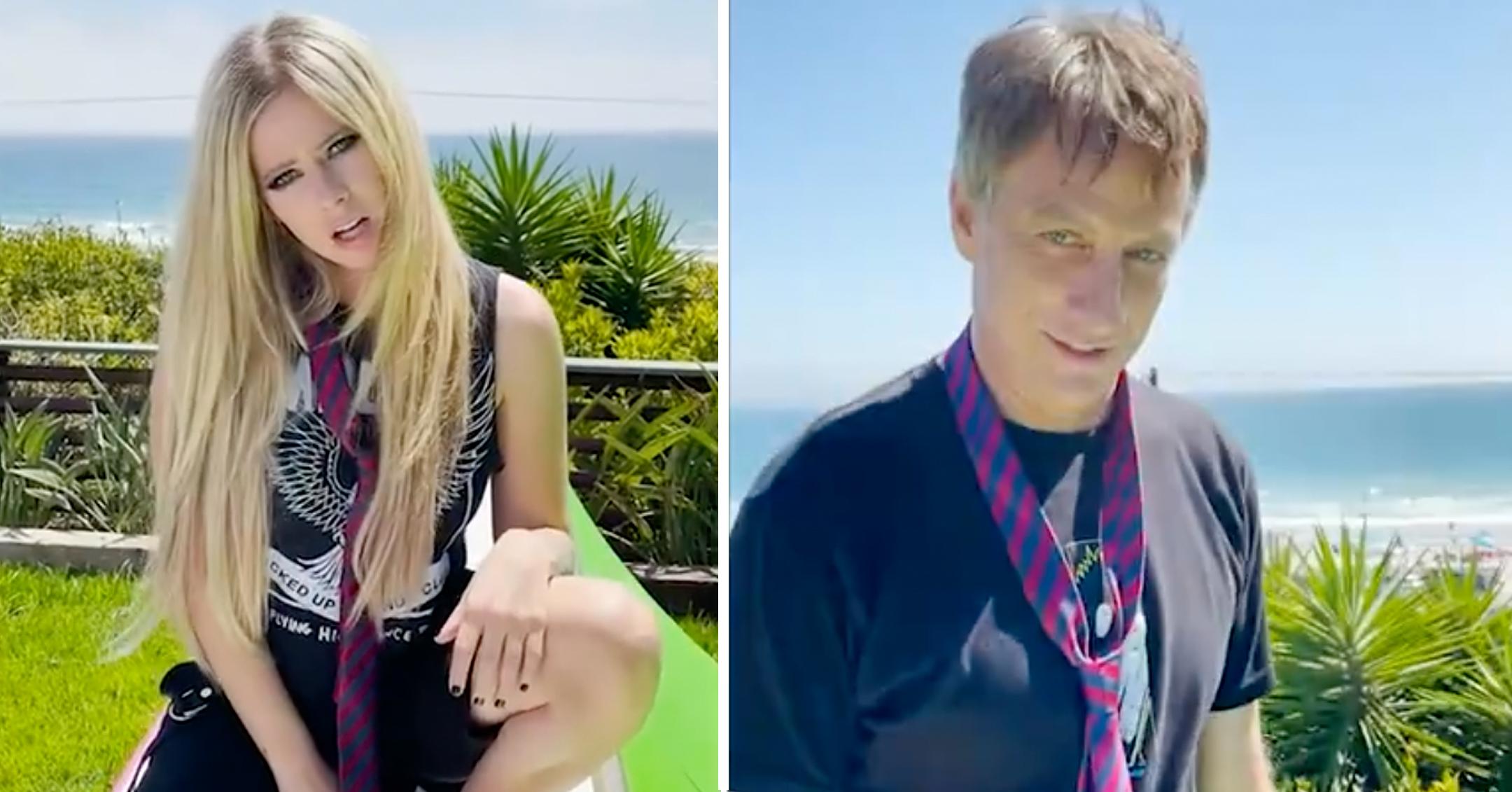 A Rad Debut! Avril Lavigne's First TikTok Post Features Her Hit 'Sk8r Boi' & A Few Half-Pipe Tricks From Tony Hawk
The collab we never knew we need! On June 21, Avril Lavigne shared her first-ever TikTok, and though fans went nuts to see her back in her punk-like attire while lip-synching to her hit "Sk8r Boi," it was an unexpected cameo that really sent everyone into overdrive.
Article continues below advertisement
The clip starts off with the crooner mouthing along the words, and honestly, she hasn't aged a day!
At the end of the verse, the camera zooms in on her signature necktie, and as it zooms back out, the scene shifts to none other than skateboard legend Tony Hawk, wearing the same tie and all.
Article continues below advertisement
The "Complicated" crooner has stepped back from the spotlight over the past few years, so she was flattered to find out that so many people were loving the TikTok post.
"OMG I can't believe we hit 15 MILLION views and 1.1 MILLION followers in 24 hours!!" she exclaimed. "Thank you for all of the love so far."
Article continues below advertisement
Hawk then posted a video on his Instagram where he taught Lavigne how to skate. On her first try, she fell pretty quickly, but her second go was a success!
"Breaking news: Sk8er Boi singer learns skating move from old Sk8er Man," the professional quipped.
Article continues below advertisement
"Thanks for teaching me to drop in Sk8er Man 🤘🏻🛹🔥 legend," she commented on the Instagram.
Fans will soon start seeing much more of the Canadian star, as she revealed in February that she had just completed a new album, which she promised will be out this summer.
Just last week, she was seen sporting her classic punk attire while filming a music video for a track on Willow Smith's upcoming disc. The new tunes will be a different genre for the latter, as she previously stuck to an alternative, R&B sound.
"I wanted to open myself up a little bit more and not just be so anti-social in the studio. I'm so excited that I'm going to be having a song on the album with Avril Lavigne. She is so iconic. From [ages] 13 to 16, she was my idol," the "Whip My Hair" singer gushed. "It's really nice to be able to have a quintessential pop-punk record with the pop-punk queen."