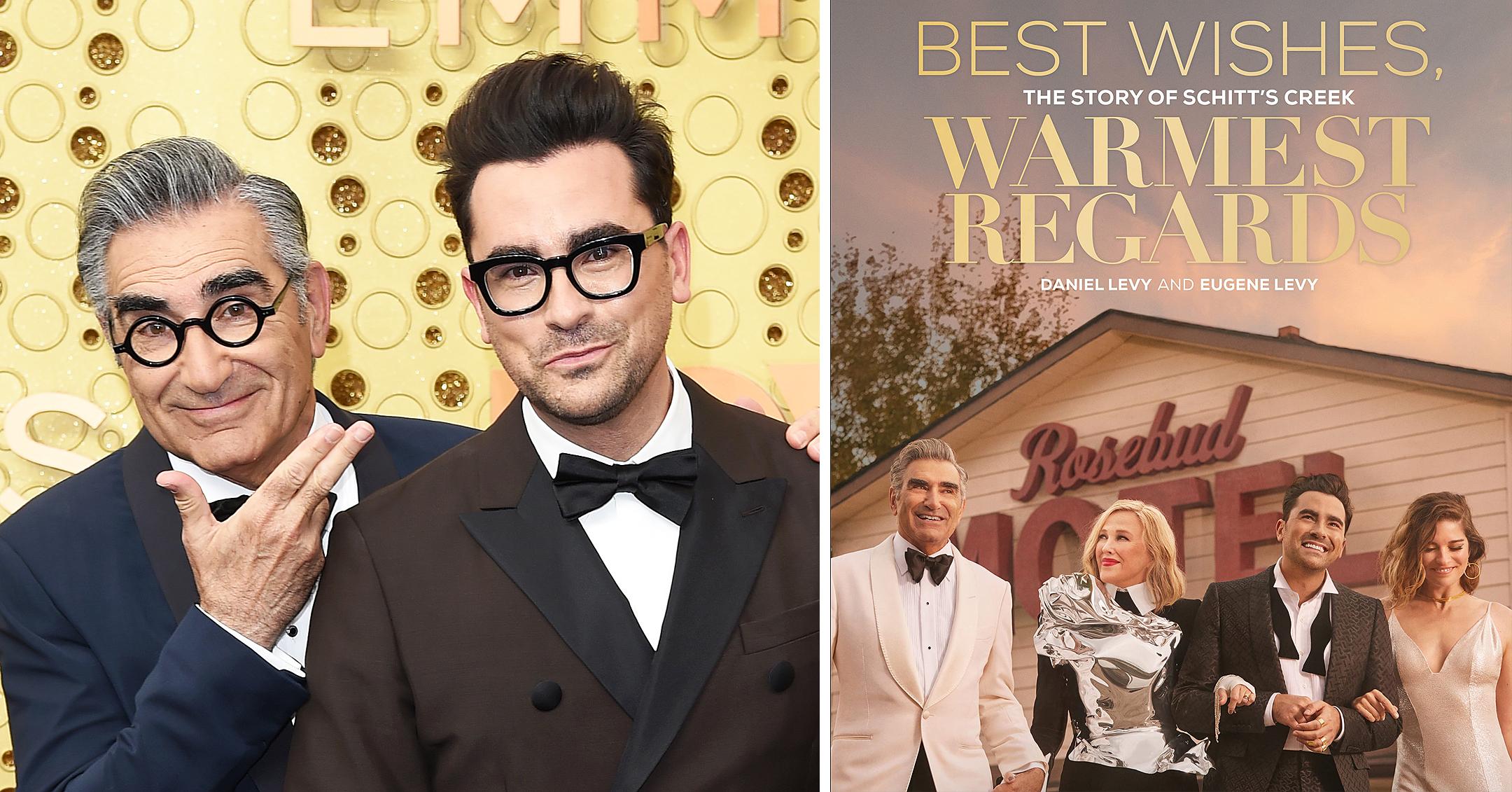 Eugene & Dan Levy's Upcoming 'Schitt's Creek' Coffee-Table Book Is Sure To Be A Bestseller — Get The Details!
Don't say goodbye to the Rose family just yet.
While Schitt's Creek wrapped up its sixth and final season last year, show producers and real life father-son duo Eugene and Dan Levy are releasing a coffee-table book about the series!
Article continues below advertisement
Titled Best Wishes, Warmest Regards: The Story of Schitt's Creek, Entertainment Weekly revealed the 368-paged work — which releases on October 26 — will feature character profiles and act as highlight reel from some of the comedy's most iconic scenes, like the local Cabaret production put on by Moria (Catherine O'Hara) and the first kiss shared between David (Dan Levy) and future husband Patrick (Noah Reid).
"Spent the better part of the last year and a half putting this book together. We really wanted it to feel like a thoughtful celebration of the time we had," Dan revealed on Twitter. "I'm now a tired shell of myself but apparently you can pre-order it today which is fun/worth it!"
Article continues below advertisement
Fans will also be elated to know that the book will have countless pages dedicated to the show's quirky fashion, from David's various sweaters to Moria's endless collection of wigs.
Other sections include a map of the fictional Schitt's Creek town, a "lexicon" of the matriarch's hilarious slang, behind-the-scenes stories and a breakdown of Alexis' (Annie Murphy) celebrity encounters.
Article continues below advertisement
"What a treat for acquiring BDL publishing director Becky Koh and the rest of the team to get an up-close-and-personal peek into Dan and Eugene Levy's singular creative vision," Black Dog & Leventhal's publisher Kristin Kiser told EW. "Best Wishes, Warmest Regards will feature all the heart and humor, sweaters and wigs, and magnificent bon mots that have made Schitt's Creek such a beloved and award-winning show."
Article continues below advertisement
While plenty of the show's stars like Sarah Levy and Murphy have declared that they would gladly return to their roles if the cast and crew decided to continue the story with a movie, the discussion is still up in the air.
"I don't think there's a single person on our team, cast or crew, that wouldn't want to come back for a movie," Dan shared last year. "At the same time, I think the success of the show really was tied so closely to the care that was put into it and the quality that was put into it."
"If I can come up with an idea that I think builds on what we've already done in a way that feels good and exciting and new and fresh and challenges our actors, then great," he noted. "I go to sleep willing that idea to come to me."