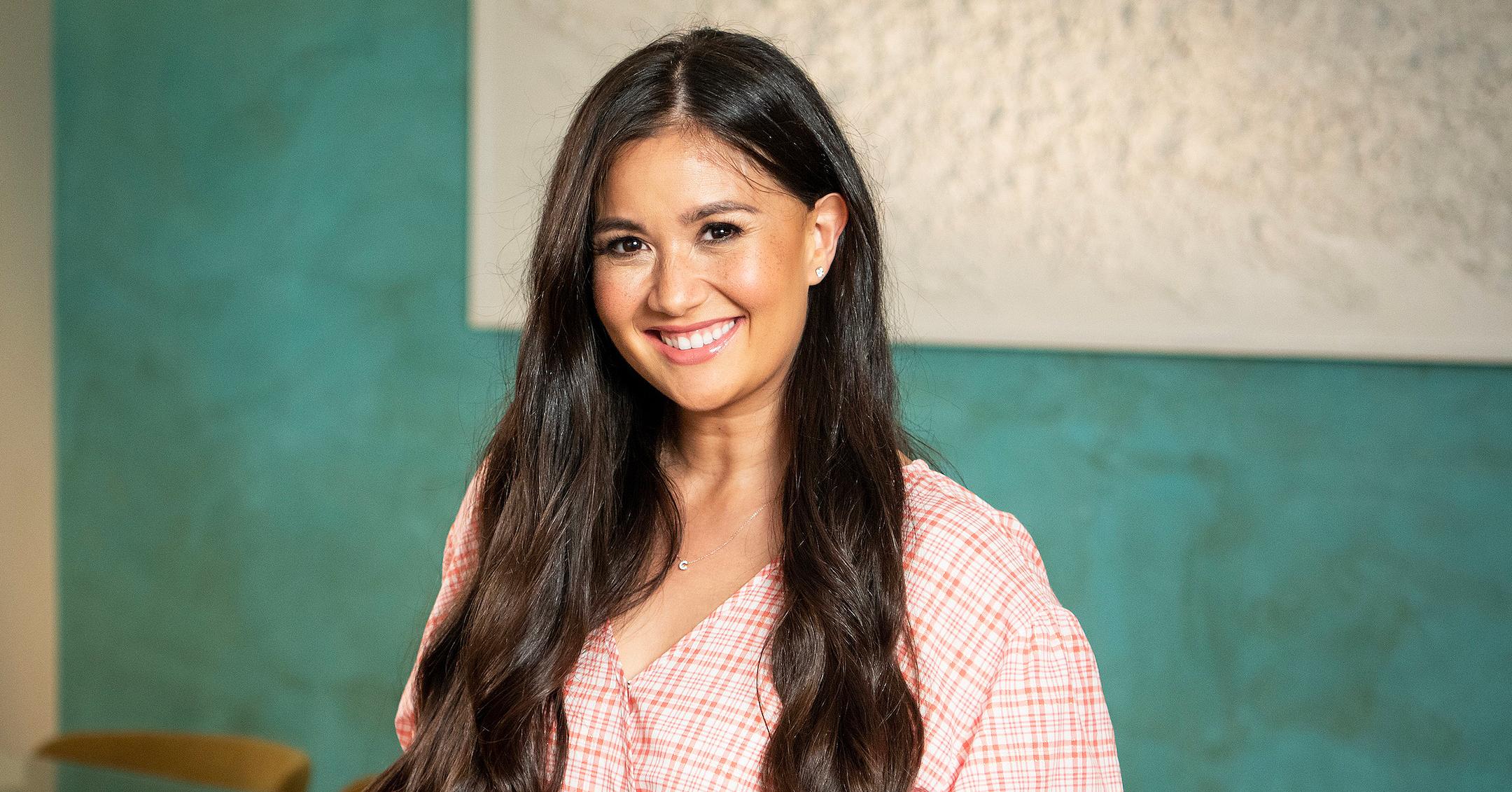 Exclusive: 'Bachelor' Alum Catherine Giudici Shares Her Outlook On Being Confident: I Hope Others Will 'Focus On The Awesome Things Your Body Can Do & Has Done For You'
After having three kids, Catherine Giudici's weight has fluctuated over the years — something she is very transparent about with her followers, as she believes it's important for them to know the truth.
Article continues below advertisement
"I feel like I'm open with most things on social media, but I hope the journey and the overarching theme of balance and health is the main takeaway," the 35-year-old exclusively tells Morning Honey while talking about her partnership with Pacific Foods. "I know that a lot of my followers are moms or maybe starting that process, and being honest about all things that are part of motherhood, which includes how my body has changed, hopefully helps other people have a conversation without feeling alone. Motherhood is the biggest and most important job and there are a lot of parts of it that can feel isolating at times, so talking about it works for me!"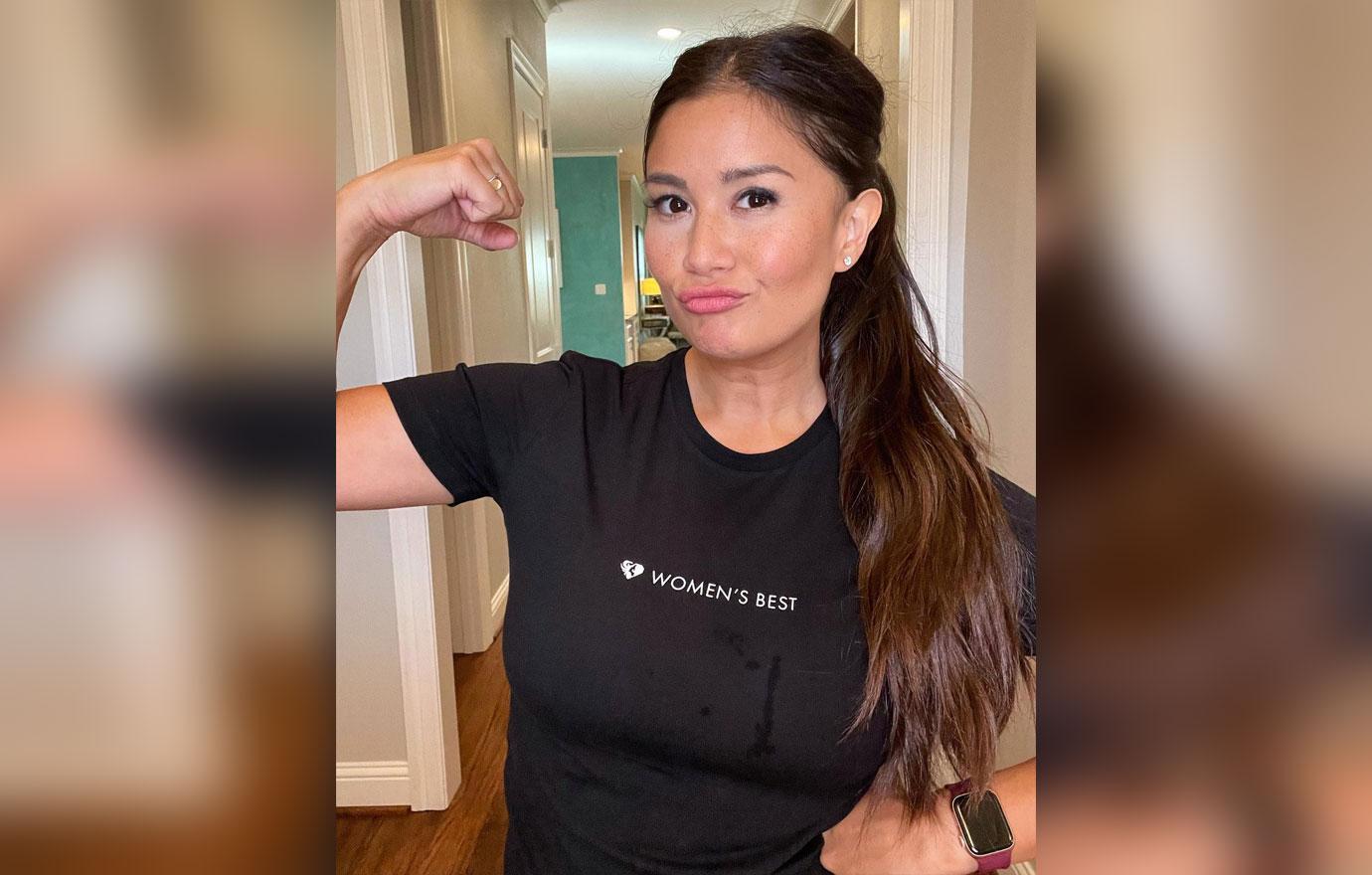 Article continues below advertisement
Earlier this year, the star — who met her husband, Sean Lowe, on The Bachelor in 2013 — debuted her slimmer and leaner physique on Instagram.
"Ok, I just found out this morning that I lost 3 inches in my waist and I'm like feeling myself 💪🏼 My 'during' is getting me motivated to get to my 'after.' Here's to being healthy and strong!" she wrote in July.
If others are dealing with similar issues, the brunette beauty advises: "I would say — as someone that has always and will always have something of an issue with body confidence – to focus on the awesome things your body can do and has done for you. I've also really focused on the positive things in my life that have nothing to do with body image which are my children and my worth. Helping others that may not have access to food or the things that a lot of us have at our fingertips is another great way to channel that energy somewhere else and for good."
Article continues below advertisement
The mom-of-three — she shares Samuel, Isaiah and Mia with Lowe — ultimately feels her best self "when I'm with my family in the kitchen. It's truly my happy place. I love experimenting with food and having my kids nearby (not quite ready to fully go at my pace!) and curious about what I'm doing gives me such joy," she explains.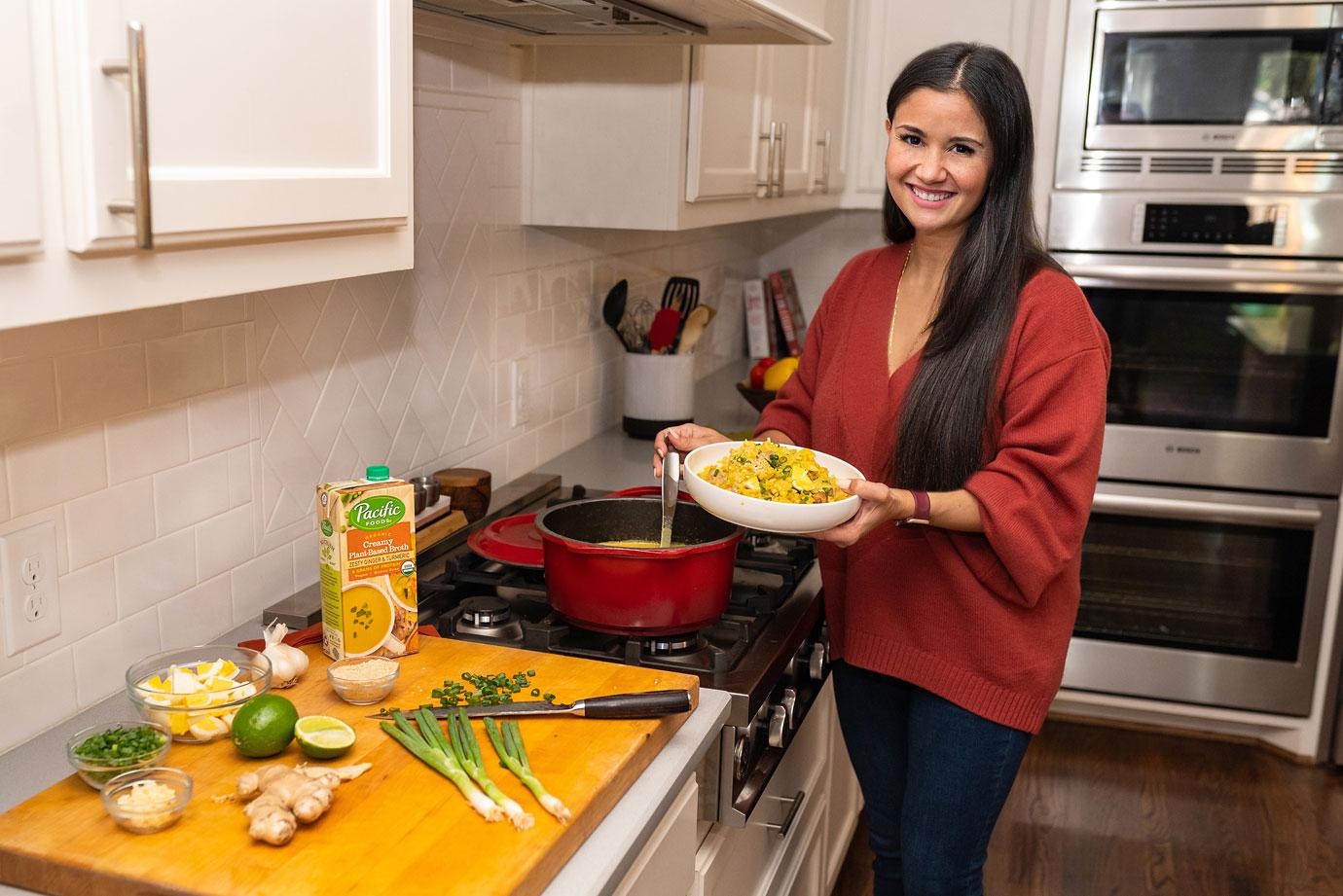 Article continues below advertisement
The reality star couldn't be more excited for this holiday season, as it's her "favorite time of year to whip up some of my favorite meals for my family," she gushes. "I'm excited for some quality family time! This is the perfect time to share some of my favorite traditions with my kids, such as being in the kitchen all together cooking, while also creating new holiday traditions. With the holiday season officially underway, I'll be making a fun twist on one of my favorite holiday meals all season long with the help of Pacific Foods and their new Creamy Plant-Based Broths. My family can't get enough of it, it's perfect for cozy nights in and as a festive addition to our holiday menu. I love when we are all together around the dinner table, talking about our day over a delicious, home-cooked meal."
In fact, since the Washington native loves being in the kitchen, her partnership with Pacific Foods was a no-brainer.
"I love sharing my favorite recipes with my kids, while also introducing them to new flavors and dishes, which made this partnership an easy decision!" she says. "Pacific Foods is known for quality organic soups and broths made with simple, delicious ingredients which I love especially when cooking for my family – we're a big soup household!"
Article continues below advertisement
For Giudici's delicious soup recipe, see below!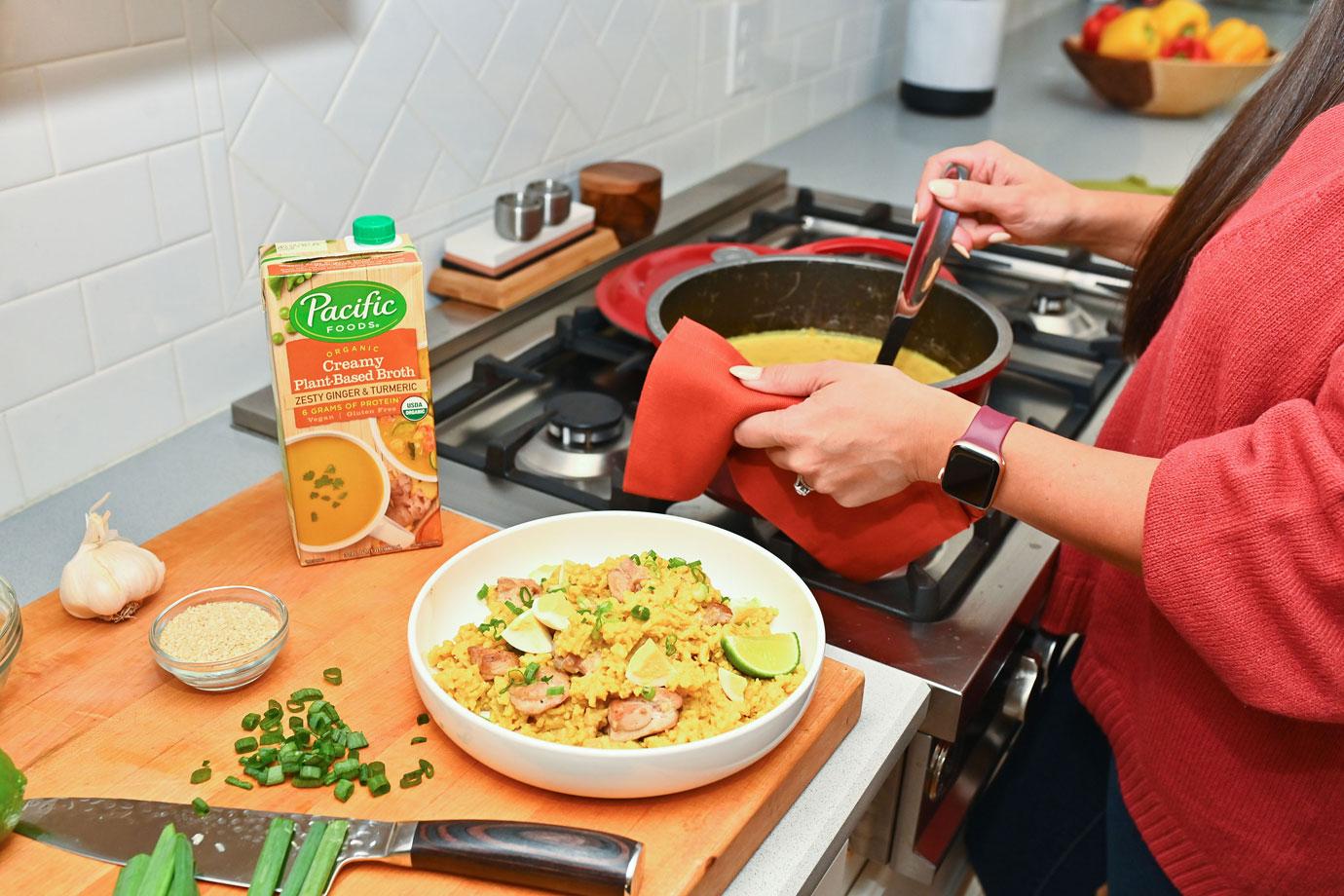 Article continues below advertisement
Catherine's Zesty Chicken & Rice Soup
Ingredients:
· 1 tablespoon cooking oil (such as vegetable or canola)
· 1 ½ to 2 pounds boneless skinless chicken thighs, cut into 1-inch pieces
· Kosher salt and freshly ground black pepper
· 1 large yellow onion, diced
· 4 garlic cloves, minced
· 2-inch piece fresh ginger, peeled and minced
· 1 cup white rice (preferable Jasmine)
· 1 quart (4 cups) Pacific Foods Zesty Ginger and Turmeric Creamy Plant-Based Broth
· 2 cups Pacific Foods Low-Sodium Chicken Broth
· 1 tablespoon fish sauce
· Juice of 1 lime
· Optional garnish: sesame seeds, thinly sliced scallions, chopped hard boiled eggs
*To make this meal vegetarian, use a can of white beans (drained) instead of chicken and swap out Chicken Broth for Pacific Foods Organic Low Sodium Vegetable Broth.
Directions:
1. Warm oil in a large heavy-bottomed pot over medium-high heat.
2. Add the chicken in an even layer and season with 1 teaspoon kosher salt and 1 teaspoon black pepper. (Skip adding the chicken if you're going vegetarian, you'll add in the white beans later)
3. Let it sit for three minutes, then stir to flip it over, and let it sit for another 3 minutes. Add the onion and cook, stirring frequently, for 3 minutes. Add the garlic and ginger and continue cooking, stirring frequently, for an additional 3 minutes.
4. Stir in the rice, the entire quart of Pacific Foods Zesty Ginger and Turmeric Creamy Plant-Based Broth, and 2 cups of Pacific Foods Low-Sodium Chicken Broth (or vegetable broth).
5. Bring to a boil over high heat, then reduce to a simmer over medium-low heat, add in the white beans (if you're making the vegetarian version) and cover the pot for 30 minutes.
6. Stir in the fish sauce and lime juice. Taste and adjust seasoning as needed.