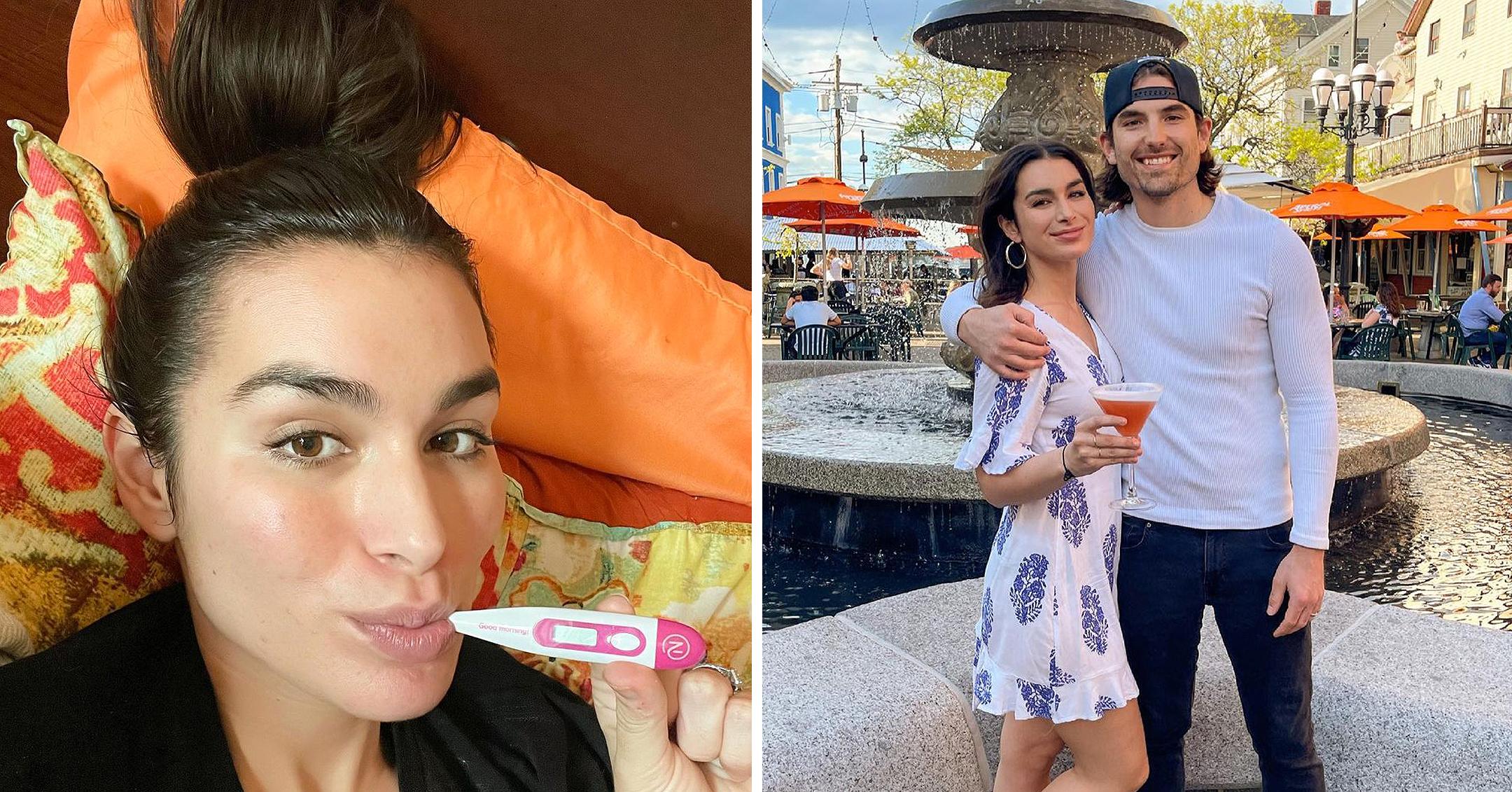 Exclusive: 'Bachelor' Alum Ashley Iaconetti Explains Why She's Real About Her Pregnancy Struggles On Social Media, Wants Others To Know They're 'Not Alone'
While some women may feel their best selves when they're pregnant, Ashley Iaconetti cannot say the same — and she wants others to know that.
Article continues below advertisement
Recently, the Bachelor alum, 33, and her husband, Jared Haibon, announced they are expecting their first child, and she has since detailed the ups and downs of having a bun in the oven. So much so, she posted a photo of Haibon holding her hair back in the bathroom.
"I know that a good 50 percent of women are not glowing and beautiful. That is not my number one emitting emotion throughout the day," the reality star exclusively tells Morning Honey while talking about her partnership with Green Mountain Coffee Roasters (GMCR), which involves the couple launching "Green Mountain Coffee Brew Overs," an online call to action that will award four lucky winners the chance of a second date — "brew over" — to find their perfect match.
Article continues below advertisement
As for why the brunette beauty wants to show her fans what she's going through, she shares: "I can't deal with non-realness, and some people may have a problem with that, but I don't give a crap."
Since announcing her pregnancy, Iaconetti has been able to interact with her fans on social media, which has been a great experience so far — especially when she gets encouraging messages from others.
Article continues below advertisement
"It makes me feel good to feel like we have all done this together, we're getting through it," she admits. "I don't think people talk about [it] enough, and it's cool because I will get messages from people who say, 'Don't stop talking about your pregnancy.' Because I will say, 'I am sorry, I keep talking about it, but this is my life right now,' and they are like, 'Seriously, don't stop because you're making me feel so much better, I am going through the exact same thing right now.'"
Article continues below advertisement
"You just don't hear a lot about the suffering that you kind of go through [in the first trimester], so when we were hadn't come out about [the news] yet, every day I was like, 'I need to tell people what is going on, because I need to know that I am not alone in this. I need to hear other people's stories.' It's been awesome hearing other people's stories. I ask questions on Instagram, and I get so much feedback from moms who have gone through and are going through the same thing, and it does make you feel better a little bit mentally and physically," she continues.
So far, the Bachelor in Paradise alum has only seen Amy Schumer detail her ups and downs in her documentary, Expecting Amy.
Article continues below advertisement
"I watched it when it first came out, like a year and a half ago or something, and I had so much sympathy for what she went through," she explains. "And then I remembered when I started feeling sick, I was like, 'I should watch that documentary again' and watch somebody who has gone through what you're going through, even though she had it so much worse because she had hyperemesis and she had it the whole nine months. But her showing how it was was the only depiction of it in the media that I have ever seen, and I was so grateful for that, and I was like, 'Yeah, I am going to share similar stories.'"
Article continues below advertisement
In the meantime, Iaconetti has been eating macaroni and cheese to settle her stomach, and of course, Haibon has been there every step of the way.
"I get what she needs, I get her slushies or chocolate cake, but unfortunately, I can't really take the pain away from her, and she has been pretty sick, so it's been pretty tough," he says. "If she wants something, I will go out and get it and then I will try to rub her back."
These days, the pair — who met on Bachelor in Paradise in 2015 — have partnered with Green Mountain Coffee Roasters on the launch of their new line of Brew Over Ice K-cup pods, and two couples will have a chance to win an extravagant date à la The Bachelor.
Article continues below advertisement
"These people are going to have the best coffee we've ever had made at home," Iaconetti gushes. "Iced coffee is insane — this is like the most delicious K-cup I've ever had in my life. We have tried iced coffee at home, and we have never been able to do it without ice cubs melting. This tastes like you got it from a coffee shop, and it doesn't even really need cream and sugar. It's delicious."
Consumers can submit their story as to why they deserve a second chance at love on www.brewovers.com. The contest will be live until August 9, and the winning couples will be announced via FaceTime by Iaconetti and Haibon!