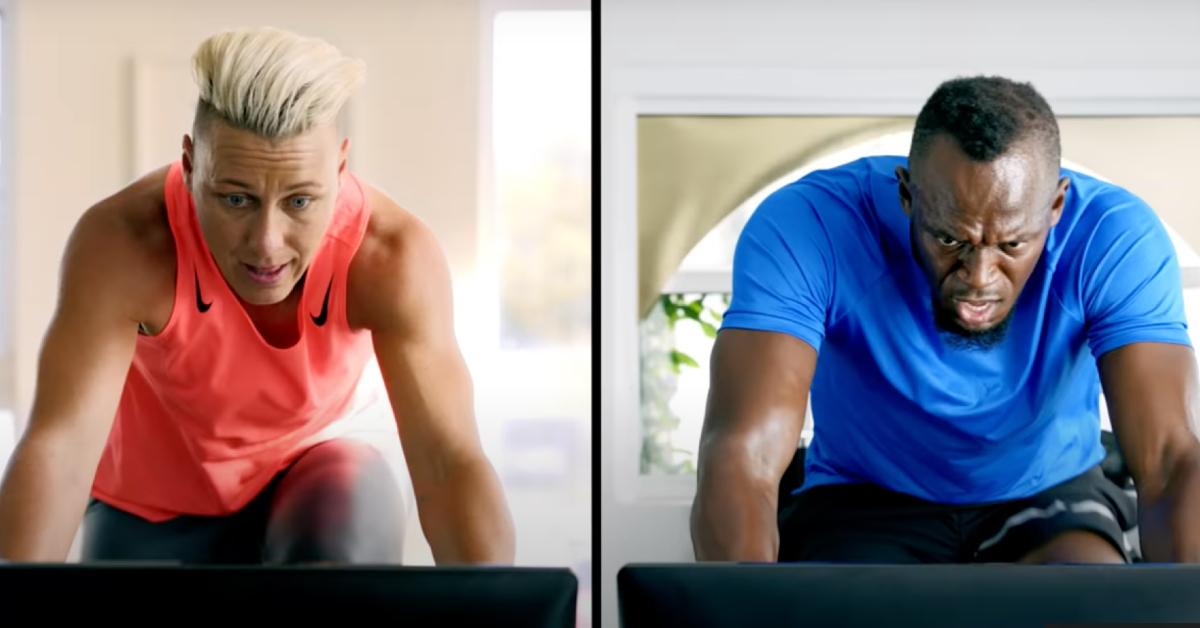 Watch: Get A Dose Of Nostalgia As Athletes Abby Wambach & Usain Bolt Remake Iconic 'I Can Do Better' Gatorade Commercial
With nostalgia at an all-time high in the entertainment industry, Gatorade took the opportunity to remake their iconic 1997 commercial that starred soccer legend Mia Hamm and basketball god Michael Jordan.

This go-around, the two are replaced by fellow soccer champ Abby Wambach and Olympic runner Usain Bolt, both of whom are retired from their sport.
Article continues below advertisement
Like its predecessor, the 30-second commercial has the track "Anything You Can Do (I Can Do Better)" playing in the background as the two athletes quench their thirst with Gatorade Zero and try to one up each other in a bunch of activities, like indoor cycling, ping pong and tire-flipping.
They then both fail to make any headway whey trying to rollerblade.
At the end, the Chicago Bulls alum appears and is watching the new commercial on his phone before uttering, "No, you can't," which Hamm responds to by saying, "Yes, I can," then sinks a golf ball into the hole.

For Wambach, starring in the commercial was a no-brainer, as she remembers the original making her feel empowered when she was younger.
Article continues below advertisement
"That literally was maybe the very first thing that I ever consumed as a kid that gave me an idea that I can be seen as an equal to the greatest athlete that might ever play the sport of basketball and maybe any male sport there is," the soccer star recalled. "Mia is getting compared to Michael. And the way that they did that commercial empowered me to dream even bigger dreams than I could possibly imagine."
She was also proud to represent the LBGTQ+ community on screen. "Stepping into my clothes every day, I'm like, 'I'm activism. I am a walking, breathing piece of activism every single day,'" she explained. "I am a gay woman walking around in a kind of conservative place where I live in Naples, Florida."
Wambach also hopes to highlight the disparity between men and women's sports.

"Never do women get rewarded in a way that makes them feel equal. Even if they won the same amount and they've sweated the same amount and they've shed the same amount of blood, sweat, and tears, it doesn't matter," she noted. "We've got a long way to go, but I'm proud to be a part of the change."