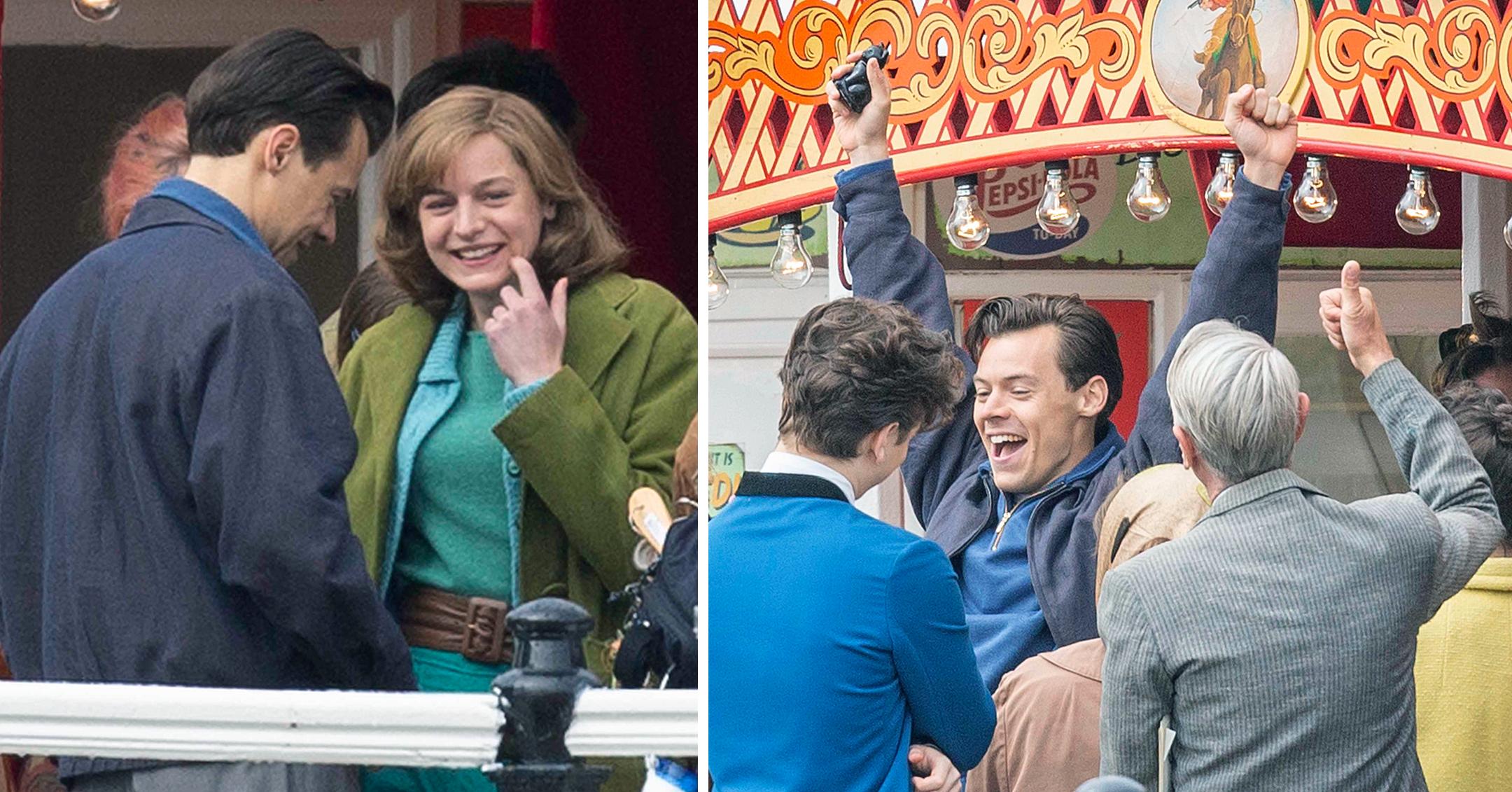 Sweet Creatures! See Photos Of 'My Policeman' Costars Harry Styles & Emma Corrin Filming Carnival Scenes For 1950s-Set Drama
Fun and games! On May 13, My Policeman costars Harry Styles and Emma Corrin were spotted enjoying a carnival at England's Brighton Pier as they filmed for their upcoming drama.
Article continues below advertisement
The 1950s-set movie is based on a book of the same name that follows cop Tom (Styles), who despite being married to teacher Marion (Corrin), strikes up a romance with museum curator Patrick (David Dawson).
Scroll down to see photos from the set.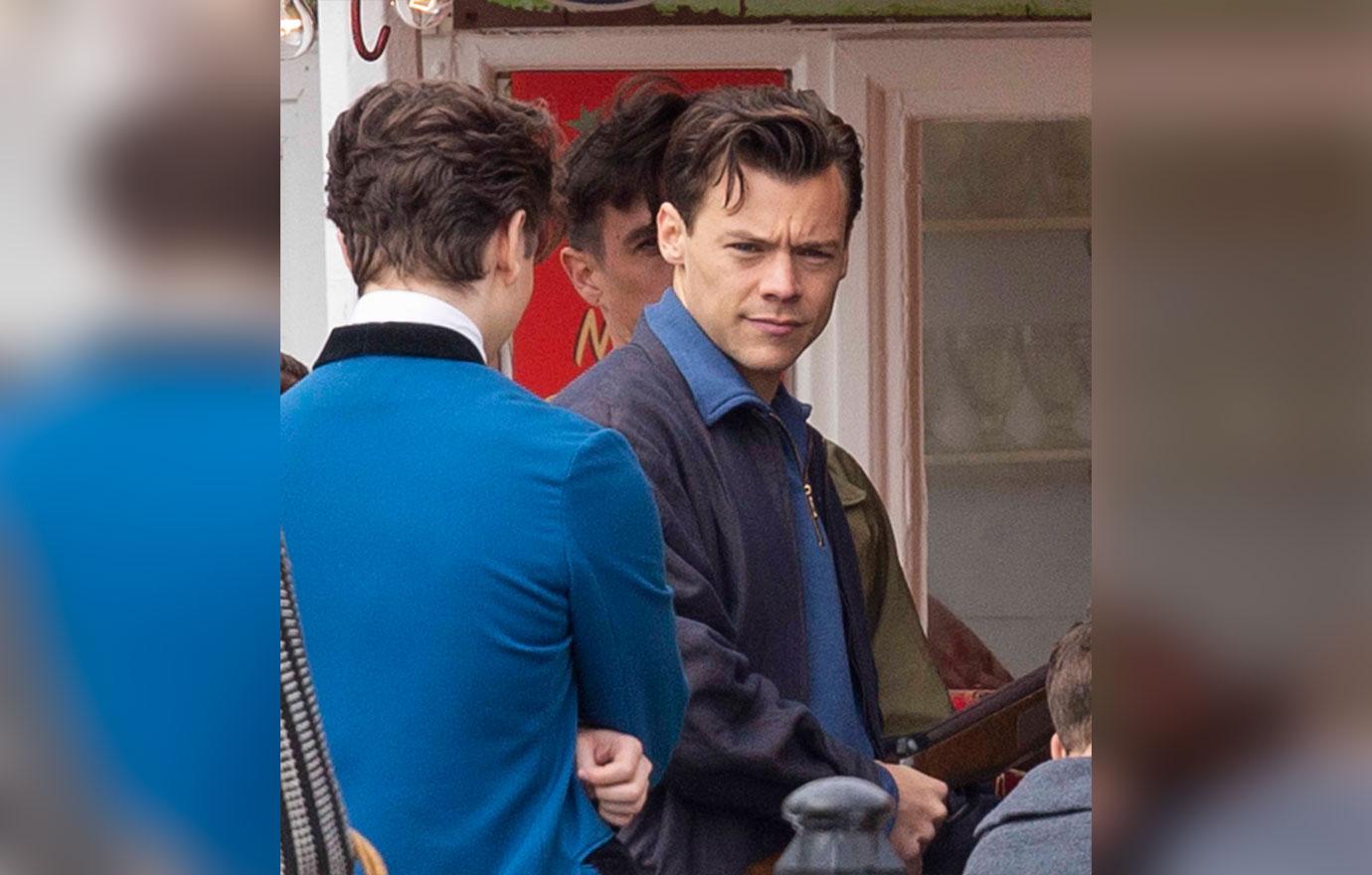 Looking suave! The singer had his famous locks swooped to the side and wore a blue sweater underneath a navy coat.
The flick marks Styles' third major movie role: he made his debut in the 2017 war drama Dunkirk and most recently filmed thriller Don't Worry Darling.
Article continues below advertisement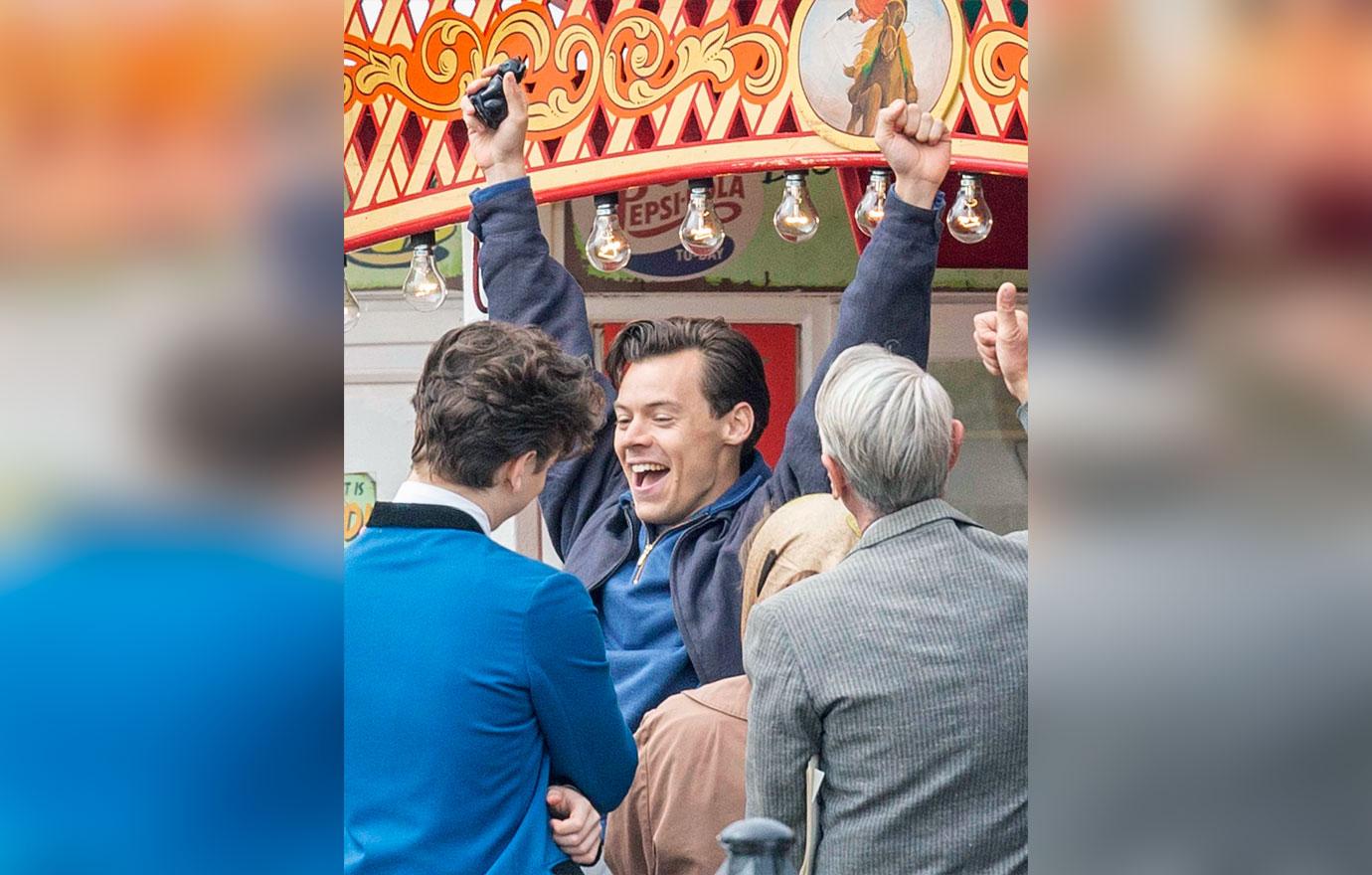 We have a winner! Styles' character seemed to be celebrating a victory at one of the fair's booths.
The movie also includes scenes years into the future, with Linus Roache playing an older version of the singer's character, while Rupert Everett portrays Dawson's and Gina McKee as Corrin's.

Mamma Mia star Lily James was originally slated to play Corrin's role but she stepped down this past February.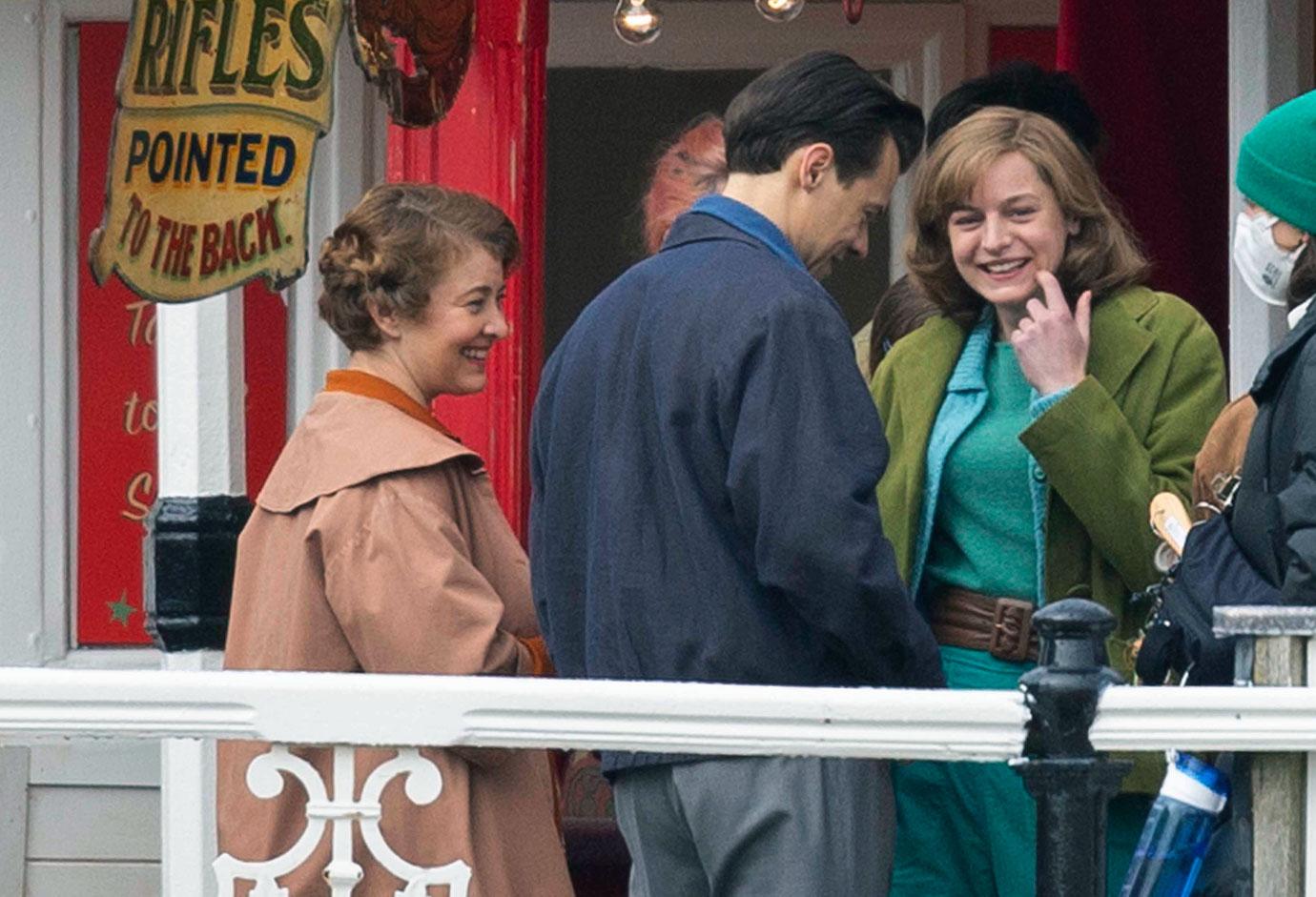 The two leads reunited in another scene, with Corrin wearing an ensemble that consisted of an olive green peacoat along with a teal shirt and matching pants.
Viewers of The Crown may recognize the actress, as she played Princess Diana in the fourth season of the Netflix series. When she won the Best Actress category for the role at the Golden Globes, she took a moment to honor the late royal.
"Thank you so much to Diana," she stated. "You have taught me compassion and empathy beyond any measure that I could ever imagine. On behalf of everyone who remembers you so fondly and passionately in our hearts, thank you."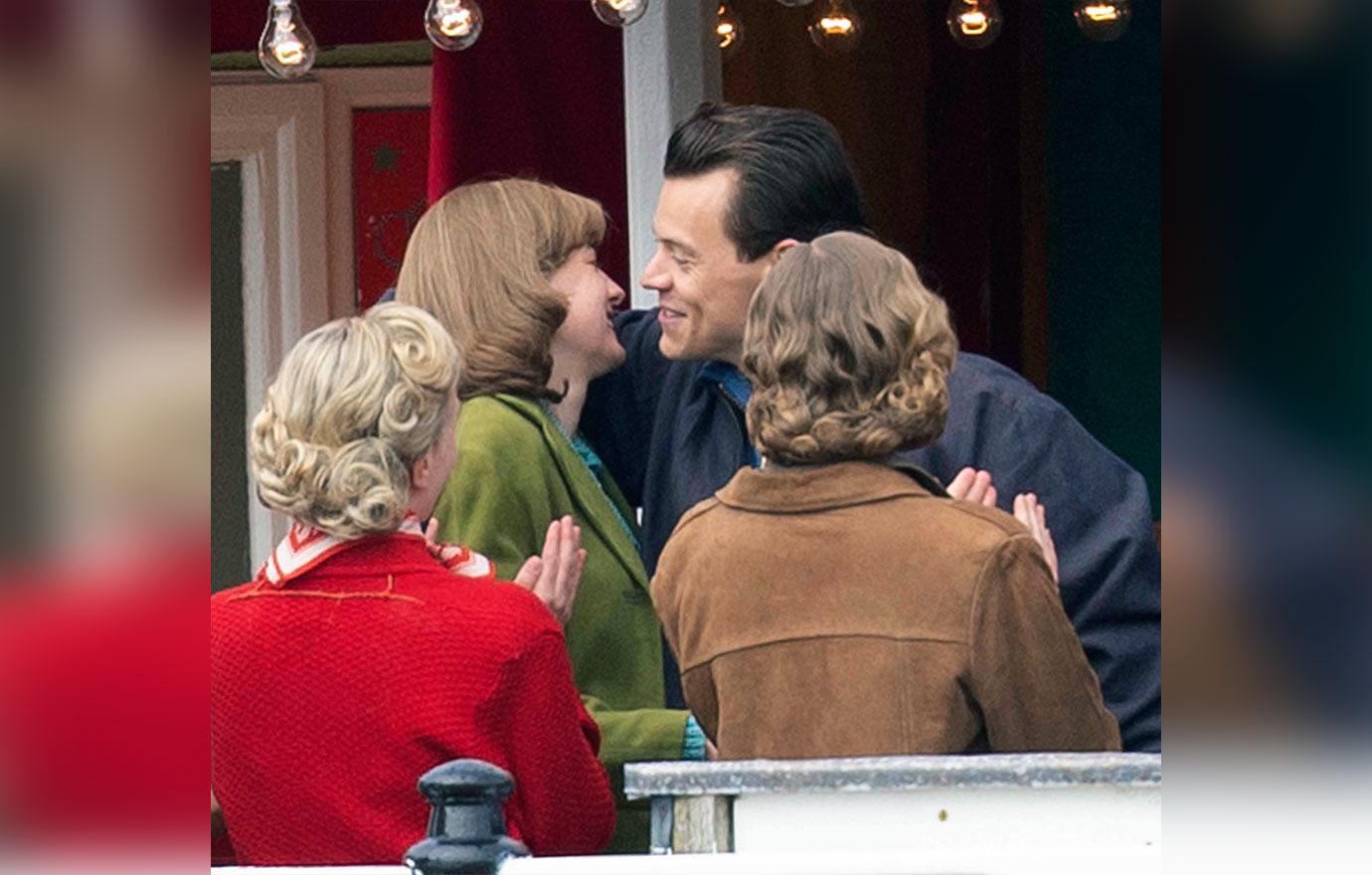 Sealed with a kiss! The seemingly happy couple leaned in for a peck while socializing.
In real life, the costars have formed a good friendship — the "Adore You" crooner even watched the actress' dog Spencer for her!
"I was having dinner sort of near where he lives and he looked after Spencer for me," she revealed on The Tonight Show Starring Jimmy Fallon. "But not again. He hasn't done it again and I think it's because halfway through the meal, I got a message that just said, 'He won't stop farting, is this normal?'"