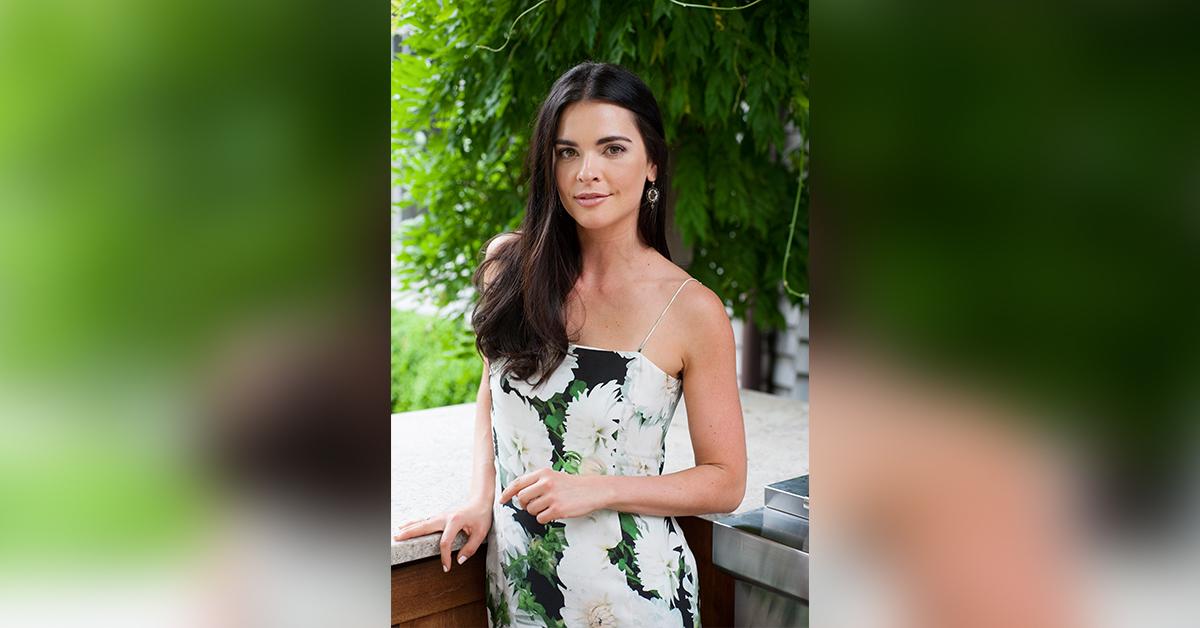 Exclusive: Katie Lee Biegel Admits She Loves Dabbling In 'Multiple Creative Outlets': 'It's Great When Two Things Can Blend'
Though Katie Lee Biegel is known for her amazing and delicious meals, she has also written multiple cookbooks, starred in several TV shows and is now the Executive Producer of the new Hallmark film Groundswell, based on her bestselling debut novel.
"I really enjoy flexing my creative muscle and getting to do something different," the 41-year-old, who teamed up with Sub-Zero, Wolf, and Cove to encourage people to unwind from holiday stress using cooking as therapy as an astounding 95 percent of Americans find cooking to be calming and soothing, exclusively tells Morning Honey. "I have multiple creative outlets. I was a journalism major in college and an English major, and I love to read and write. It's great when those two things can blend."
Article continues below advertisement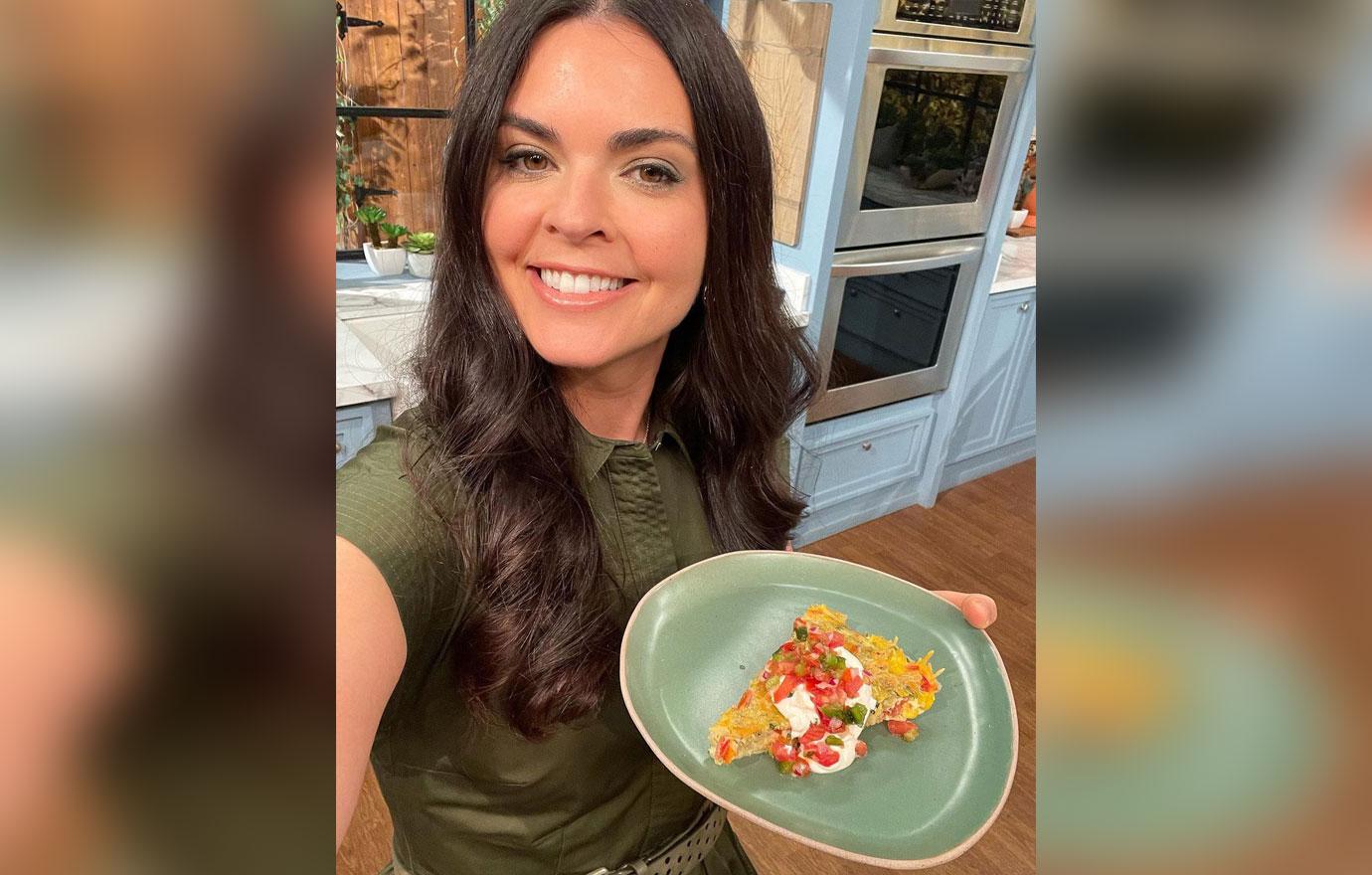 The brunette beauty, who shares daughter Iris with husband Ryan Biegel, quips she had no idea this was how her career would pan out. "I certainly wanted it to work out this way," she says. "I'm thrilled that it did. I went to school with the intention of wanting to be a writer, wanting to write for a magazine and then I loved food, so I thought I could be a food writer, which then evolved into becoming a cook. I'm so grateful for my career."
Article continues below advertisement
The TV star is especially excited to watch the new Hallmark flick unfold. "I'm so thrilled with the whole thing!" she gushes. "We had a great time filming the movie. Lacey Chabert is the star, and she's the queen of Hallmark. We had a great time. I love having new experiences like this, and I felt like it was a pinch me moment from start to finish."
"I really enjoyed doing something different," she adds. "I like a different challenge to step into and getting out of my comfort zone is fun. I was so pleased with the reception that book got — people really seemed to enjoy it. I got a lot of really nice messages from people. It meant a lot to me."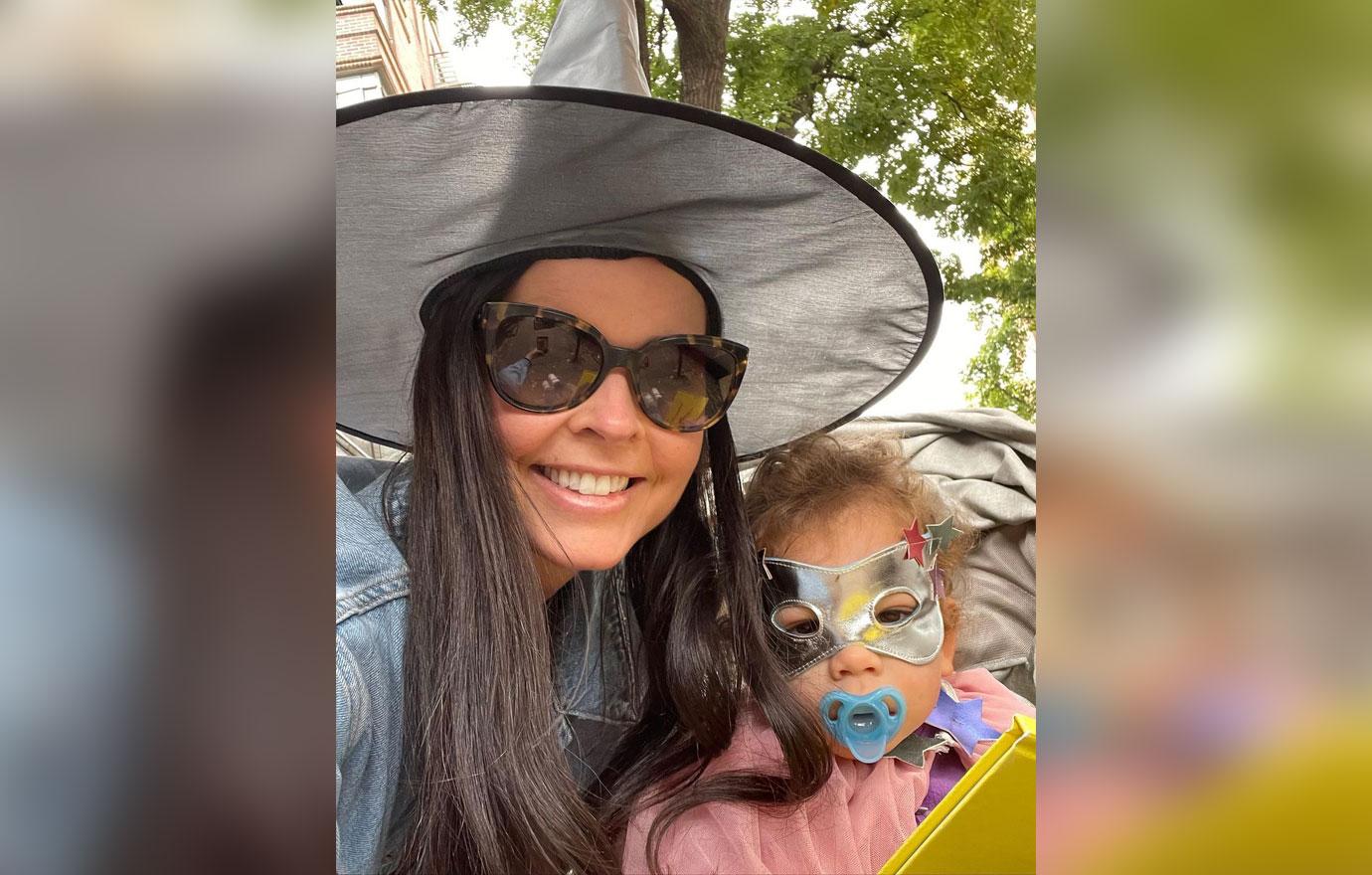 Article continues below advertisement
When the novelist isn't thinking of new ideas, she is typically in the kitchen, and these days, she has a special guest: her daughter! "She likes to sit in the chair and watch me while I'm making something," she notes. "I've got my cinnamon rolls back here, and I make those every Christmas morning. It's a refrigerator rolled dough, so if I am making some sort of dough, I let her get in there and pad it and play with it. If I'm whisking, she wants to participate. I usually end up with a mess, but it's OK. I know she's having so much fun, and I hope that these are memories she's going to carry with her forever."
"It makes me feel so good to see her enjoy cooking and be interested in it," she gushes. "I give her one of my mixing bowls and a whisk and she has a bunch of play food — she puts it in and mixes it up and says she made me soup!"
In the meantime, the food guru is gearing up for the busy holiday season, which is why her partnership with Sub-Zero, Wolf, and Cove made perfect sense.
"I just went through another renovation. I'm one of those people that likes to renovate and then move on to the next project, but we just moved into our new place in New York City. I had to make sure that I had my Sub-Zero fridge, my Wolf Range oven and my Cove dishwasher. I've used these appliances for decades now, so they're always my favorite," she says. "I like to have appliances I can rely on — Sub-Zero keeps the vegetables and produce so fresh, and I think the Wolf Range oven cooks everything evenly."
"I teamed up with them because they've got this really fun initiative called Kitchen Therapy, and we're coming up on the holidays, which can be a stressful time for some, but there's no reason that your cooking needs to be stressful!" she adds. "95 percent of Americans, including myself, find cooking to be calming. During the holiday, it's all about making that time in the kitchen enjoyable."
Article continues below advertisement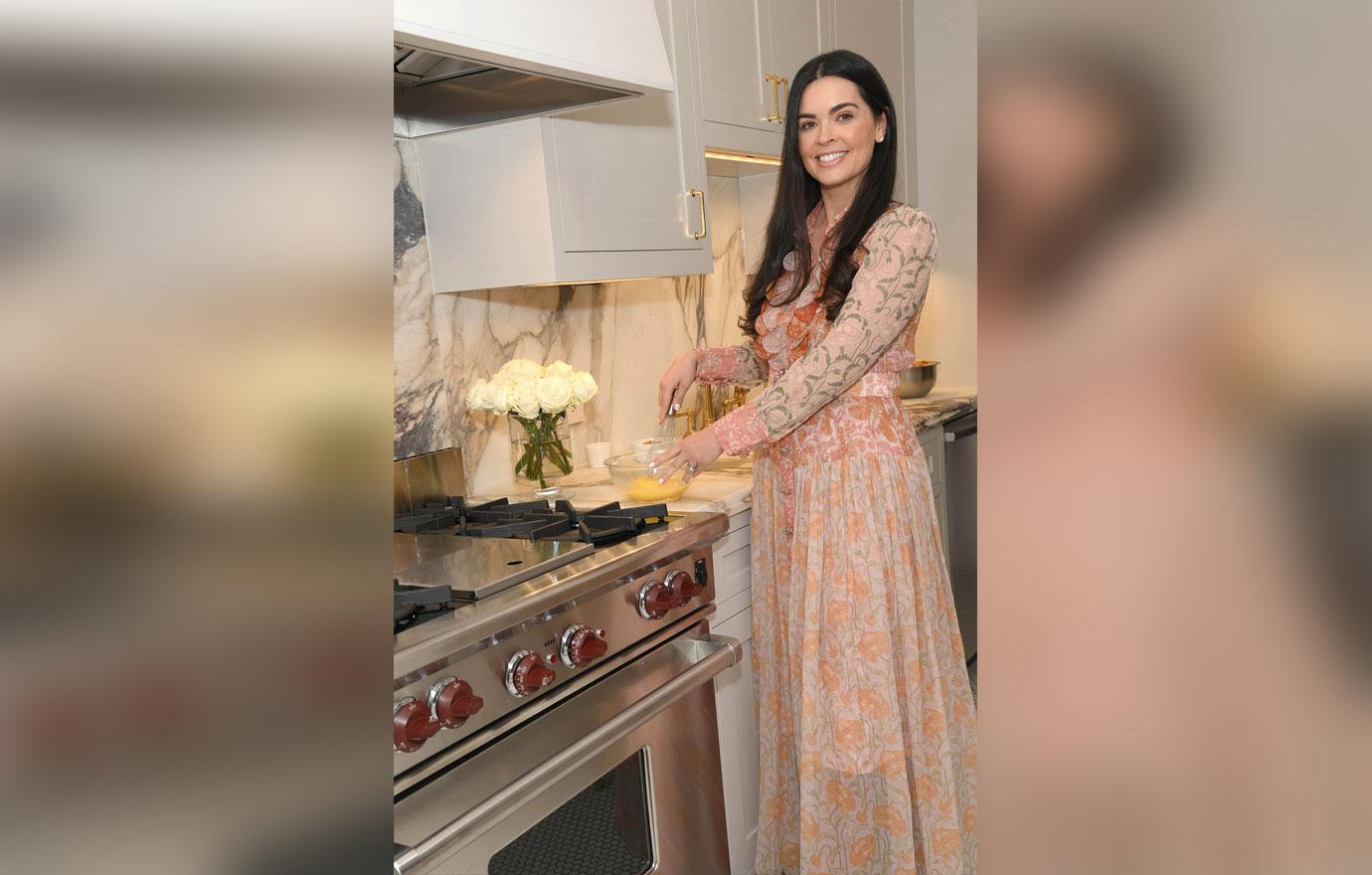 The mom-of-one's biggest piece of advice is to always plan in advance, whether it's during a busy time of year or in general. "I am a big believer in making a game plan and making lists because if it's not written down, it doesn't exist," she notes. "I feel like if I've made time in my schedule to be in the kitchen, it's kind of my me-time. It's my escape during the holidays to go into the kitchen and do my thing. I can savor those moments instead of feeling like it's a mad dash."
To make Katie's cinnamon roll recipe, see below!
Cinnamon Rolls
Ingredients for Cinnamon Rolls:
1/4 cup warm water
One 1 1/4-ounce package instant yeast (2 1/4 teaspoons)
1 cup plus 1 teaspoon sugar 1 large egg, lightly beaten 1/4 cup canola oil
2 teaspoons kosher salt 1/2 cup cold water
1/2 cup boiling water
4 cups all-purpose flour, plus 1/2 cup or more as needed
2 tablespoons ground cinnamon
6 tablespoons unsalted butter, melted
Ingredients for Icing:
1 cup confectioners' sugar
2 tablespoons milk or orange juice
Directions:
For the cinnamon rolls: In the bowl of a stand mixer fitted with a dough hook, mix the warm water with the yeast and 1 teaspoon sugar. Set aside for about 5 minutes, until the mixture starts to thicken and bubble slightly. (If the mixture does not start to thicken and bubble slightly, the yeast is not working. Check the expiration date on the yeast and start over.)
In a large bowl, stir together 1/2 cup sugar, the egg, oil and salt. Mix in the cold water and then the boiling water. Add this to the yeast mixture and stir until well blended. With the machine on low speed, slowly add in 4 cups of flour until incorporated.
Knead in the mixer on low speed for about 5 minutes until smooth, adding in the extra 1/2 cup flour or more as needed so the dough isn't too sticky. Put the dough into a clean large bowl. Cover with plastic wrap and refrigerate until doubled in size, about 3 hours.
Meanwhile, combine the remaining 1/2 cup sugar with the cinnamon in a small bowl. Grease a 9-by-13-inch baking dish with about 1 tablespoon of the melted butter using a pastry brush.
Punch down the dough and place it on a lightly floured surface. Using a rolling pin, roll it into a rectangle about 20 by 10 inches, with the long edge facing you. Using the pastry brush, spread 1/4 cup of the melted butter over the top of the dough. Sprinkle the cinnamon-sugar mixture evenly over the dough. Roll up the dough, starting with the long edge facing you, into a tight cylinder. Gently squeeze the cylinder to seal it. Use a sharp knife to cut the dough into 12 even rounds. Place the rounds, cut-side down, into the prepared baking dish. There will be some space in between the rounds. Brush the tops of the rolls with the remaining 1 tablespoon melted butter. Cover the dish tightly with plastic wrap and allow the dough to rise in a warm place for 1 1/2 to 2 hours.
Preheat the oven to 350 degrees F. Bake the rolls until golden, 40 to 45 minutes.
For the icing: Meanwhile, mix the confectioners' sugar with the milk in a small bowl. When the rolls come out of the oven, drizzle the icing over the hot rolls. Serve while warm.