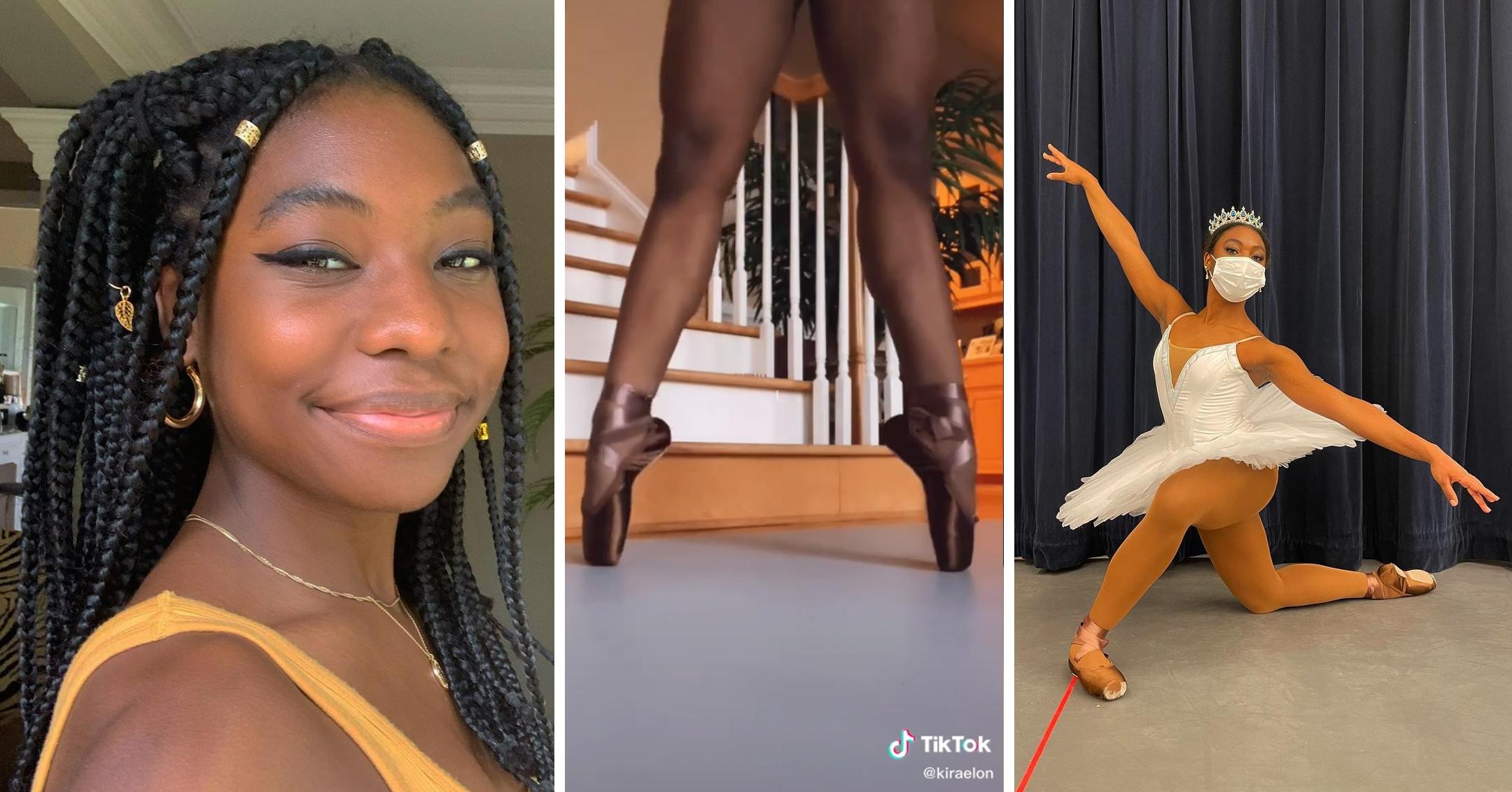 Ballerina Kira Robinson Shows Off 'Revolutionary' Pointe Shoes 'That Match' Her Skin Tone In Viral TikTok — Watch
Ballerina Kira Robinson is dancing on air after she was able to find a "stunning" pair of pointe shoes that matched her skin tone.
"I finally got brown pointe shoes," she reveals in a TikTok video that's gone viral. "This is so exciting because this means I don't need to pancake my shoes anymore ... I can't tell you how revolutionary this is that I don't have to pancake them with foundation to make them my skin color."
Article continues below advertisement
"Look at this, it's like my skin tone," the 18-year-old University of Oklahoma student declared as she unwrapped the shoes. "I can't wait to wear these." A few days later she tried them on and posted more footage on her TikTok account.
The video quickly made the rounds on the internet, racking up more than one million views, which lead to Robinson chatting with Good Morning America.
Article continues below advertisement
"I received a lot of comments on my TikTok about how representation is super necessary in the dance world and how a lot of people don't have that or see that often," she expressed. "Sometimes it's frustrating and annoying, but it's just how it is. The dance world is slow to accept POC (person of color) dancers, and I've just had to deal with it and do what I need to do to perform."
Robinson explained she's been wearing pink shoes from the Suffolk Pointe Co. "ever since I was a young girl, but when I heard they were creating brown ones, I couldn't believe it. I knew I had to grab a pair."
The dancer noted that she's been hoping to see a change in the industry for a while, but she thinks the Black Lives Matter movement helped push brands to finally expand their product lines.
Article continues below advertisement
"A lot of people were fed up with companies' lack of effort in diversifying their brand and it has taken a long time to see that change," she admitted to GMA. "Many have signed and sent petitions to ballet brands to create more colors in their products, and Suffolk was one that heard our plea and started making those changes."

Robinson hopes that young girls will now feel more comfortable pursuing dance. "When they see me in brown tights and pointe shoes, it can be inspiring for them," she shared. "I hope that people will look up to me and realize there can always be a brown ballerina on the stage."