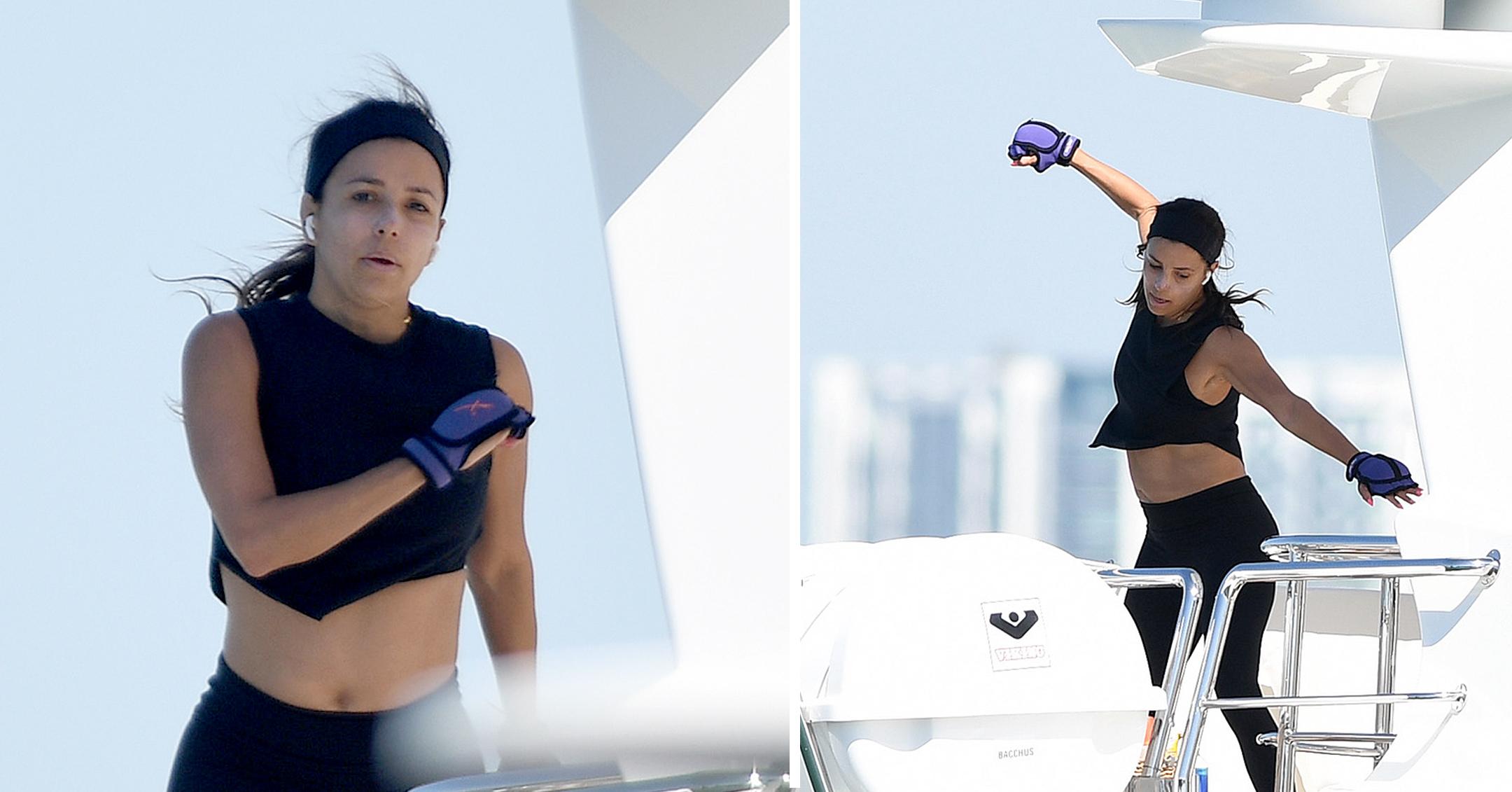 Eva Longoria Used A Mini Trampoline To Exercise While Aboard A Yacht In Miami — Shop Fitness Equipment
All products featured on Morning Honey are independently selected by our editors. However, when you buy something through our retail links, Morning Honey may earn an affiliate commission.
Article continues below advertisement
Don't rock the boat! On April 14, Eva Longoria was seen aboard a yacht in Miami — but her time on the water wasn't all relaxation, as she was spotted exercising on a mini trampoline while still on the luxury ship!

The star began incorporating the piece of equipment — which she dubbed the "Rolls Royce of trampolines" — last year around the holidays. "Oh my god this feels amazing," she declared in a video while testing it out. "It actually does feel better on my knees. It's amazing!"
Keep scrolling to see the actress break a sweat while setting sail.
Article continues below advertisement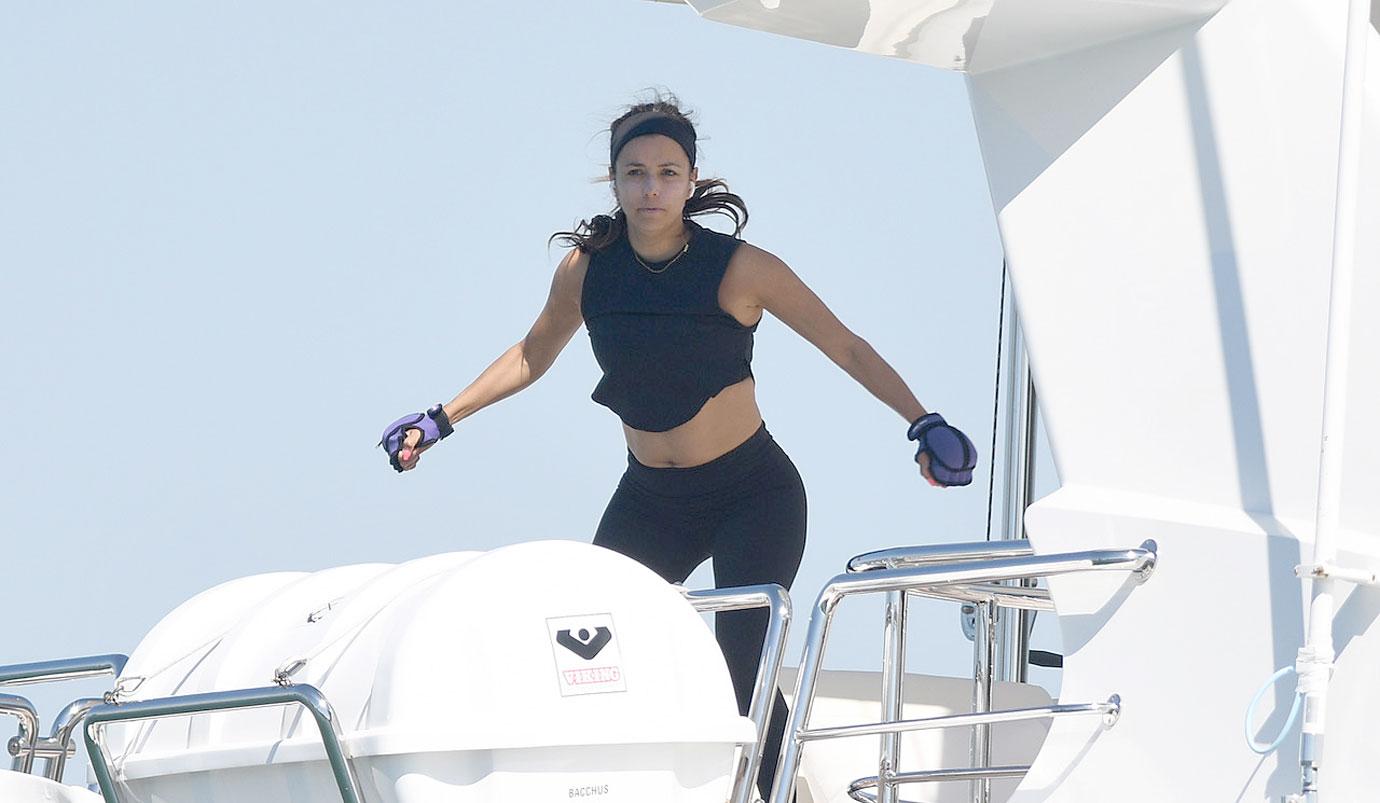 In the zone! The Hollywood star wore a purple pair of fitness gloves, black crop top and leggings while exercising. Since it can get windy, she tied her hair back and wore a headband.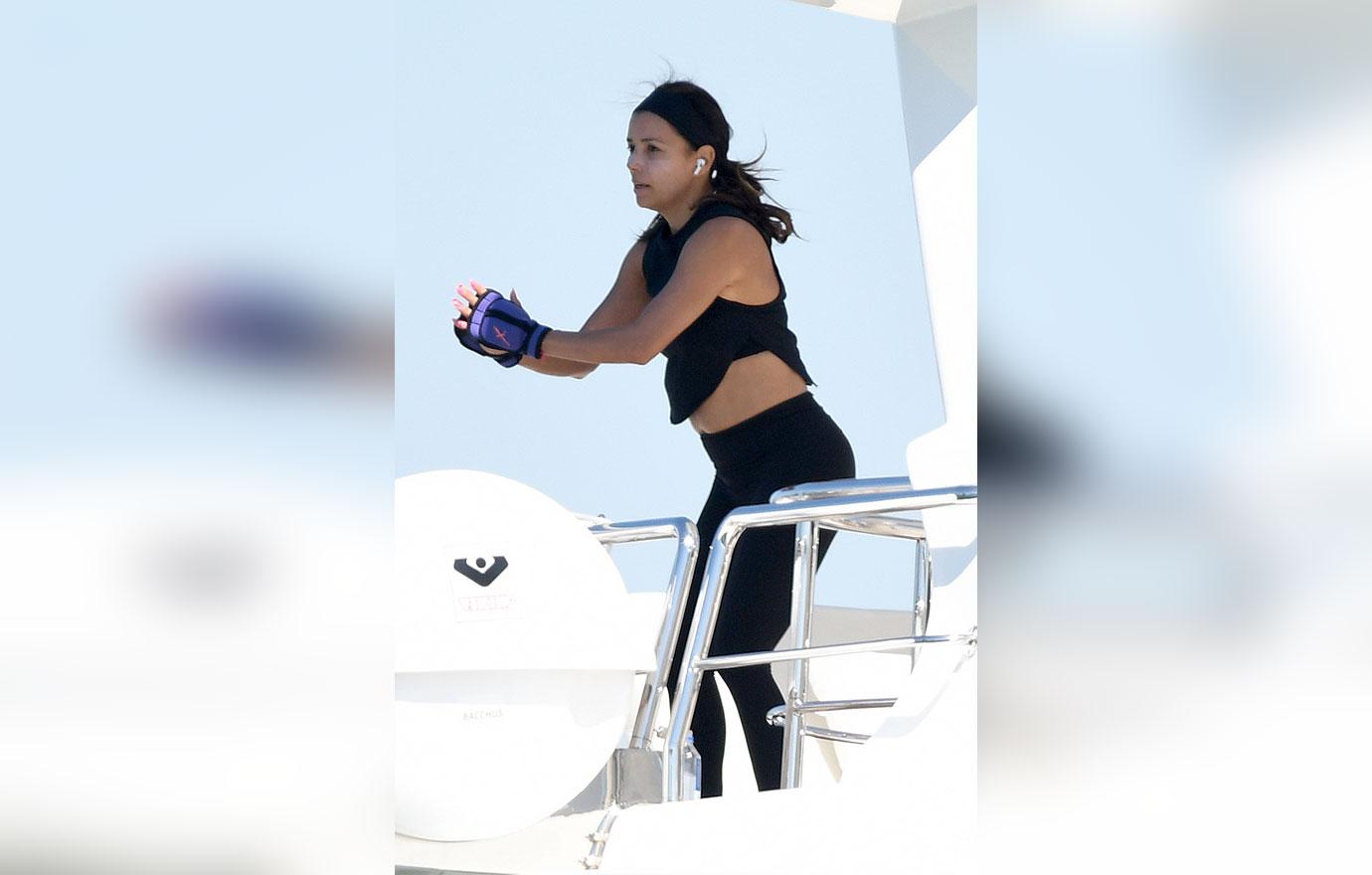 The Desperate Housewives alum seemed to be listening to music through her Airpods while doing some squats. "She's always happy. She puts the work in. I've never seen her in a bad mood," Longoria's trainer Grant Roberts spilled. "She's super generous. I mean, she is superhuman, I don't know how else to explain it."
Article continues below advertisement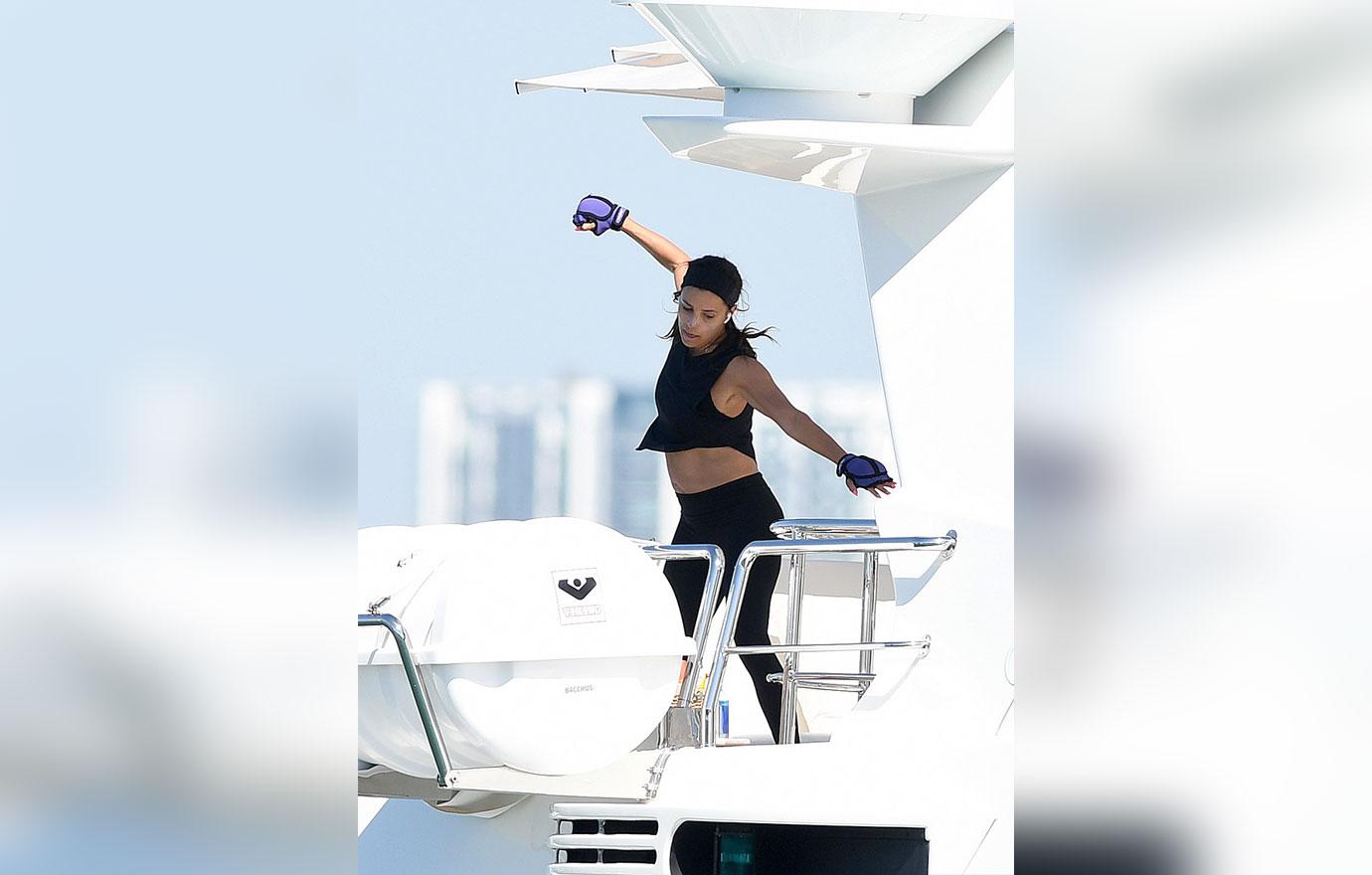 The mom-of-one has maintained a healthy outlook on health and fitness, revealing that after she gave birth to her first child, son Santiago, in 2018, she wasn't worried about what her postpartum body looked like.

"It created a human life," she noted. "So I really wasn't too hard [on myself] about getting back into shape."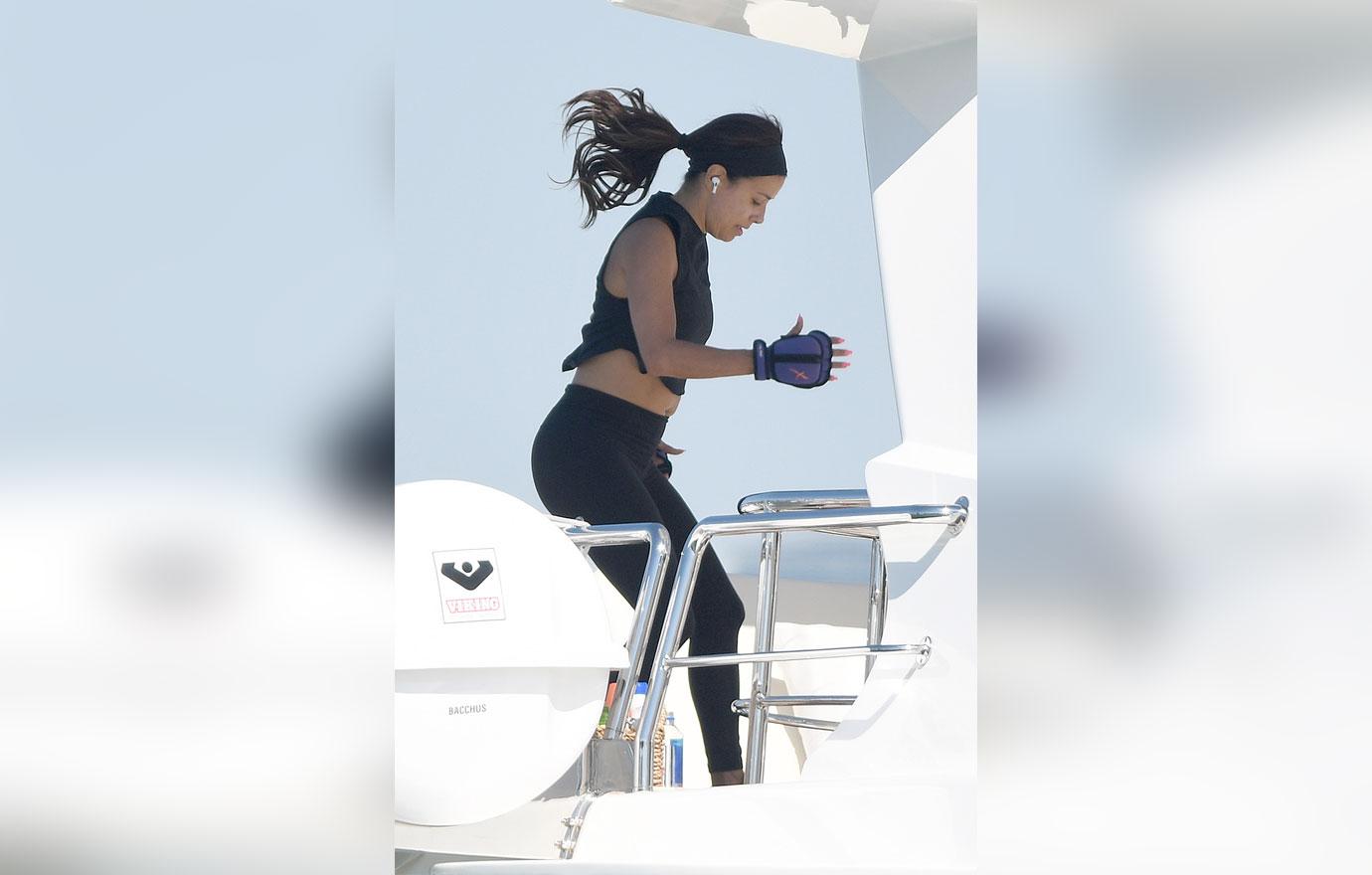 Jumpin', jumpin'! A day earlier, the Devious Maids producer posted a video of her boat workouts on Instagram. "Sisterhood of the...traveling trampoline," she captioned her post. "Girls just wanna have fun!"

Plenty of her celeb pals loved the unique setup. "Can you send it to me next? Or does it have to go to @americaferrera @amberrosetamblyn or @blakelively first?" joked Kerry Washington.

Real Housewives star Lisa Rinna commented, "Go Eva!!!" while Once Upon a Time actress Lana Parilla called it "the best workout ever."
Article continues below advertisement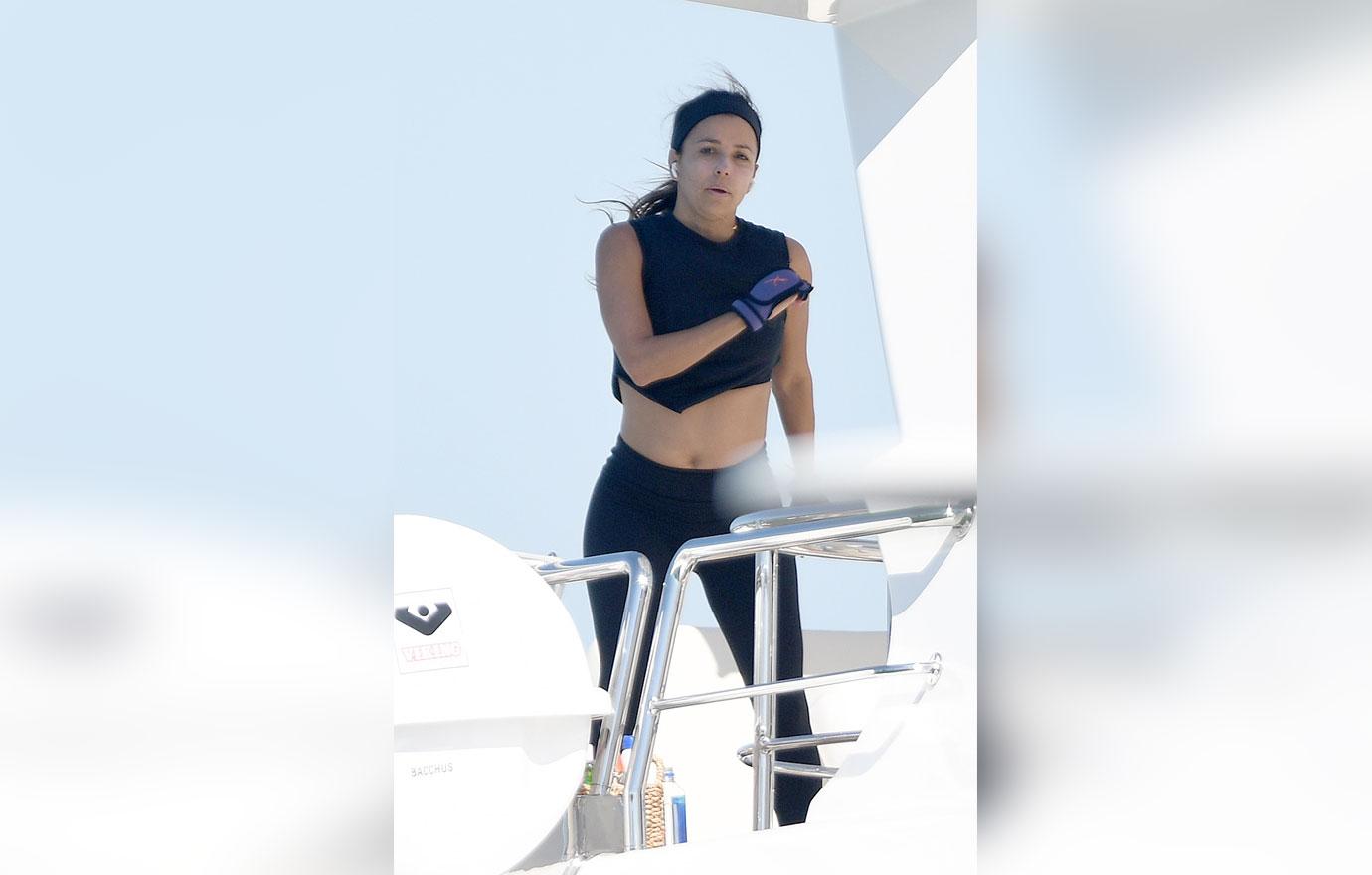 Aside from her trampoline routine, Longoria does a variety of workouts.

"I'm a runner, I do yoga, I do pilates. I do SoulCycle, and I'm just constantly mixing it up," she revealed. "And I watch what I eat. Everybody thinks there's some kind of secret to looking good, but it's not a secret. It's diet and exercise."
Keep scrolling to shop fitness equipment directly through Morning Honey!
Article continues below advertisement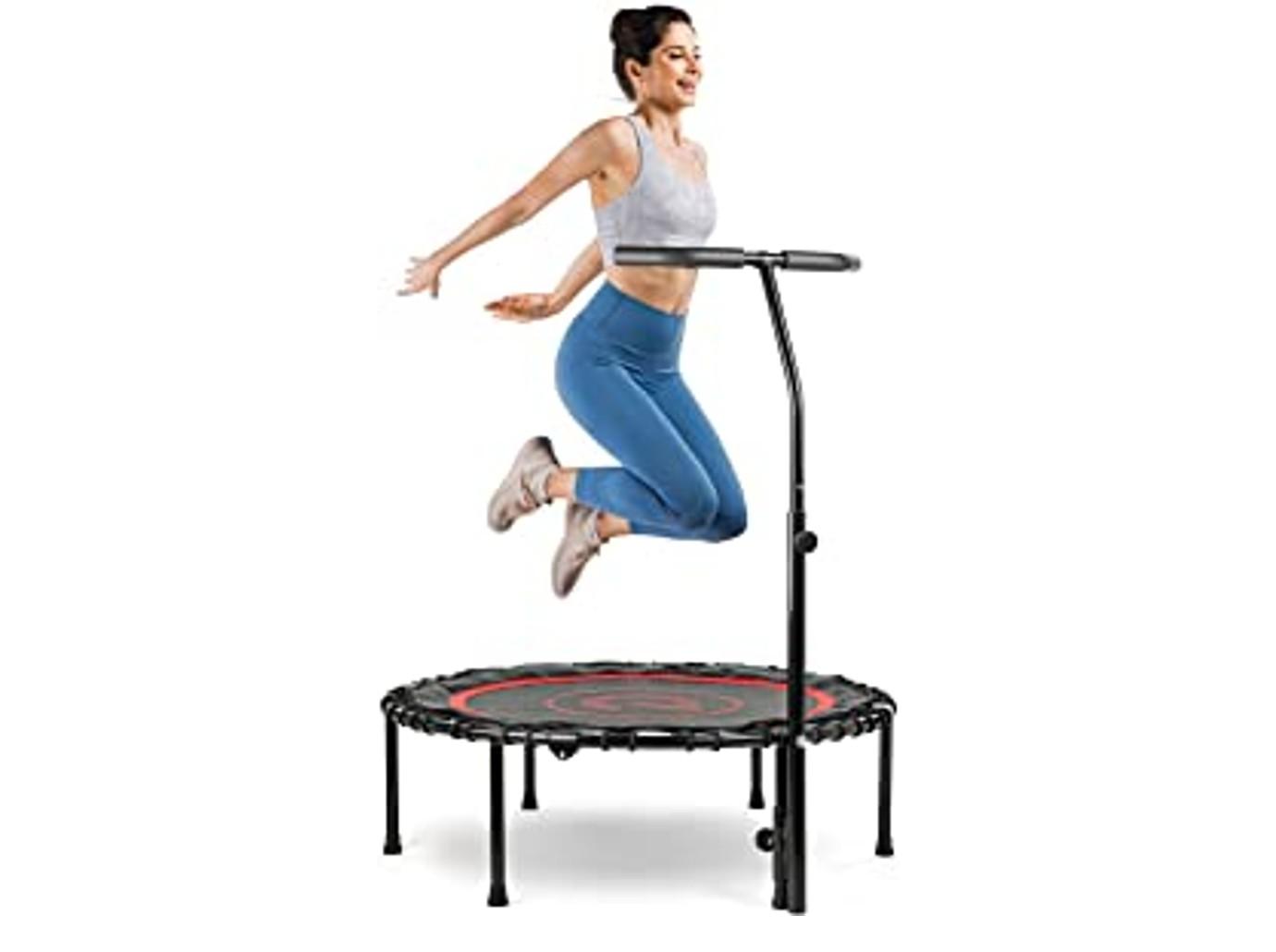 SHOP NOW/SEE IT
Pelpo's Folding Mini Trampoline retails for $74.99 at amazon.com.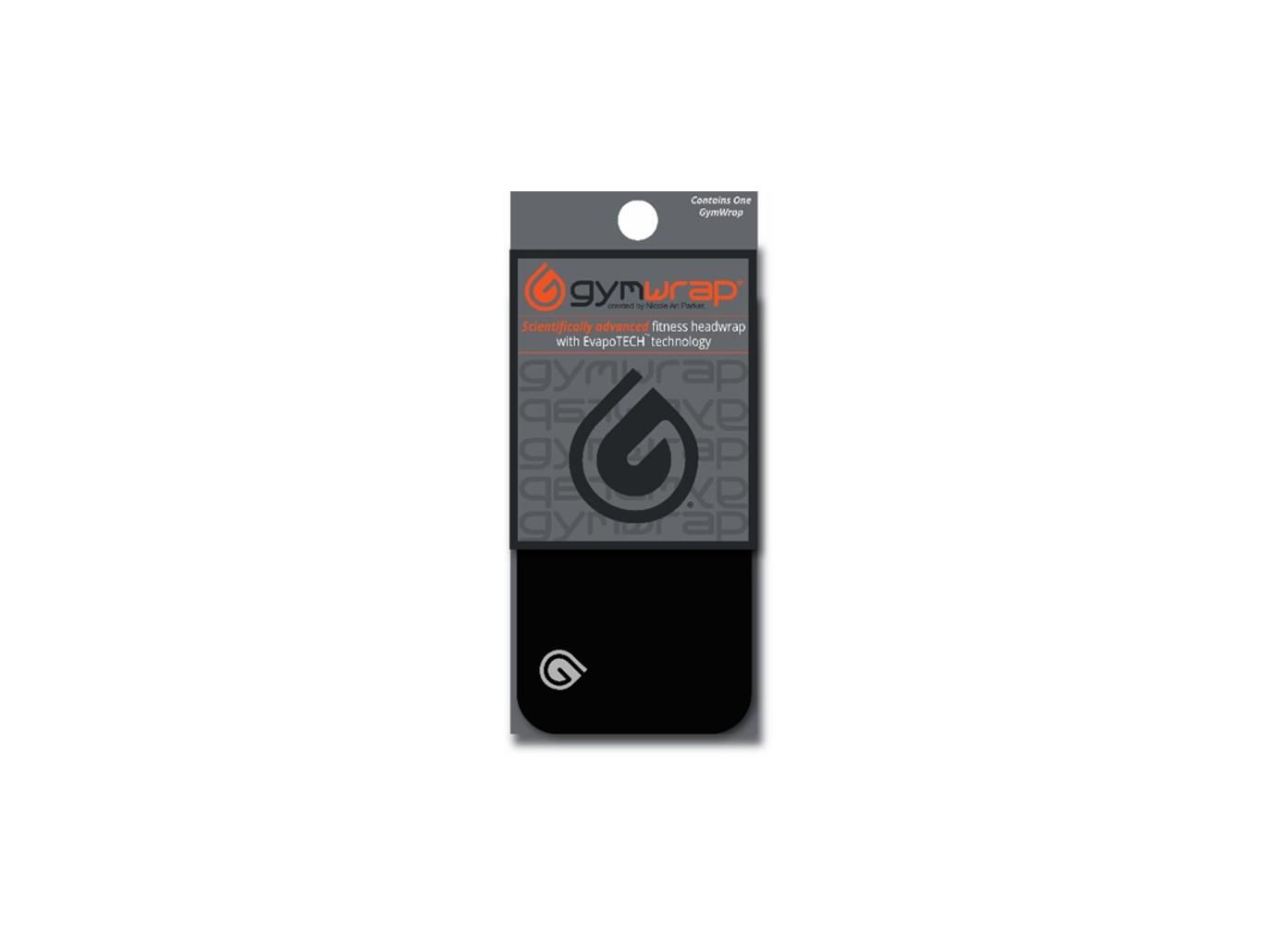 SHOP NOW/SEE IT
GymWrap's OSFM w/Tie retails for $11.01 at walmart.com.
Article continues below advertisement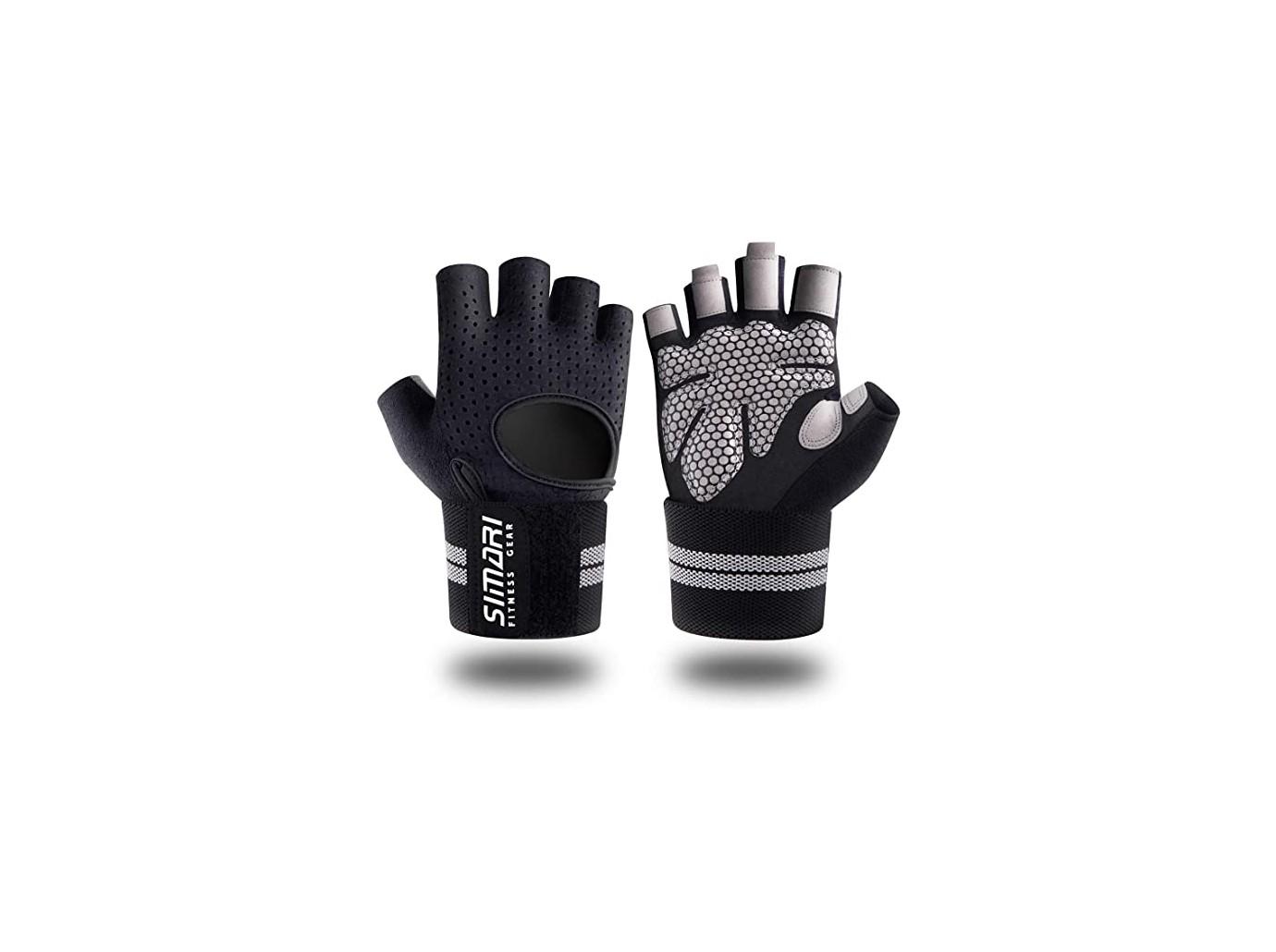 SHOP NOW/SEE IT
SIMARI's workout gloves retail for $25.98 at amazon.com.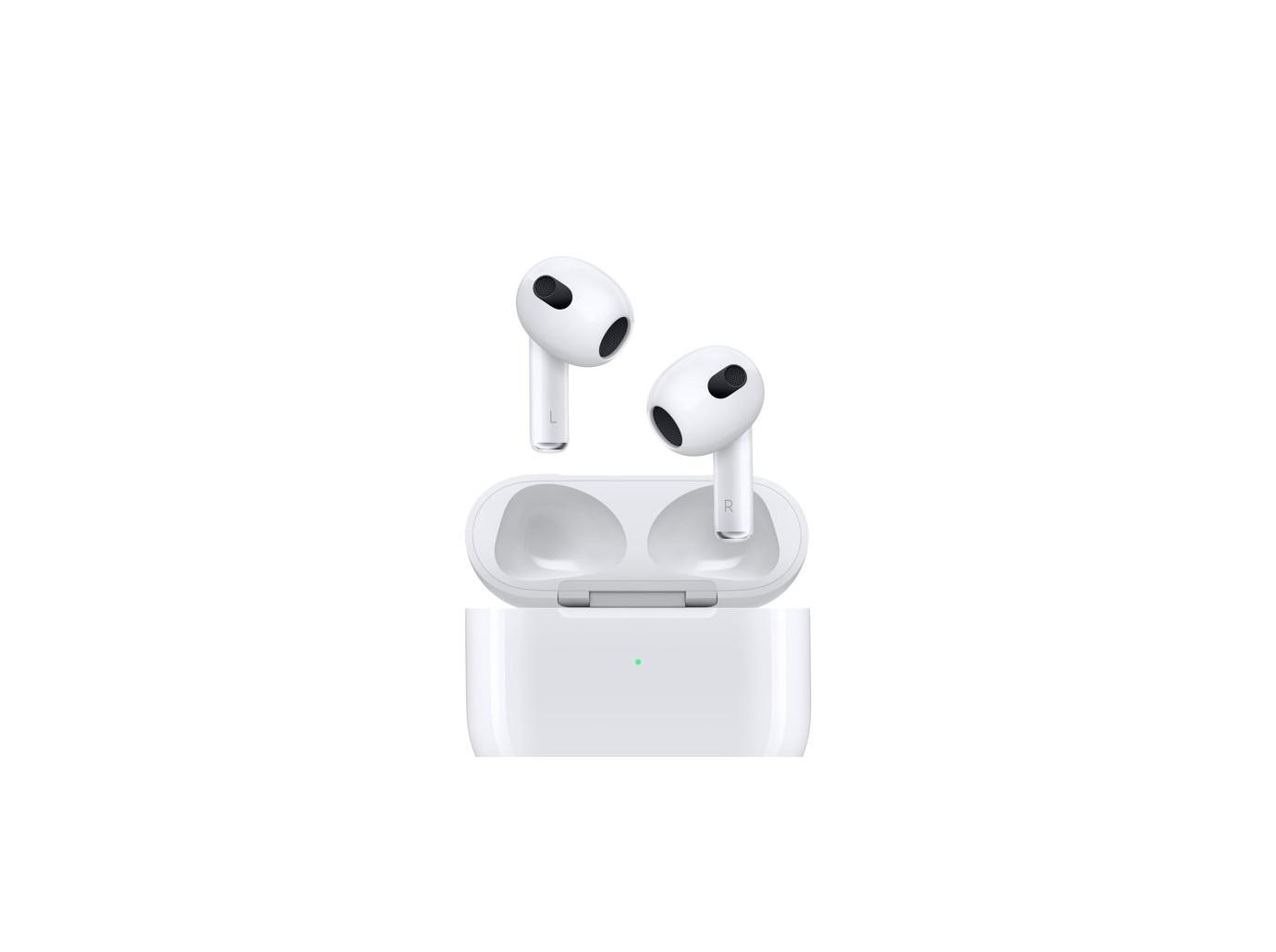 SHOP NOW/SEE IT