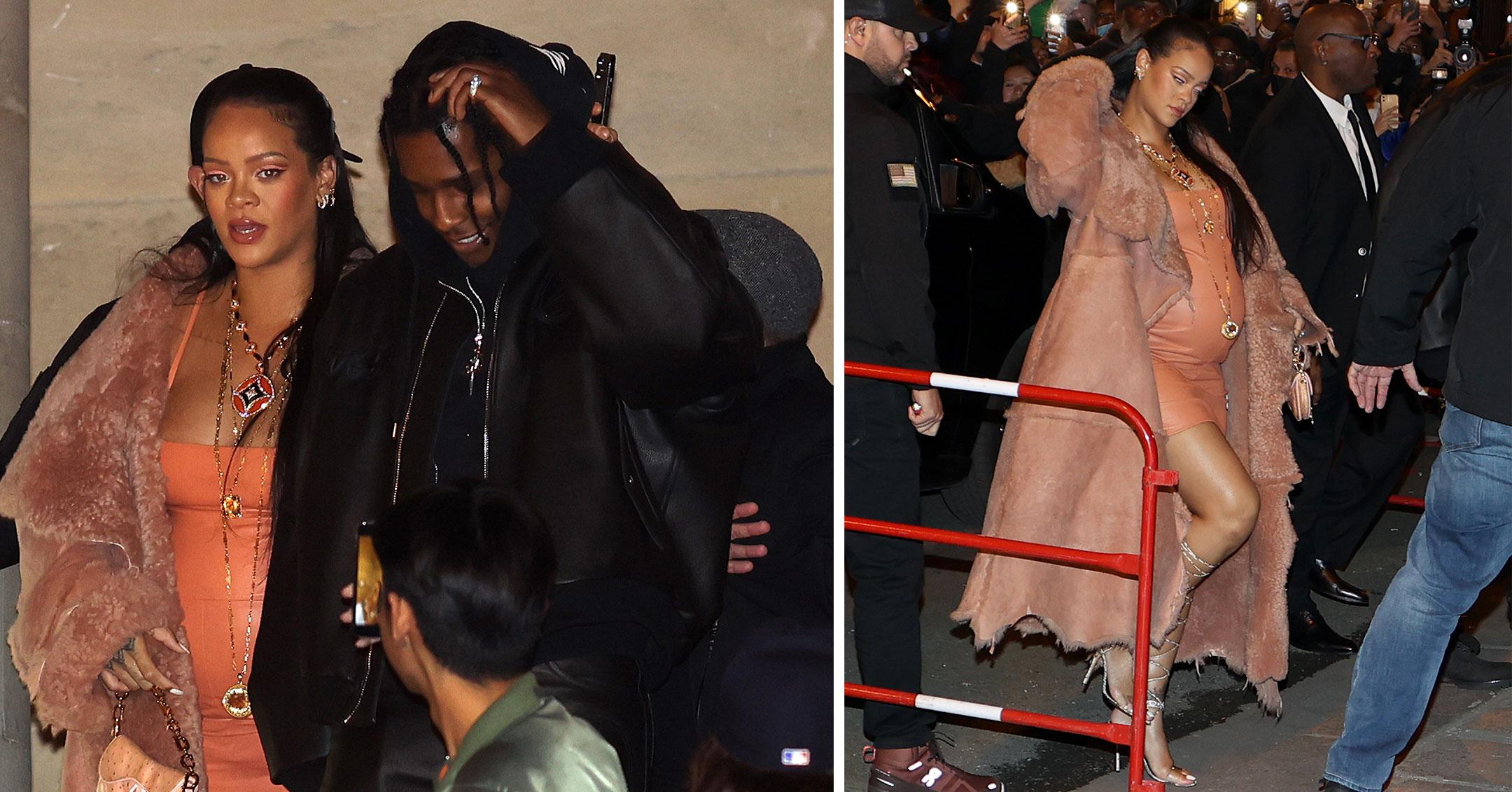 Rihanna In Paris! Pregnant Singer Dons A Leather Dress & Stiletto Heels While In France With A$AP Rocky — See Pics
Parents-to-be Rihanna and A$AP Rocky stepped out for a fashion event while in the City of Love on February 28. The pair took in the Off-White Fall-Winter 2022 show, where big names like Kendall Jenner, Gigi Hadid, Kaia Gerber and Karlie Kloss strutted their stuff on the runway while wearing a few threads designed by late designer Virgil Abloh.
Scroll down to see RiRi and and her growing baby bump in Paris.
Article continues below advertisement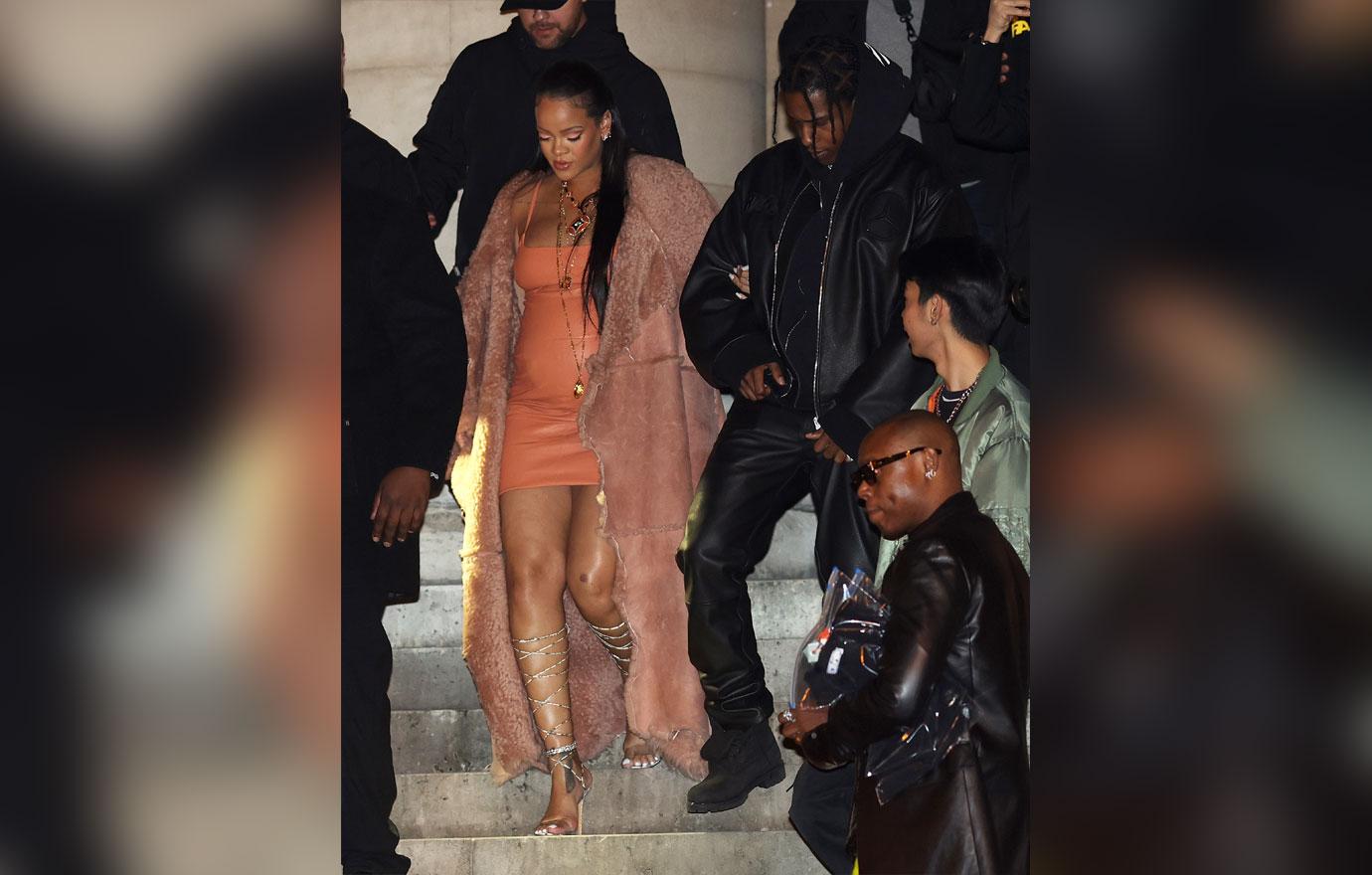 The Fenty Beauty founder donned a leather peach dress that she topped off with a similarly colored long shearling coat. On her feet were a pair of silver stiletto heels that wrapped up her calves. The star also carried a small purse and wore a few necklaces of different lengths in addition to a pair of earrings.
The rapper went monochromatic in a black jacket, pants and hooded sweatshirt.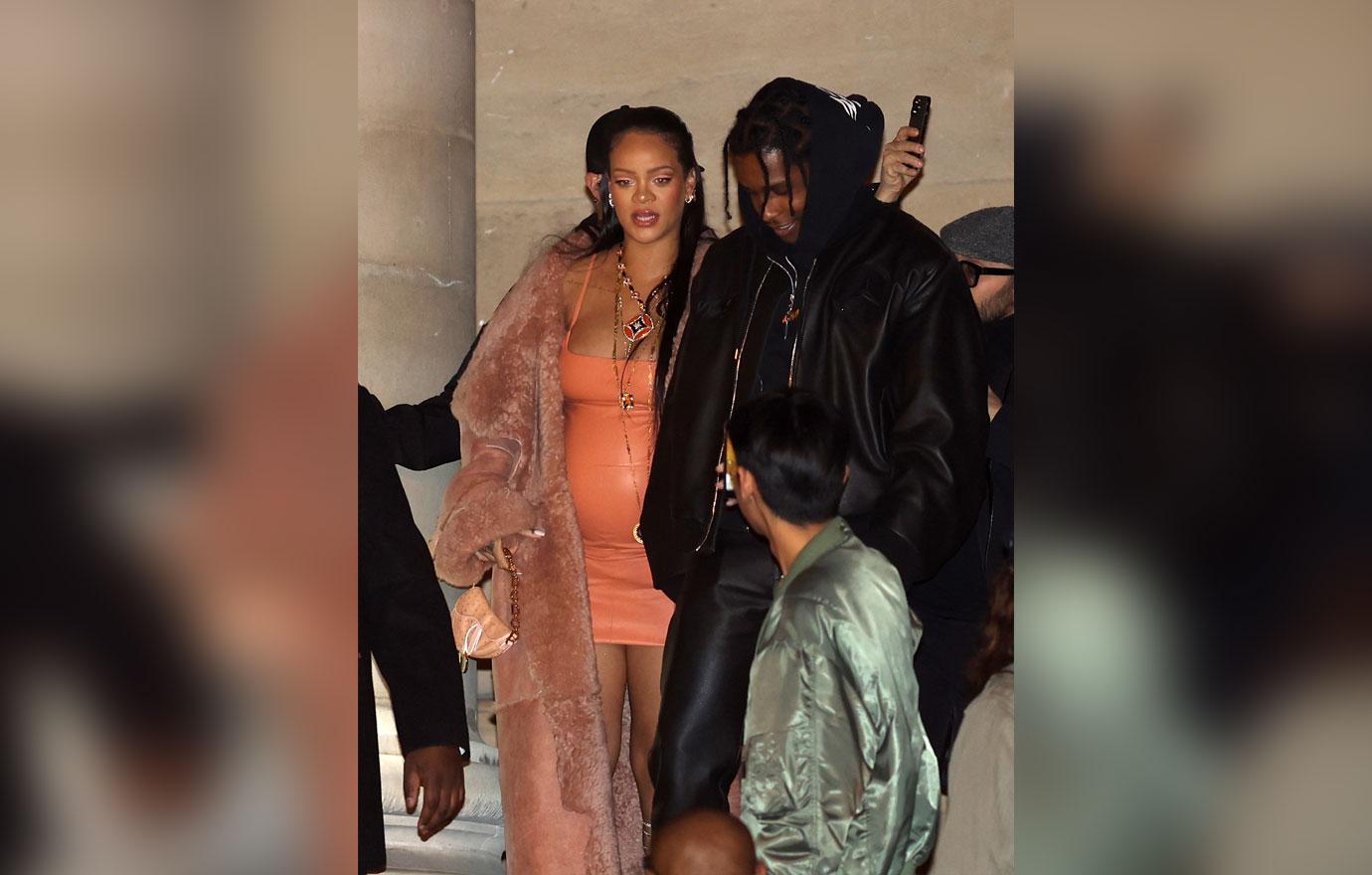 The "Take a Bow" crooner revealed that staying stylish while pregnant can be "challenging," but she also said that the process can be "fun."
"I'm enjoying not having to worry about covering up my tummy," she explained. "If I feel a little chubby, it's like, whatever! It's a baby!"
Article continues below advertisement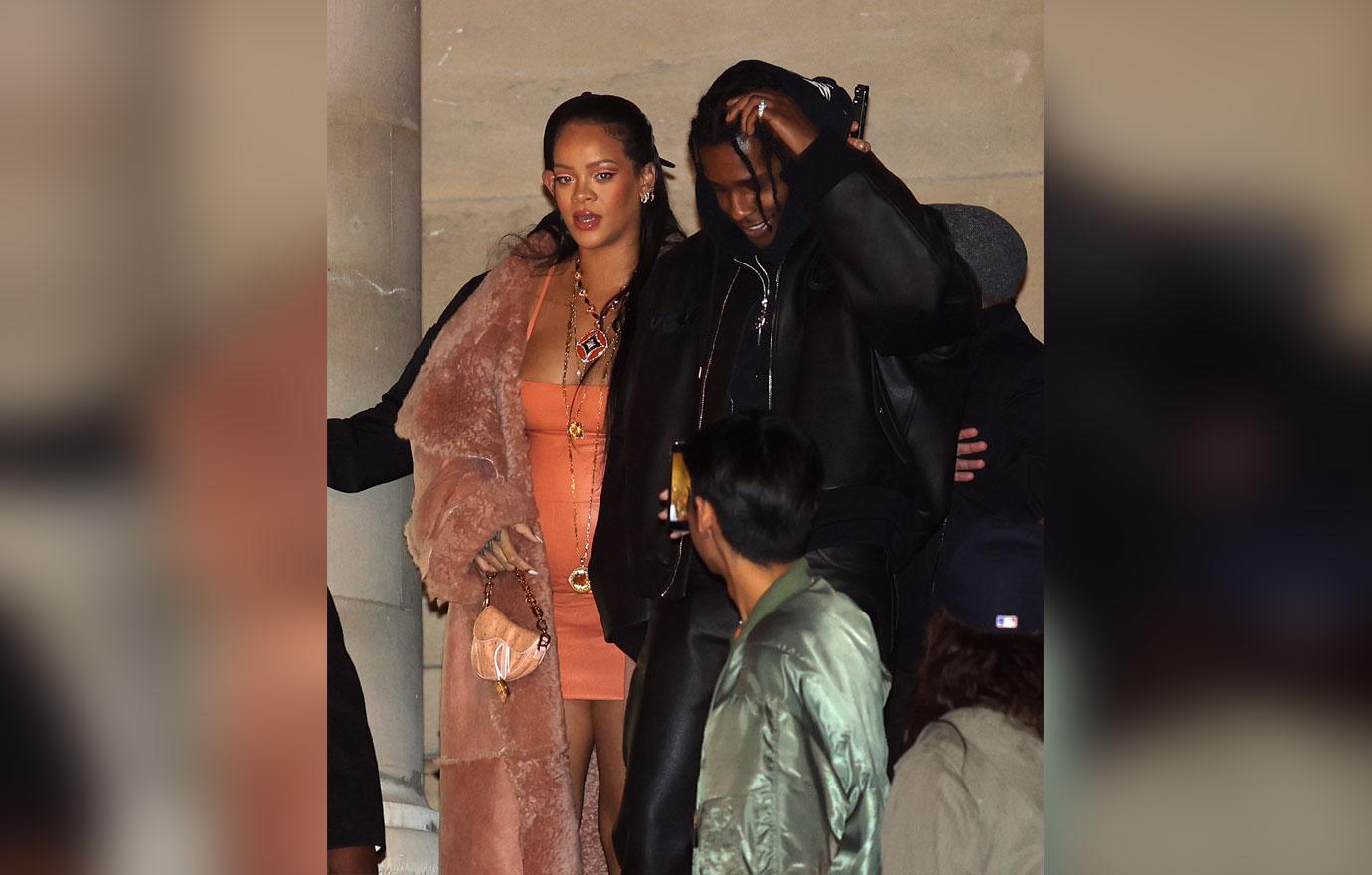 The Grammy winner admitted that carrying around the extra weight can sometimes make her sluggish, but she usually pushes herself to continue on with her normal routine.
"Right now, being pregnant, some days you just feel like, 'Ugh, I just want to lay here on this couch all day.' But when you put on a little face and a little lipstick, you transform. You put some clothes on, and it's like, when you look good, you feel good," explained the Barbados native. "I've heard that for a very long time, but it's true. It really can get you up off that couch and make you feel like a bad b**ch."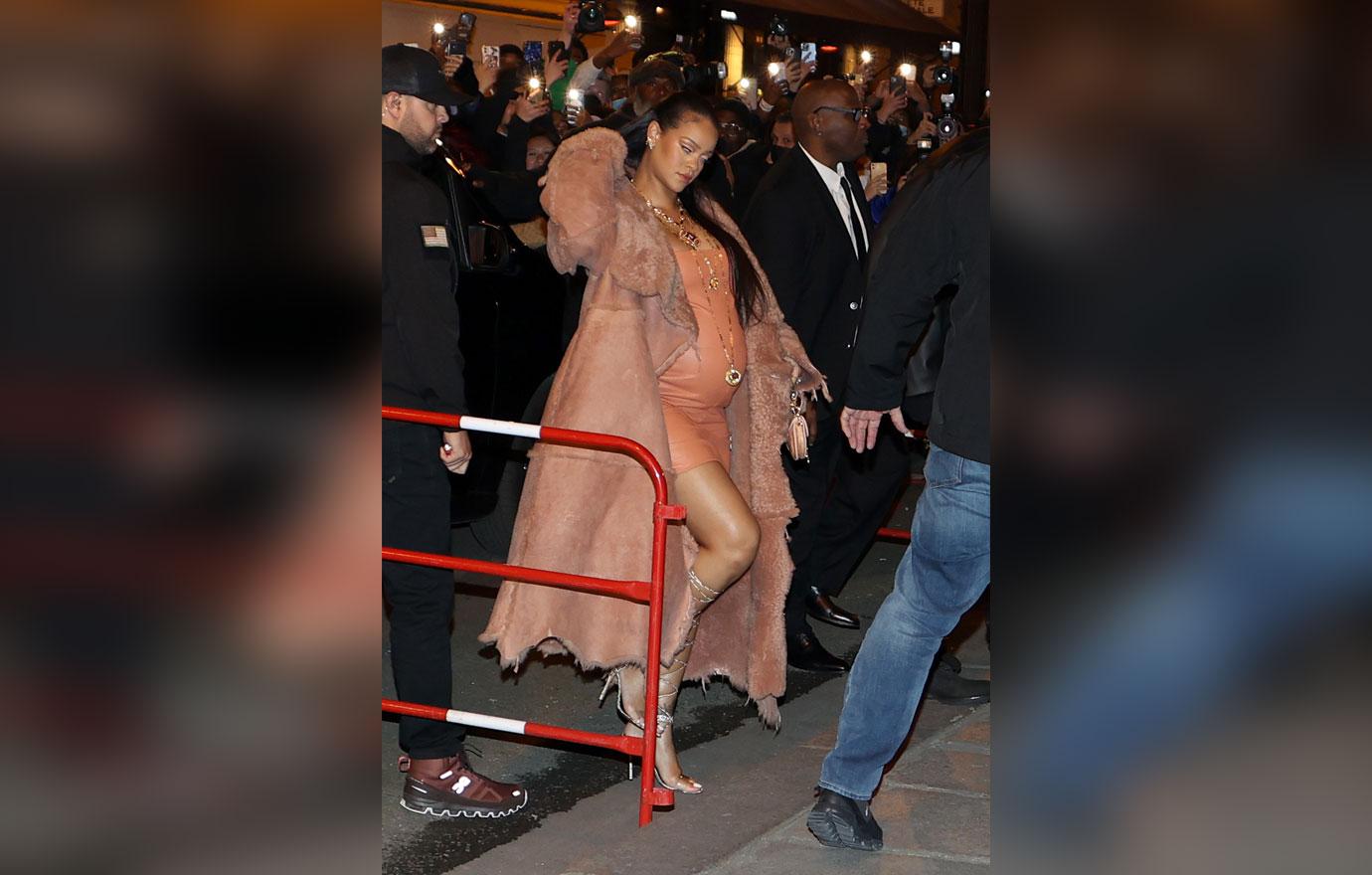 The superstar shared that the pregnancy was "hard" to keep a secret from the public, but it was even "harder" to keep it from her "posse."
"They're around me, they know my habits and I'm eating all the things I'm not used to eating. They know I hate sweets and all of a sudden I'm asking for cookies and doughnuts," she recalled to E! News. "But finally I had to let it all out. They were all shocked, as the world was shocked as well."