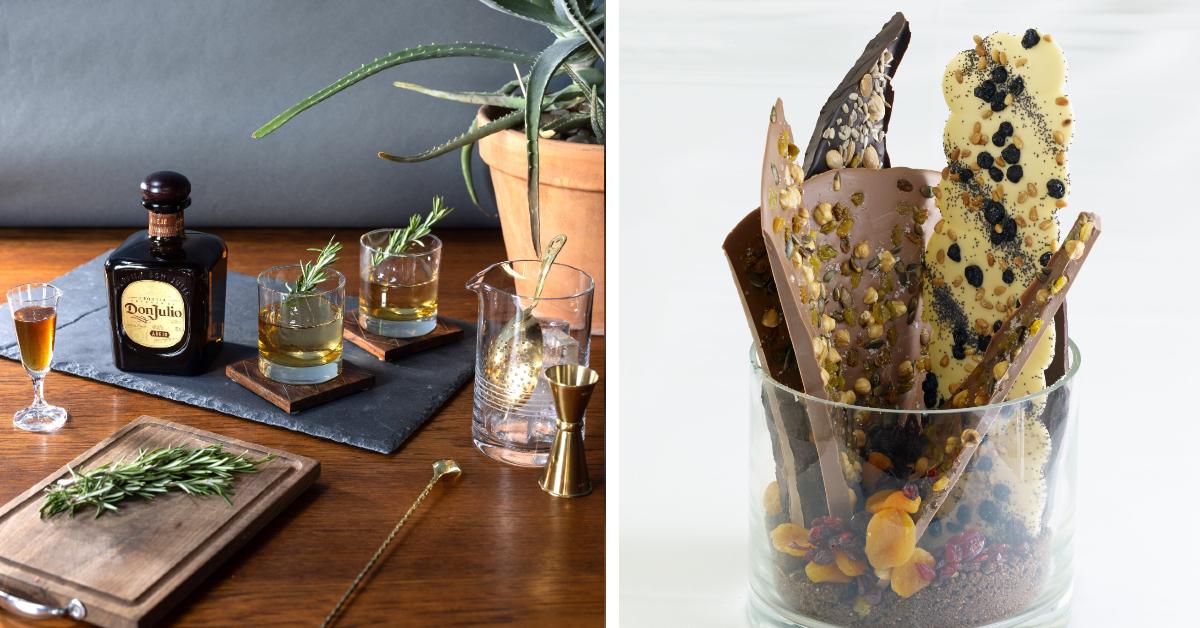 Throwing An Oscars Viewing Party? Here Are The Recipes For What The Stars Will Be Eating & Drinking On The Big Night
If you've ever wanted to wine and dine like an A-list celebrity, you're in luck: chef Wolfgang Puck, who created the menu for this year's Governor's Ball (the Academy's official post-Oscar's bash), shared exactly how you can make the food and drinks that will be served at the 2022 soireé, which is on Sunday, March 27.
"Every year we look to find ways to keep things new, fresh and fun," explained the star. "The Oscars Governors Ball is an event where food, fashion, culture, cinema and music collide."
Scroll down for the recipes that are perfect to serve at your own at-home Oscars viewing party!
Article continues below advertisement
Limelight Margarita
INGREDIENTS:
PREPARATION:
Combine ingredients in a shaker with ice. Shake well and pour into a chilled coup glass. Mist with orange flower water and garnish with edible flowers.
Old Hollywood Fashioned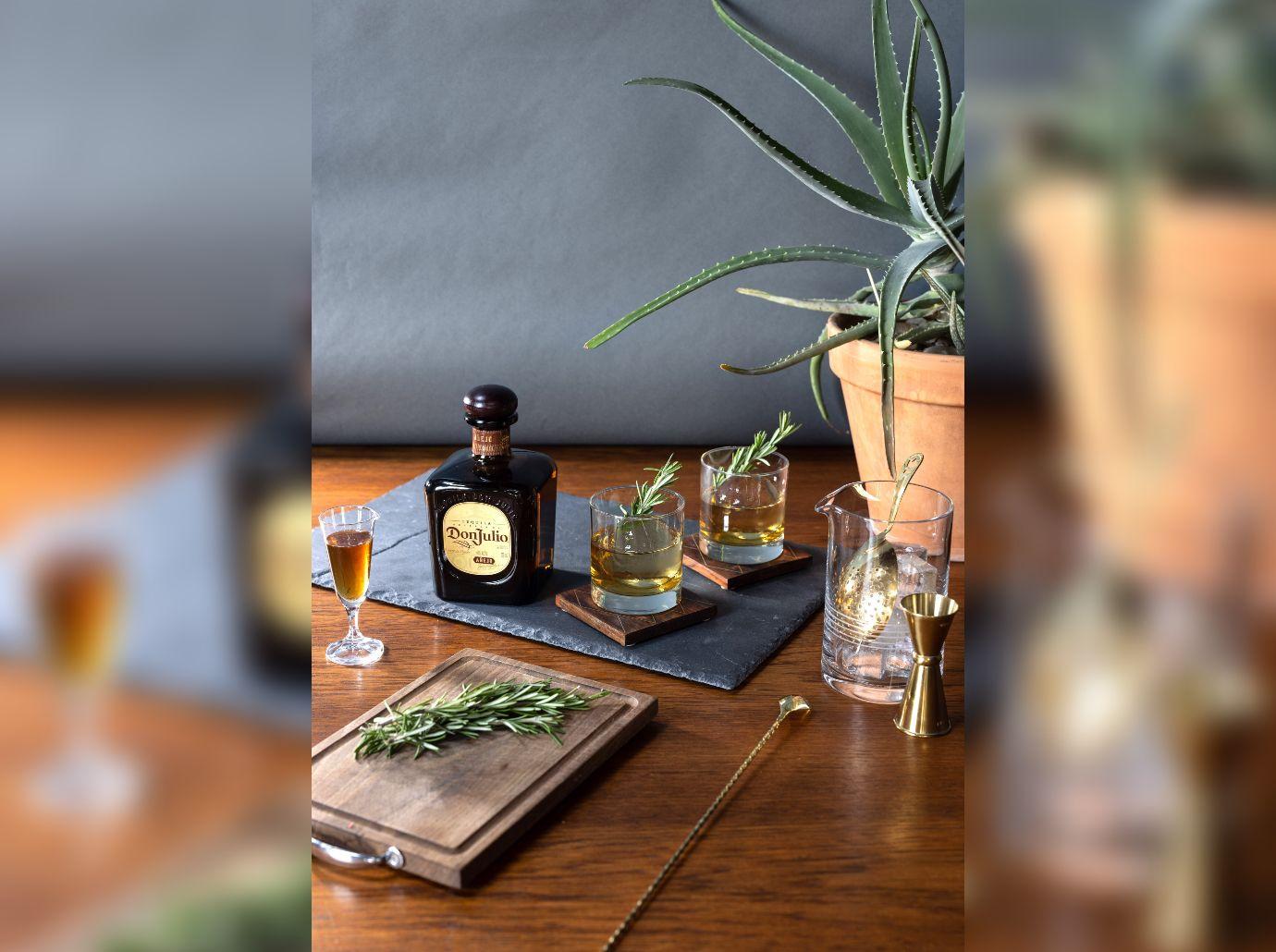 INGREDIENTS:
11⁄3 oz Tequila Don Julio Añejo
¼ oz dry oloroso sherry
¼ oz barrel aged, truffled maple syrup (cut 3:1 syrup:water)
3 dashes truffle bitters
PREPARATION:
Combine ingredients over ice in a mixing glass and stir well. Strain over large ice cube in a rocks glass. Garnish with fresh rosemary sprig.
Article continues below advertisement
Cacio e Pepe Macaroni & Cheese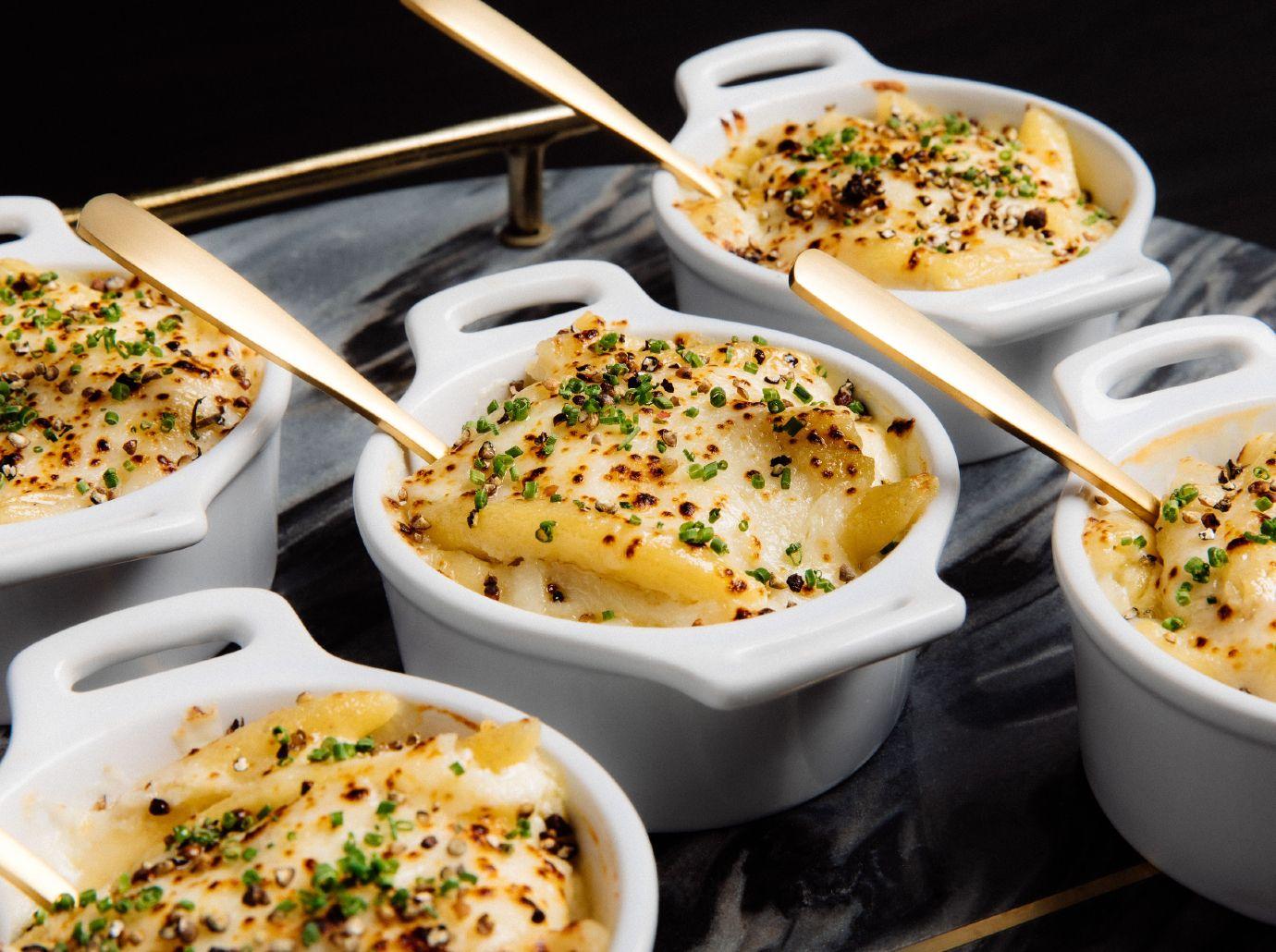 INGREDIENTS (serves 1):
8oz Cavatelli Pasta
2 Tbsp Salt
2 Tbsp Butter
2 Tbsp Flour
1 ¼ cup Whole Milk
¼ cup shredded Aged Vermont White Cheddar
1 Tbsp Parmesan
¼ tsp Pink Peppercorns, toasted and ground
½ tsp Black Peppercorns, toasted and ground
¼ tsp Green Peppercorns, toasted and ground
DIRECTIONS:
Bring 2-3 quarts of water to a boil in a pot. Add 2 Tbsp of salt to the water and then the pasta. Cook for about 8 minutes or to al dente. Strain.
In a heavy bottom pot, melt butter and then whisk flour into the melted butter. Continue to whisk for two minutes on low heat avoiding any color.
Add milk to the butter and flour mixture continuing to stir until the milk thickens to a creamy consistency and coats the back of a spoon.
Add white cheddar, stirring to melt the cheese into the milk. Add ground pink and black peppercorns.
Add the pasta to the pot and stir in the Parmesan. Season to taste with salt and pepper.
Chocolate Bark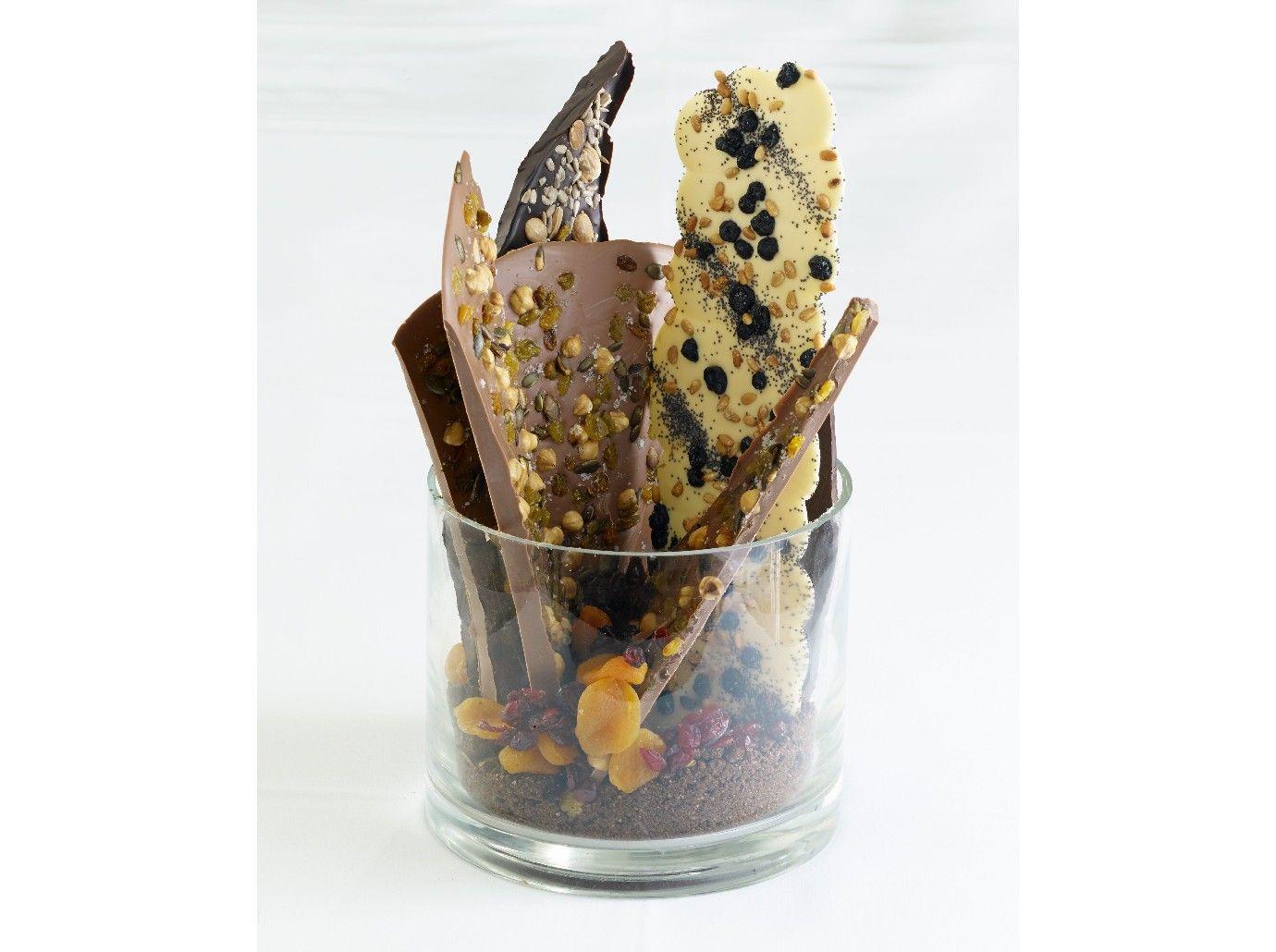 Note: If you start with raw shelled nuts, put them in a single layer in a baking pan and roast them in a preheated 350°F oven until golden, about 6 minutes; then remove them from the oven and cool to room temperature before making the bark.
INGREDIENTS:
1 pound dark chocolate (64 to 70 percent cocoa content), coarsely chopped
1/4 cup roasted pecan halves
1/4 cup coarsely chopped roasted macadamia nuts
1/4 cup roasted shelled pistachio nuts
1/4 cup roasted shelled sunflower seeds
1/4 cup dried cherries
1/4 cup chopped dried apricots
DIRECTIONS:
Line a baking sheet with parchment paper. Put the chopped chocolate in a microwave-safe bowl. Put the bowl in the microwave, set the power level to medium, and microwave for 20 seconds.
Stir the chocolate with a rubber spatula and, if not smoothly melted, microwave again for 20 seconds longer. Continue only until the chocolate is smooth.
Spread the melted chocolate on the parchment-lined baking sheet to a thickness of 1/4 inch. (It's okay if the edges of the spread-out chocolate aren't neat, since you'll be breaking it up.) Immediately sprinkle the pecans, macadamias, pistachios, sunflower seeds, cherries, and apricots over the still-melted chocolate.
Leave the chocolate to set until solid, about 20 minutes at cool room temperature or 5 to 10 minutes in the refrigerator.
Break the chocolate into rough serving pieces and store in a covered container at cool room temperature until serving time.
The Oscars start at 8 p.m. ET on ABC.