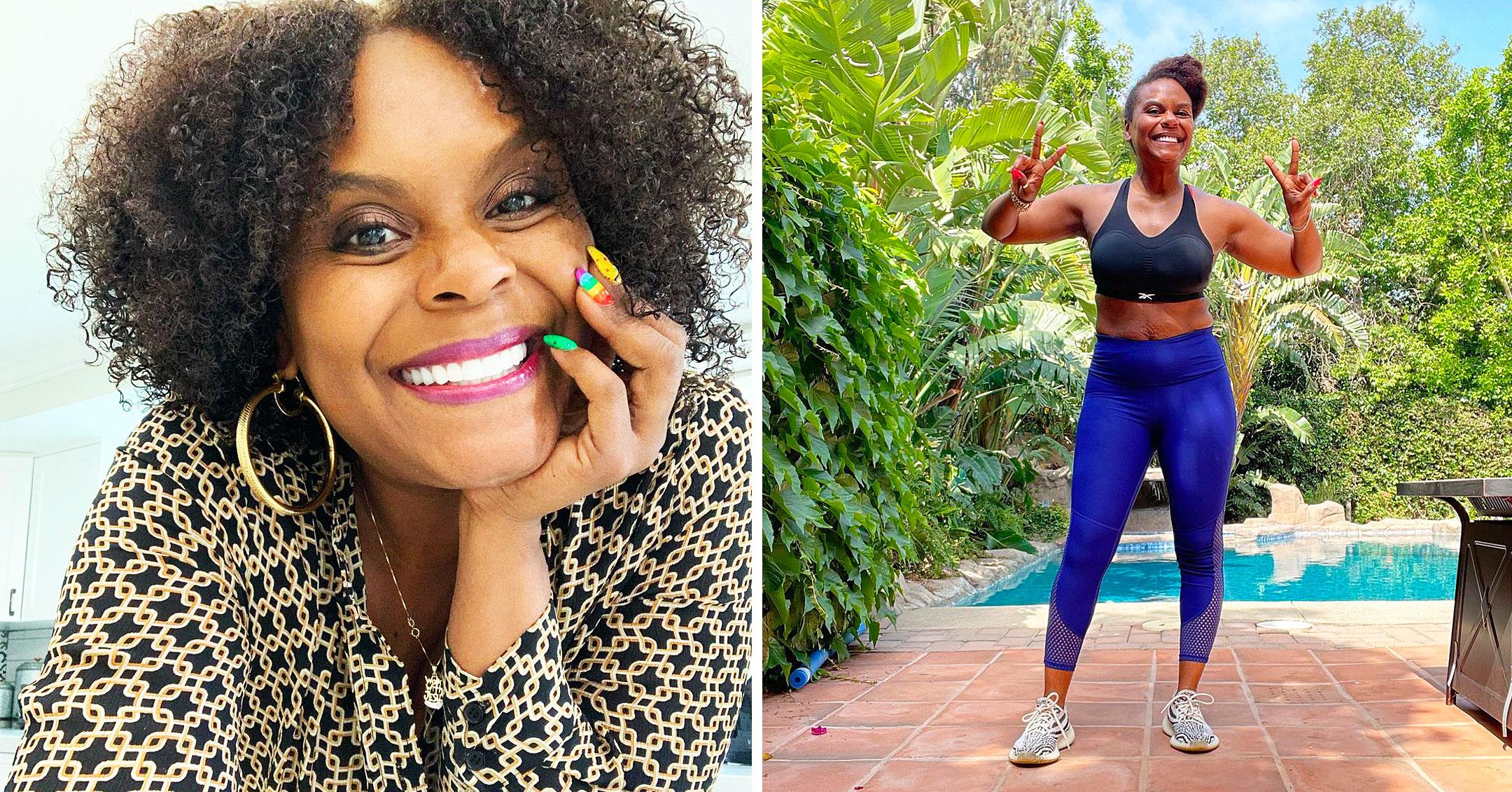 TikTok Star Tabitha Brown Has Been Sleeping Better Since 'The Pandemic Hit' — Inside Her Calming Nighttime Routine
Actress Tabitha Brown probably had no idea when she started her TikTok channel — on which she cooks Vegan meals — that she would secure 4.7 million fans in a little more than a year. Now, she is partnering with Ellen DeGeneres' team to produce a show called All Love, in addition to releasing a book titled Feeding The Soul, which is all about plant-based living.
Article continues below advertisement
This clip from the book's description encapsulates Brown's attitude toward everything she does: "The most important lesson Tabitha shares with readers is how to make a life for themselves that is rooted in kindness and love, both for themselves and for others."
Article continues below advertisement
On top of her career as an actress and TikTok superstar, Brown is also a mother of two. Considering how busy Brown's life is, it may come as a surprise to you to hear that Brown doesn't have any trouble closing her eyes at night. And in light of the fact that many folks have experienced insomnia and sleep problems since the pandemic hit, Brown has experienced quite the opposite. "I've slept better, believe it or not, since the pandemic hit," she tells Glamour.
Her reasons? Even though she is living through a hard time in history, she knows that it is temporary and will make her "stronger."
So, what does Brown do to get a good night's sleep? It's simple really — she engages in a nightly routine that soothes and calms her.
Article continues below advertisement
Keep reading to learn exactly what she does and how you can do it, too.
Check In With Yourself
Brown tells Glamour that she does a self check-in when she takes her evening shower. She examines herself to see if there is anything she is holding onto and tells herself, "OK, girl, it's time to let go of that."
After she lets go, she sings — anything from gospel music to made-up songs. When talking about her shower routine, Brown says that although people think she's crazy when she explains it, she feels good about herself afterwards.
By recommending self check-in's, Brown is onto something important. According to Carol Bennett, who has a Master's in Clinical Psychology, "touching base with yourself on a daily basis is a healthy, emotional act." She explains that she checks in with herself twice a day by asking, "What's wrong, what's right or good or bad or unsettling or uncomfortable?" Then, she answers the questions aloud, because doing so helps her "process it with more clarity and focus."
Article continues below advertisement
Engage In Bedtime Tasks That Are Fun And Relaxing
There are many different fun tasks Brown engages in prior to falling asleep at night. Back when she was writing her book, she would sometimes work on it in the evenings. On other nights, she journals. Brown also drinks a glass of red wine and takes Ashwagandha gummies to help her relax. Furthermore, she likes to snuggle on the couch or in a rocking chair with her little dog, Blackie. Finally, Brown has a unique habit that soothes her — looking at houses on her phone. Sometimes, she pictures herself walking through one of the homes. "It's pleasant to my brain," she explains.
To emulate Brown, jot down a list of tasks that you find relaxing and save those for the 30-60 minute window of time you have prior to going to bed. Verywell Health recommends that you "choose something that you find calming." It goes on to give some ideas like reading a book, listening to music, watching TV, taking a bath or shower and stretching.
Set The Bedroom Stage For Sleep
We all know how hard it is to fall asleep when we aren't comfortable — and how easy it is to fall asleep when we are. Brown sets the right stage for sleep by wearing comfy, bright-colored pajamas that make her happy. She recommends pajamas that are made of "super soft, stretchy cotton." She also has a Sleep Number bed and sleeps with four pillows to help with her stenosis. Brown and her husband also like to keep their room cold, so she warms and soothes herself with a weighted blanket.
The website Sleep Foundation agrees with Brown's choices. It suggests turning the temperature down to somewhere between 60-71 degrees at night to help you sleep comfortably. It explains that "excess heat can disrupt sleep." It also stresses the importance of having a mattress and bedding that are comfortable and supportive. The other tips on the site are all about making sure that your other senses are not irritated by your nighttime environment. For example, if the sun shines in your room too brightly in the morning, invest in window shades. And, of course, make sure your room has a pleasant smell.
Article continues below advertisement
No matter what life throws at you, you can always count on bedtime. For now, in spite of the pandemic hardships we are all enduring, you can adopt Brown's philosophy. "This is a huge part of history and I have lived to be able to talk about it and that just makes me sleep well, to think I was meant to experience this, that we were all chosen to live in this exact time," she often tells herself.
Then, breathe deep, have a glass of wine and gift yourself a good night's sleep.