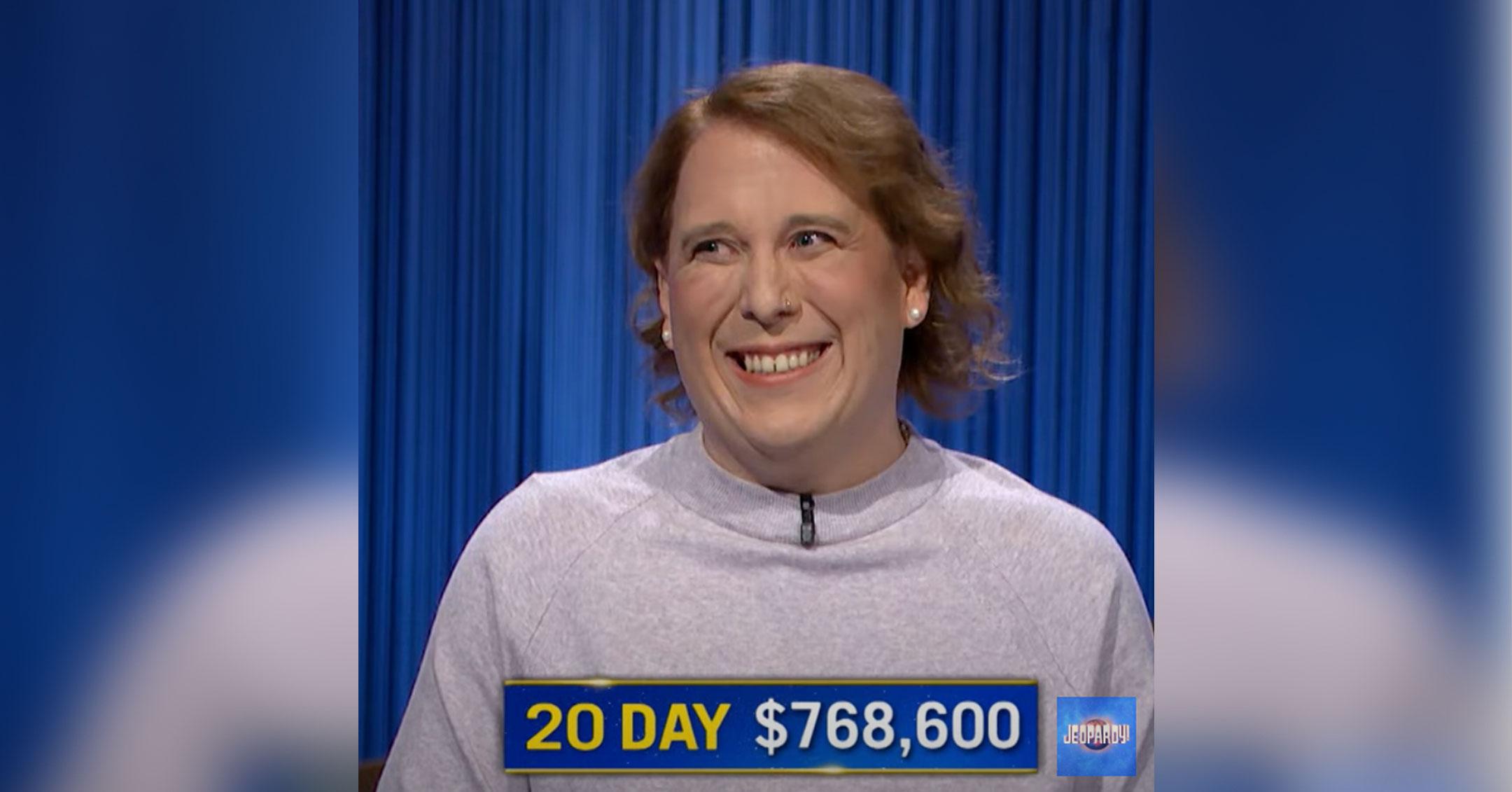 'Jeopardy!' Contestant Amy Schneider Makes History With 21 Straight Wins: 'I'm Still Trying To Take It In'
The December 29 episode of Jeopardy! marked a huge milestone: contestant Amy Schneider's 21st victory set a new record for the most consecutive wins by a woman! Additionally, she now ranks fourth overall for most consecutive wins.
Article continues below advertisement
"It happened months ago for me, and I'm still trying to take it in," she tweeted after she tied the previous record set by Julia Collins. "In my highest of high hopes, I never dreamed of matching Julia's streak. It's hard to say how I felt: proud, dazed, happy, numb, all those things."
Article continues below advertisement
After her big win, she took to social media to reflect on the day, admitting that parts of it were "hazy."
"All I remember is that I knew what was at stake: my chance to break the tie with Julia, and to keep the quest for a million alive!" she wrote. At the moment, she's racked up over $800,000, which is the highest earnings for a woman on the show.
That record was once held by Larissa Kelly, who amassed over $655,000 from her appearances on the regular show and the tournament edition, NBC News reported.
"Well, it was fun to hold a Jeopardy record for a few years...but it's been even more fun to watch @Jeopardamy set new standards for excellence, on the show and off," Kelly tweeted. "Congratulations to Amy on becoming the woman with the highest overall earnings in the show's history!"
Article continues below advertisement
Schneider thanked her for her kind words, replying, "I'm honored to be in your company, and I look forward to some day watching the woman who beats us both!"
The engineering manager is also the first openly transgender contestant to qualify for the Tournament of Champions — though she noted that there's much more to her than just her gender identity.
"The fact is, I don't actually think about being trans all that often, and so when appearing on national television, I wanted to represent that part of my identity accurately: as important, but also relatively minor. But I also didn't want it to seem as if it was some kind of shameful secret," she explained. "While it's gratifying to know that people didn't necessarily know I was trans until they read about it, I do want people to know that aspect of me. I think being trans is really cool! I am a trans woman, and I'm proud of that fact, but I'm a lot of other things, too!"