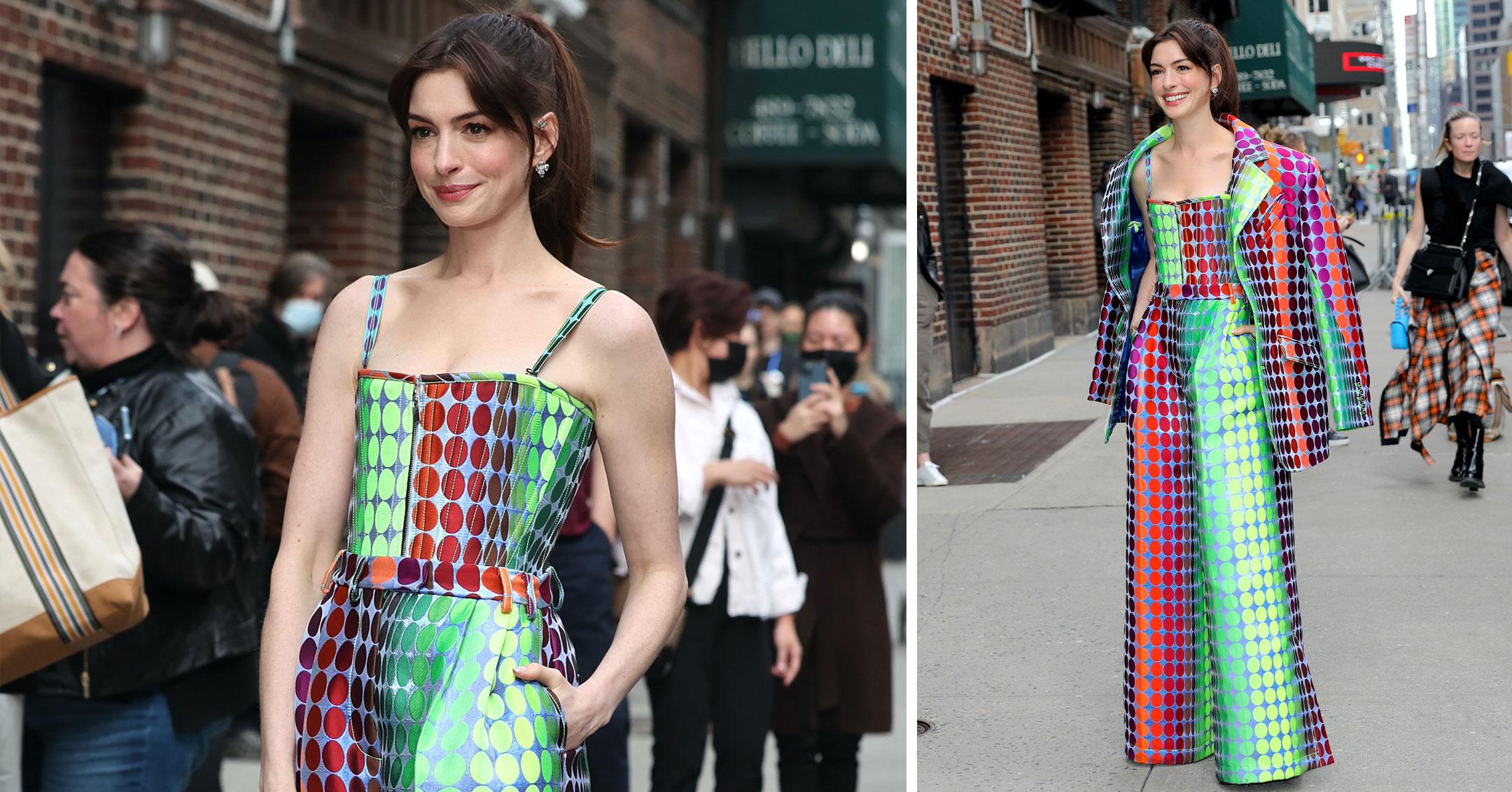 Anne Hathaway Promotes Her New TV Show In A Groovy Corset Top & Matching Pants: See Pics Of Her Colorful Attire!
What would Miranda Priestley say? On March 15, Anne Hathaway was spotted in a dizzying, colorful matching set while in New York City to promote her new TV miniseries WeCrashed.
Scroll down to see the Devil Wears Prada star's eclectic outfit!
Article continues below advertisement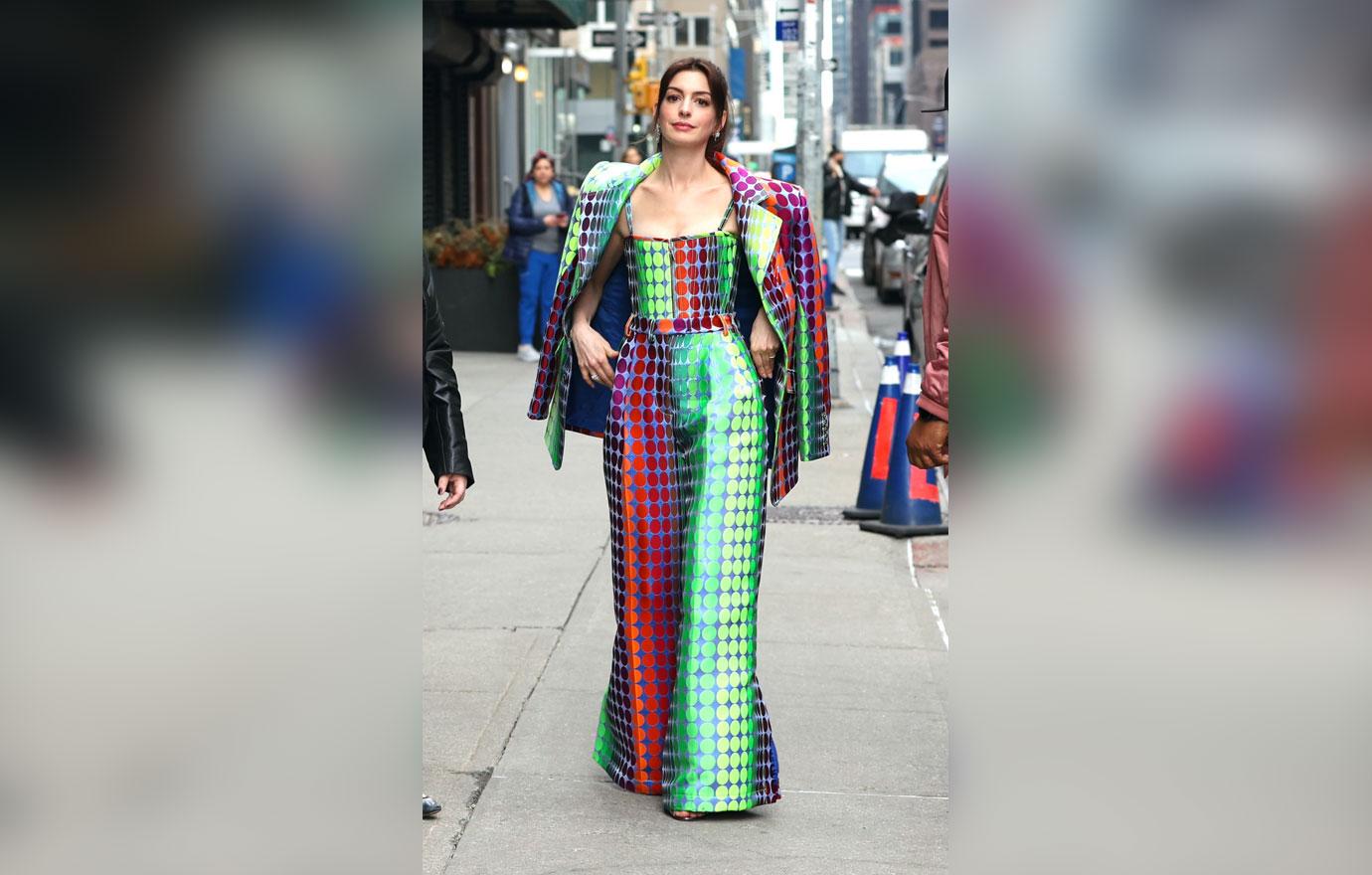 The actress was the center of attention on the Big Apple sidewalk thanks to the bright ensemble by Christopher John Rogers. The multicolored zip-up corset top was accented with a matching blazer and wide-legged pants that hid her shoes.
The mom-of-two wore the outfit while on Stephen Colbert's talk show, which she revealed was her first appearance with a "live audience" since the pandemic. "It's nice! It's really nice," she gushed as she teared up at fans' excited reaction.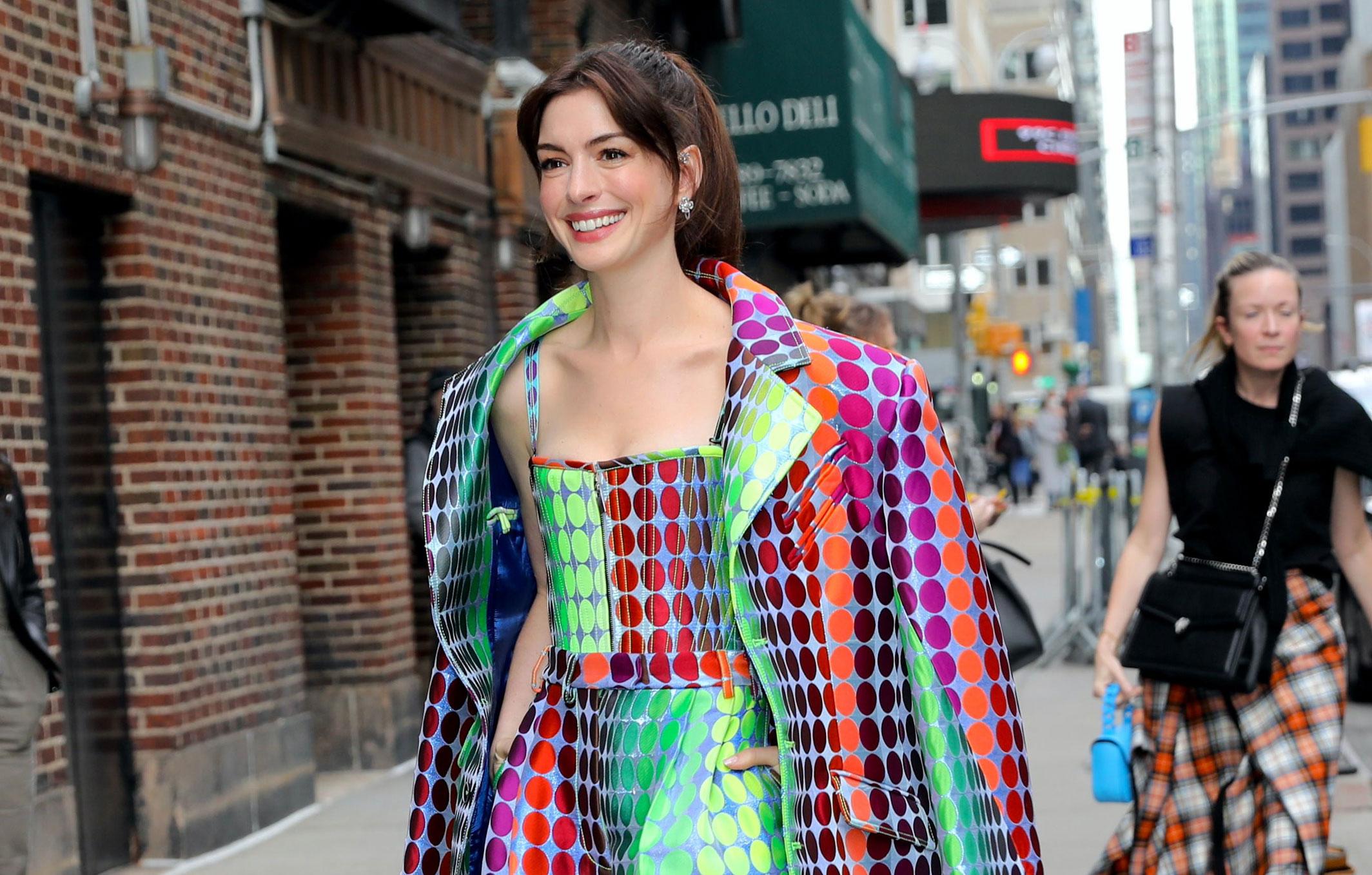 In her new Hulu show — which depicts the rise and fall of WeWork cofounders Adam Neumann (played by Jared Leto) and Miguel McKelvey (Kyle Marvin), Hathaway plays Neumann's wife, Rebekah.
For the role, she adopted her character's real life diet and lifestyle. "I did get very into yoga, and I actually really want to thank my teacher who worked with me every single day getting ready to play Rebekah," she shared. "Rebekah is a very passionate vegan. I became a raw vegan. It's great. And we should do as much as we can to eat vegetables for the environment. We all know that at this point, I hope."
Article continues below advertisement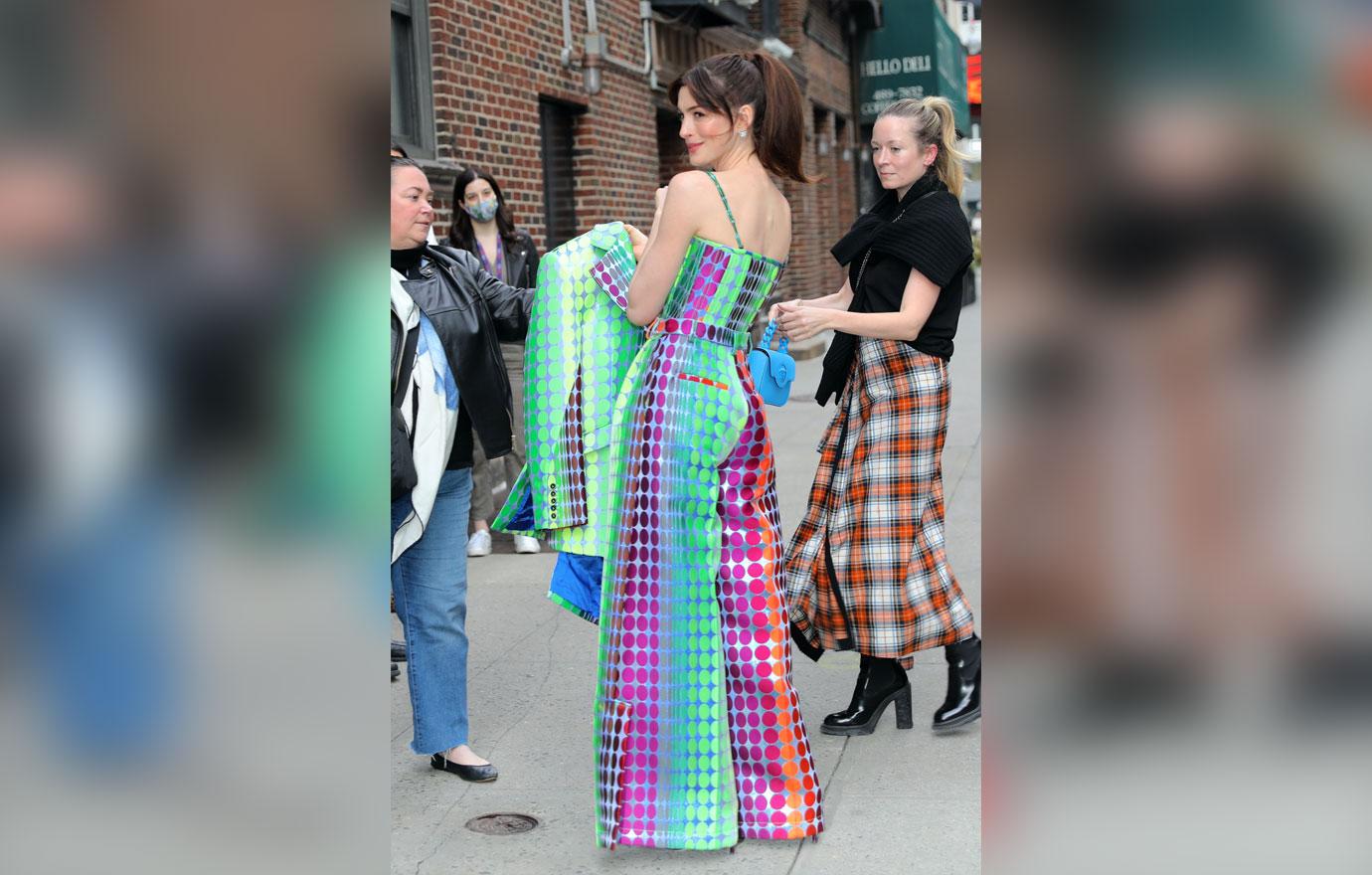 The Oscar winner explained that she used to go all out with method acting, but she's scaled back on that since becoming a mom. She added that the last time she was on Colbert's set she was secretly pregnant with her second child!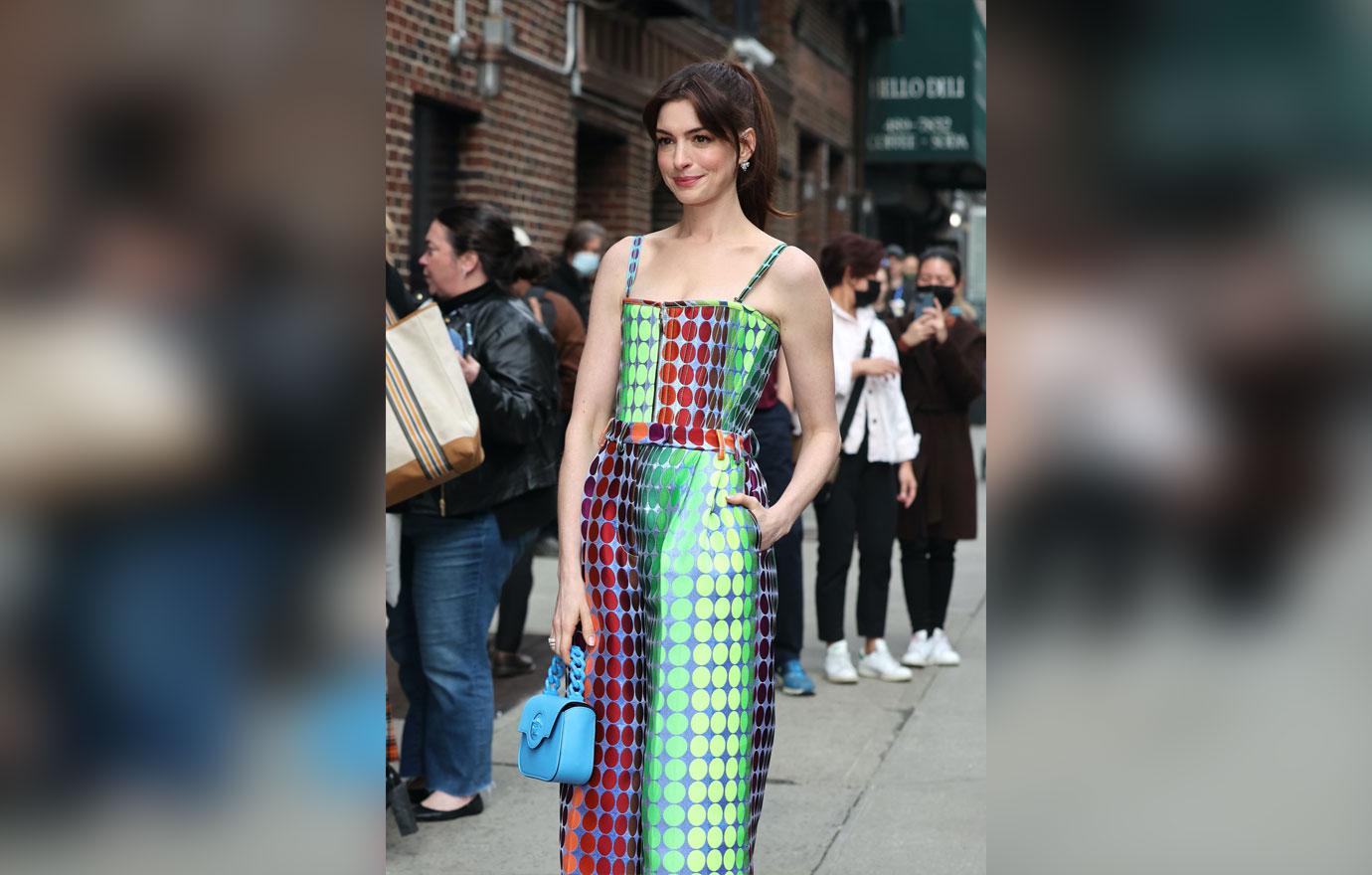 When it came to revealing her first pregnancy, she decided to share the news herself.
"I hadn't planned on ever confirming it and then I just ... I had seen a photographer while I was on vacation, taking a photo, and I just thought, 'It's such a joyful and a sacred experience, you know, carrying life,'" she said. "And I just thought, 'I don't want the first version of this to be out there with me covering or scowling at someone.'"