TruePeopleSearch.io: Revolutionizing Online People Search With Comprehensive Public Records
Have you ever lost touch with a friend or family member and found it challenging to reconnect with them? Or perhaps you've met someone online and want to verify their identity before going on a date or hiring them for a job. With the rise of technology, it's become easier than ever to connect with people, but the sheer volume of information and online profiles can make it challenging to find and verify the right person. That's where Truepeoplesearch.io comes in by offering a comprehensive and confidential solution to simplify the search process.
Truepeoplesearch.io's free people search provides a user-friendly platform that streamlines the search process, making obtaining a full and accurate public record people search report quick and effortless. The website's state-of-the-art technology collects, aggregates, and sorts billions of public records online, enabling users to access all the information they need in just a few clicks. This comprehensive database includes contact information, addresses, phone numbers, social information, and more, all updated daily to ensure that the information you retrieve is accurate and up-to-date.
Article continues below advertisement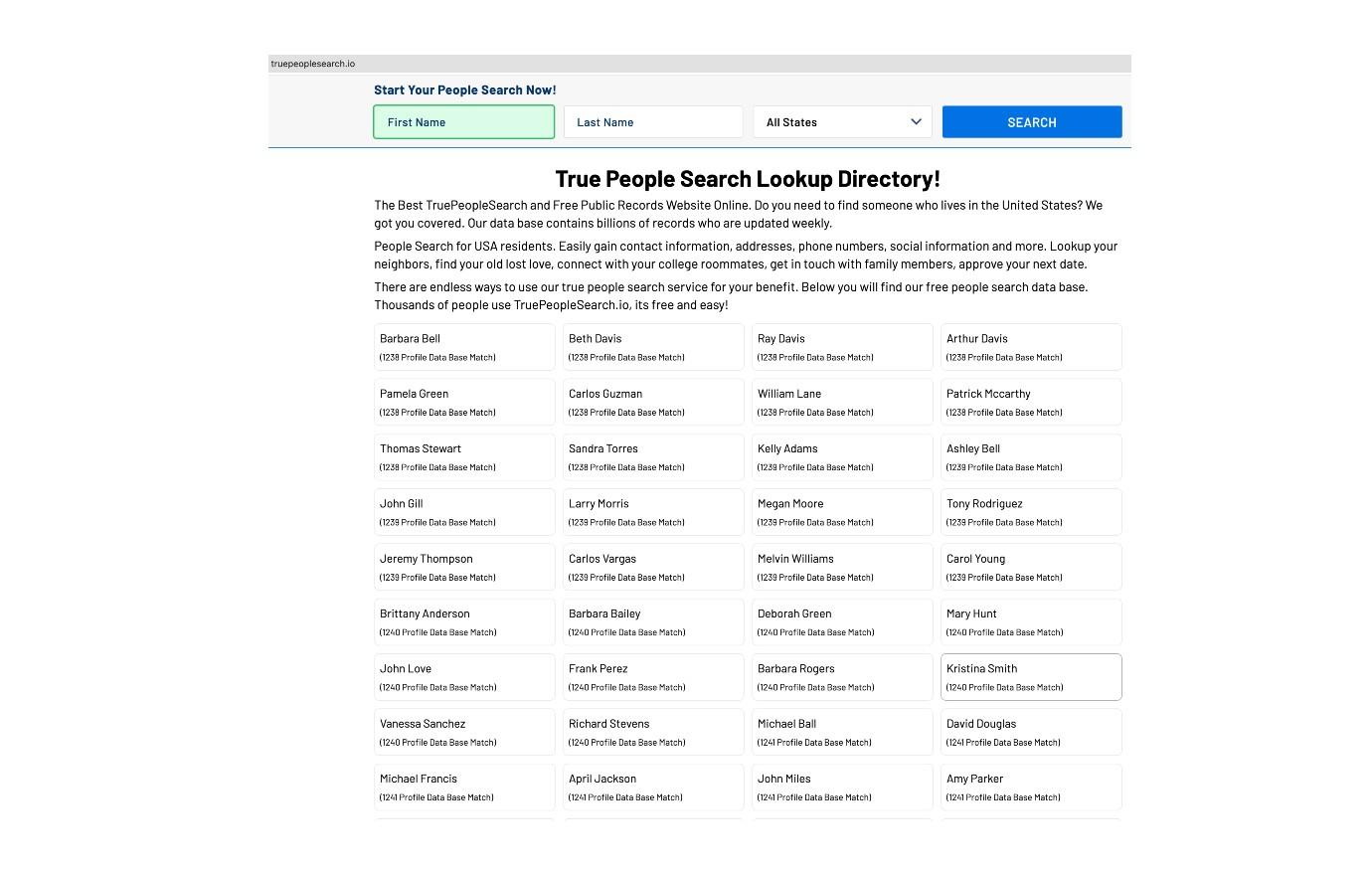 What sets TruePeopleSearch.io apart from other people search websites is not just its innovative technology but also its unwavering commitment to user privacy and confidentiality. The platform adheres to all Fair Credit Reporting Act (FCRA) regulations and requires users to follow its guidelines, ensuring that all searches on the people search website are 100% confidential and private. This level of discretion allows users to conduct their searches with peace of mind, knowing the person being searched for will never be notified that one has been performed.
TruePeopleSearch.io is more than just a platform for individuals seeking to reconnect with old friends. It's also a valuable resource for businesses and organizations performing background checks on potential employees or screening potential clients. The comprehensive and up-to-date public records database makes it easy for companies to make informed decisions and verify the identity of those they hire or work with.
Article continues below advertisement
Exploring the innovative technology behind TruePeopleSearch.io reveals the secret to its success: a relentless pursuit of accuracy and convenience for its users. The platform continuously updates its records and uses advanced algorithms to provide the most accurate and up-to-date information. This dedication to quality and innovation has made TruePeopleSearch.io a trusted people search resource for countless users.
Furthermore, if the platform cannot find the record you are looking for within its system, it will redirect you to a website that does. This level of commitment to finding the information you need demonstrates the platform's dedication to user satisfaction and convenience.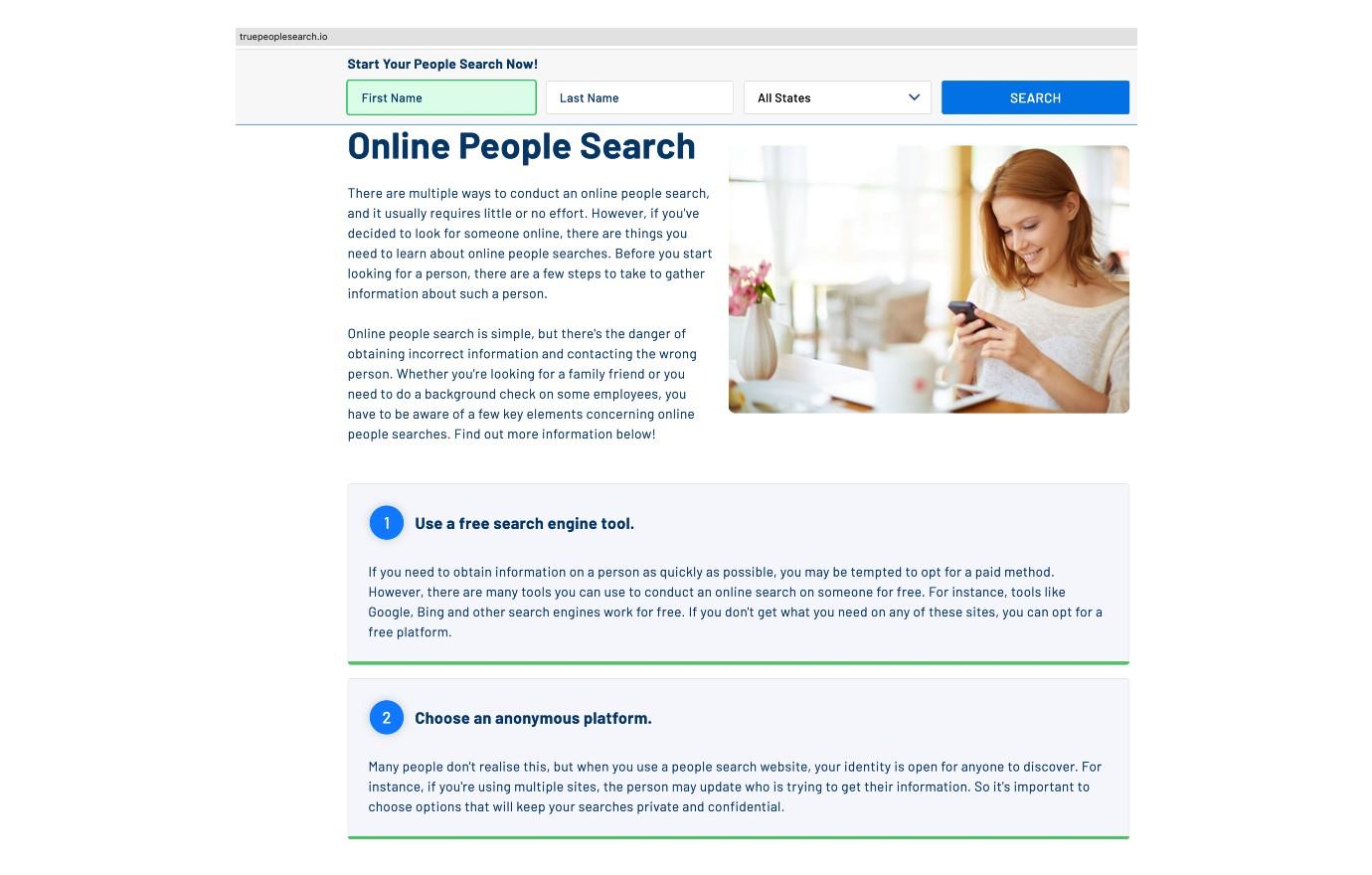 As technology continues to shape how we interact with one another, TruePeopleSearch.io offers a solution for those seeking to reconnect with loved ones or verify the identity of someone new in their lives. With its innovative technology and comprehensive public records database, the platform simplifies the process of finding and reconnecting with people who matter. Whether you're an individual trying to track down an old friend or a business looking to make informed decisions, TruePeopleSearch.io provides a trusted resource for anyone seeking to find people online.
By committing to user privacy, accuracy, and convenience, TruePeopleSearch.io has revolutionized the people search industry, setting a new standard for other platforms to follow. So the next time you need to find someone online, don't waste time sifting through irrelevant search results—trust TruePeopleSearch.io to help you locate the people who matter most in your life.