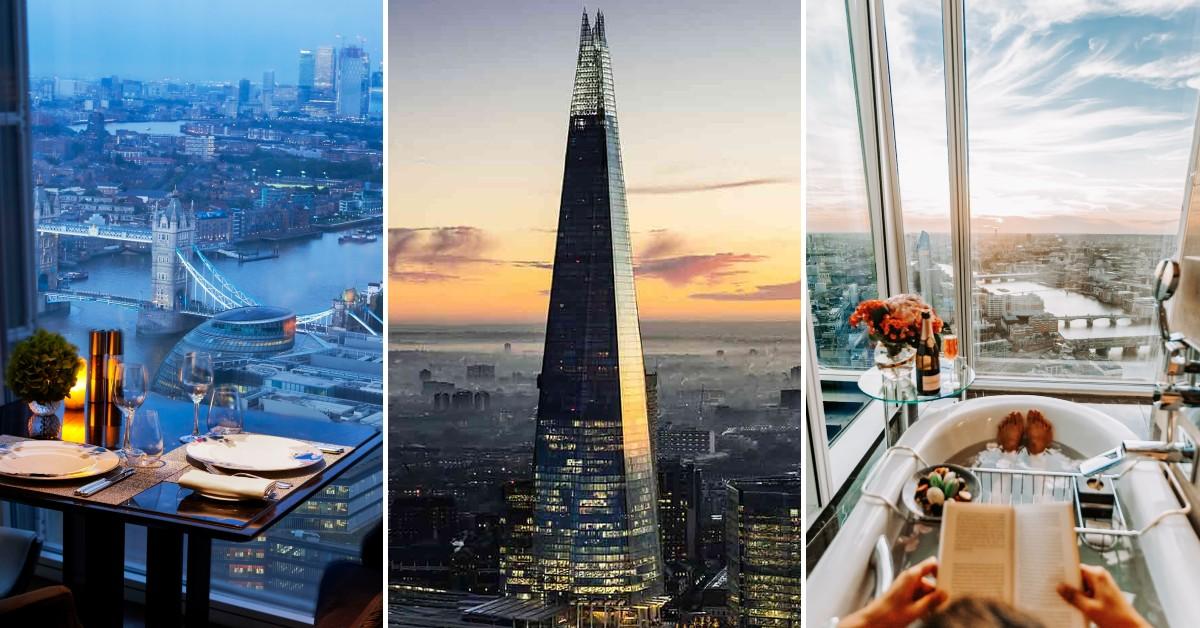 Experience Shangri-La The Shard, London's Most Luxurious & Highest Hotel
London is home to many iconic landmarks that define its skyline, but few can hold a candle to the impressive The Shard skyscraper – a structure that stands as Western Europe's tallest building and an architectural vision in its own right. Perched atop this towering wonder is the Shangri-La The Shard, London, a luxurious haven for guests that promises an unparalleled travel experience, seamlessly blending contemporary elegance with world-class hospitality and eye popping views .
Article continues below advertisement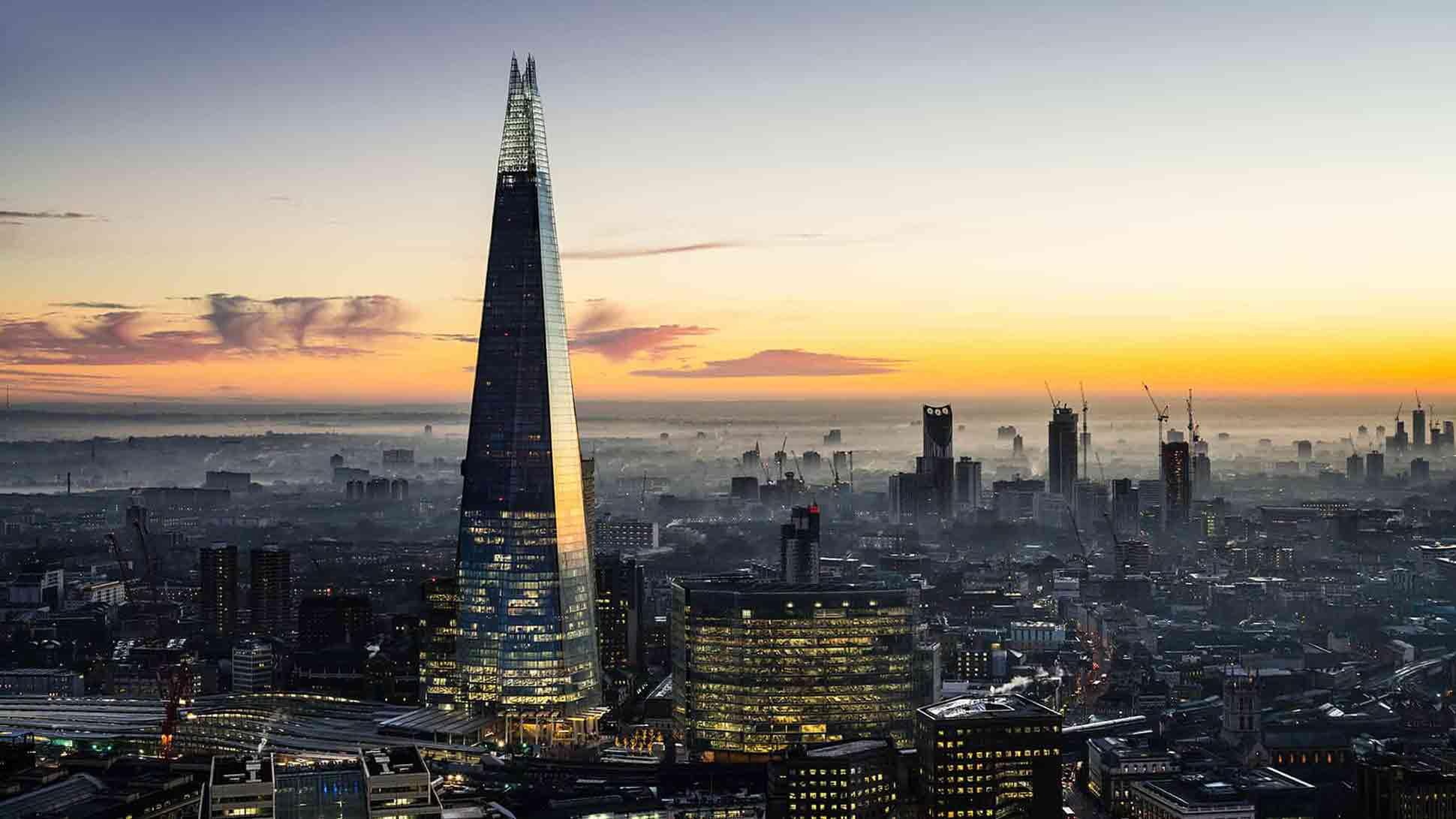 The journey up to Shangri-La The Shard, London begins with you stepping into an elevator that transports you from the bustling streets of London to a serene realm high above the city's hustle and bustle. From the moment guests step foot out of the elevator onto level 34, the stage is set for an unforgettable experience. 'Welcome to the clouds' reads a hand written sign scrawled on one of the sprawling windows overlooking London's cityscape on the 34th floor, where the hotel reception check in desk sits at a soaring 125 meters above the ground. Shangri-La The Shard Hotel, London occupies 18 floors of the Shard tower itself and this prime location allows guests to connect with the city of London in a unique way through panoramic skyline views that stretch out high over London's sprawling city landscape. Whether it's waking up to the sunrise casting a warm glow over the London Tower Bridge or unwinding to the glittering lights of the Thames at night, these views are truly unmatched.
Article continues below advertisement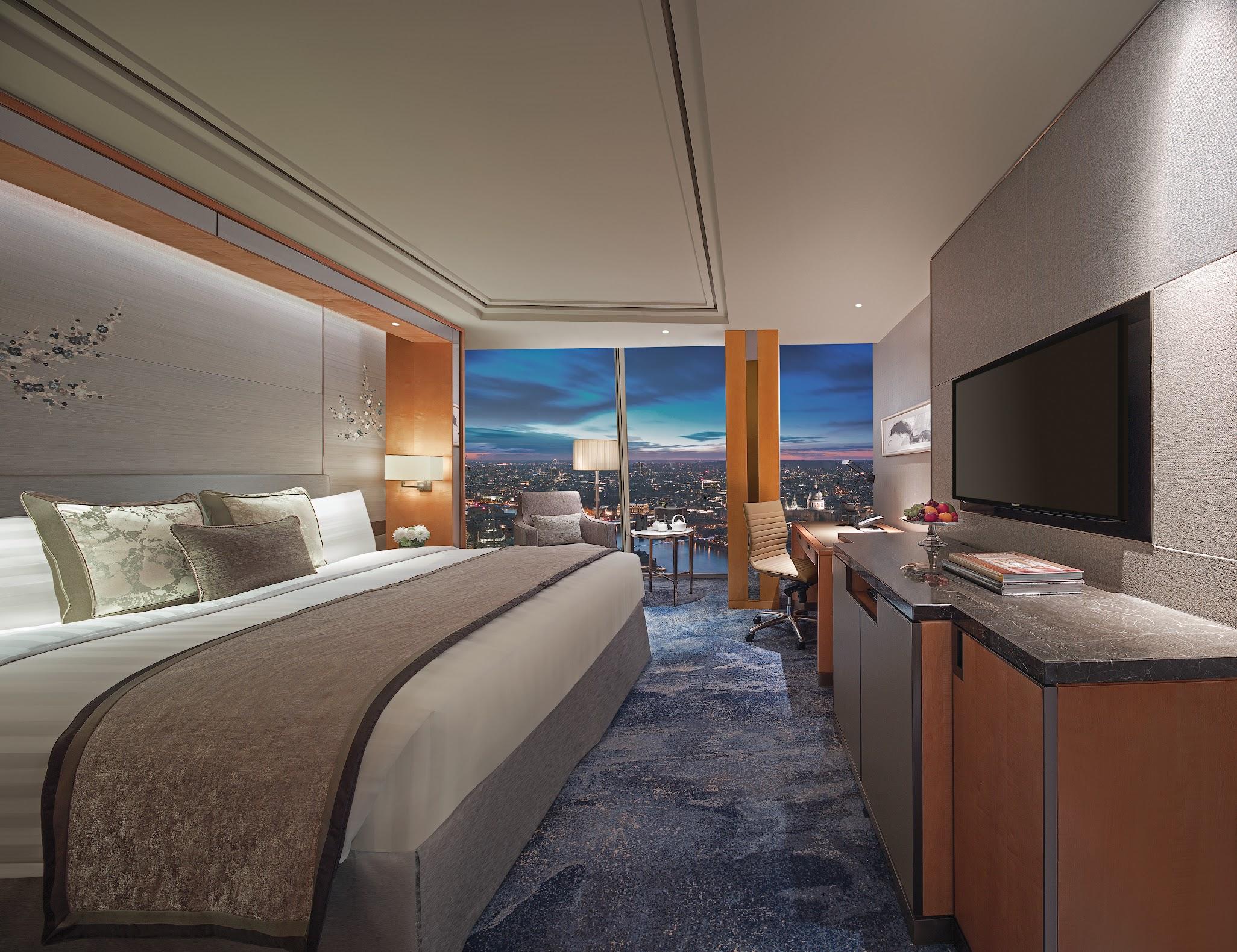 The hotel's 202 rooms and suites are more than just accommodations; they are private havens in the clouds that provide a front-row seat to London's many enchanting sights. Each room is highlighted by sophisticated décor with Chinoiserie touches and marble-clad bathrooms that feature heated floors and signature Jo Loves amenities. As for fans of a bath-tub with a view, the Shangri-La:The Shard, London is unbeatable ,with its floor to ceiling bathroom windows that allow you to soak up and relax in the tub ,while overlooking the most breathtaking bath tub London views you're likely to ever experience.
Article continues below advertisement
For those seeking further relaxation above the city's energetic rhythm, Shangri-La The Shard,London offers another unique relaxing escape with London's highest hotel infinity pool that awaits on level 52, where you can take a dip, while being enveloped in panoramic views of London's beautiful landscape. It's a tranquil oasis that contrasts beautifully with the city excitement going on below. And of course, for those more fitness conscious (even while on holiday) ,a hotel gym equipped with all the workout equipment you need to work up a sweat in the sky is readily awaiting just down the walkway from the infinity pool on the same floor.
Article continues below advertisement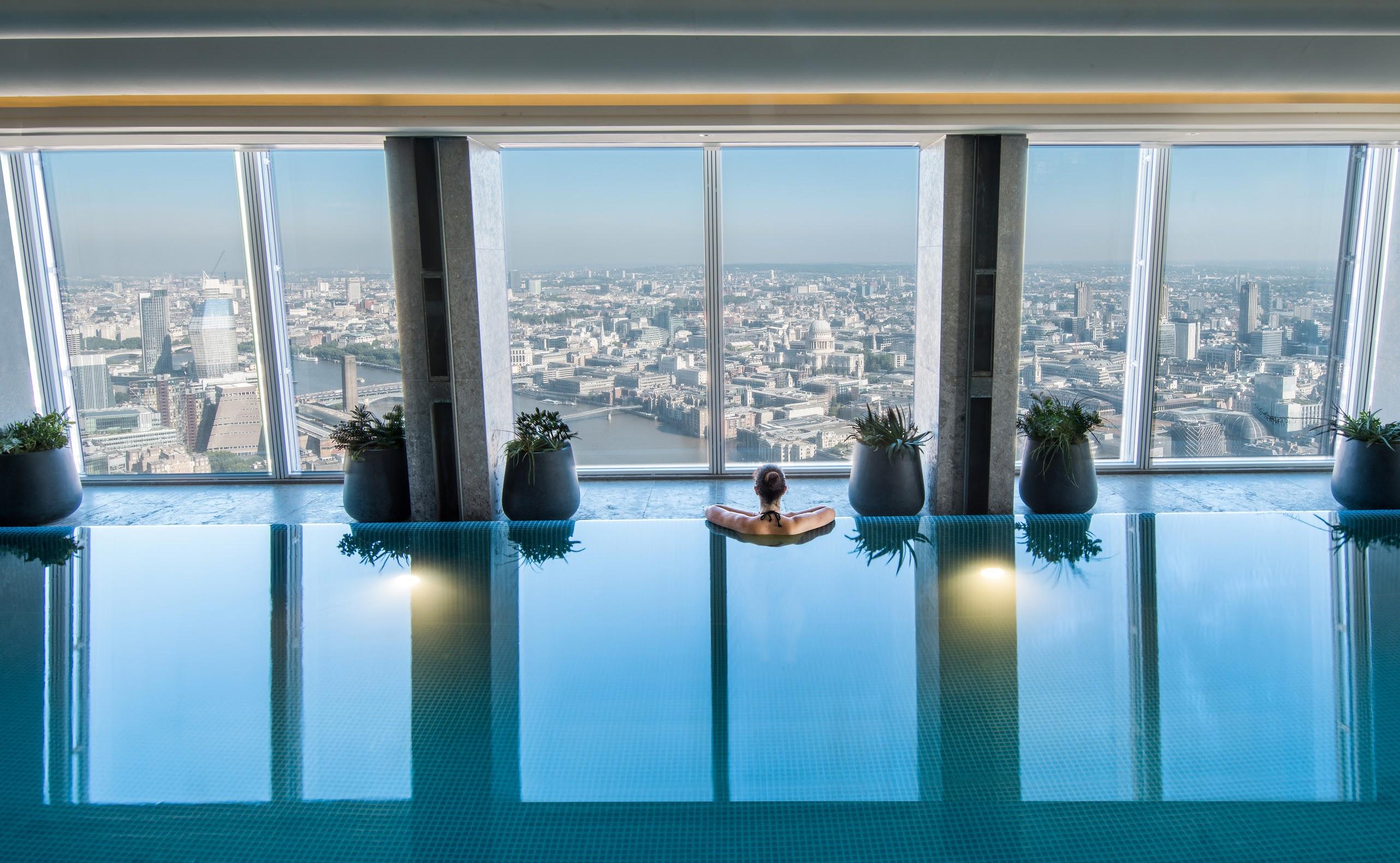 Culinary enthusiasts are also in for a treat at Shangri-La The Shard, London with three signature dining venues to choose from. First off for those seeking a more ground level experience , there is Bar 31 which is located on the ground floor of The Shard, which offers local craft beers on tap along with a range of spirits and wines and is an excellent meeting place to unwind over a few drinks in the heart of London Bridge. A brief elevator ride away up on level 35 is, "TING" restaurant and lounge which marries British and Asian-inspired cuisine, offering a gastronomic journey that celebrates the city's multicultural essence. Another short elevator ride up on level 52, sits the bar "GŎNG", which carries the title as the highest bar in Western Europe, which entices guests with innovative cocktails with an asian flair, while been surrounded by a mesmerizing 360-degree view of London's skyline that truly has to be seen to be believed.
Those looking for something a little more unique from their travel experience may be interested in looking into the new 'Find Your Shangri-La' brand campaign that offers an array of truly local experiences to uncover hidden gems in the destination of their Shangri-La hotel. Standout 'Find Your Shangri-La experience' at Shangri-La The Shard, London include the Royal Jews & Gin experience timed to the Coronation year at and a whimsical Afternoon Tea experience in the sky at TĪNG Lounge.
Article continues below advertisement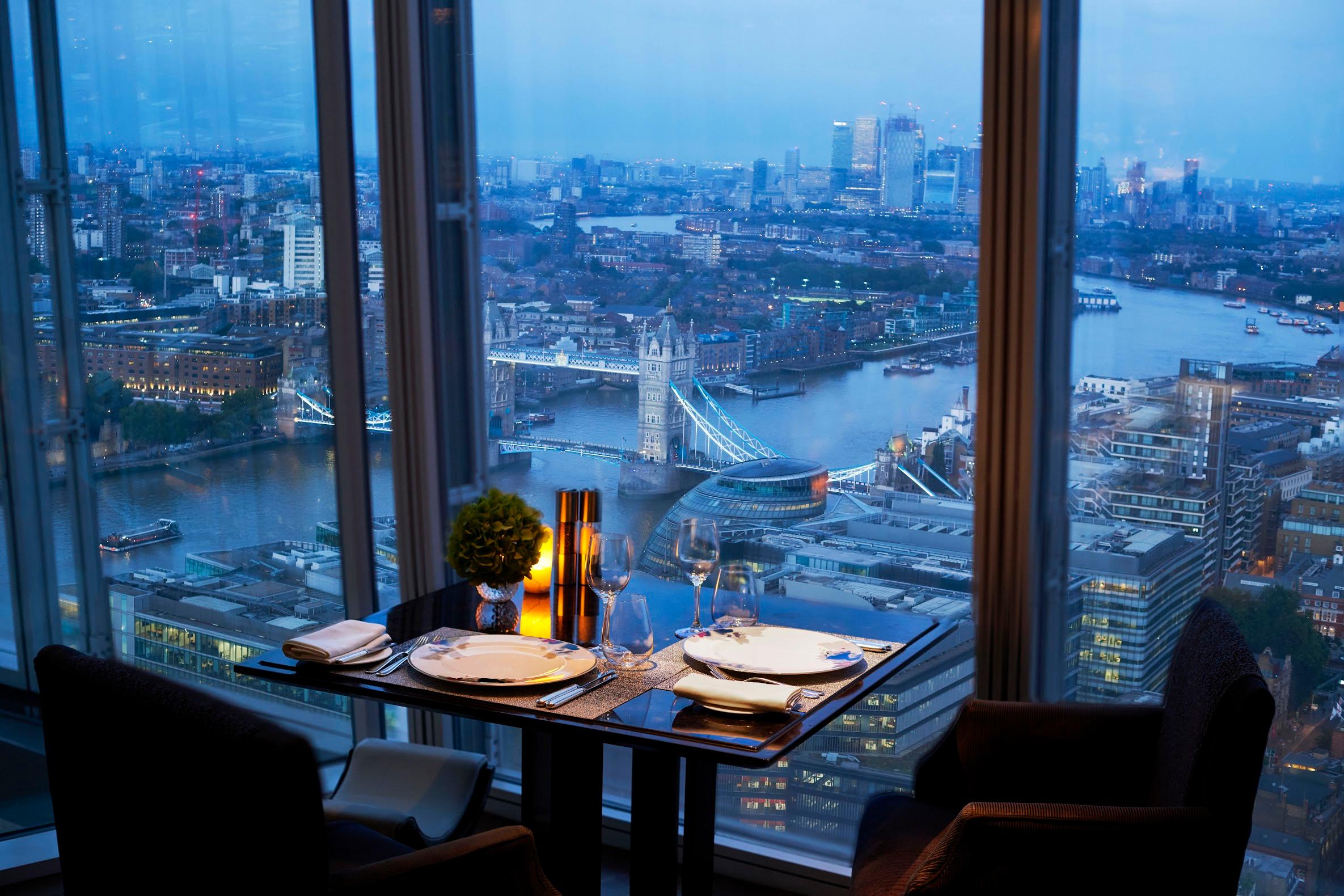 As an added bonus, the hotel's central location makes exploring London a breeze. Beloved landmarks are just a stone's throw away, making it easy to dive into the city's cultural history. Whether you're a food lover eager to explore Borough Market that sits just below The Shard or a history enthusiast drawn to the royal history of London's famous landmarks, Shangri-La The Shard London serves as the perfect starting point for all your London explorations, and promises an experience that reaches for the clouds – and beyond.