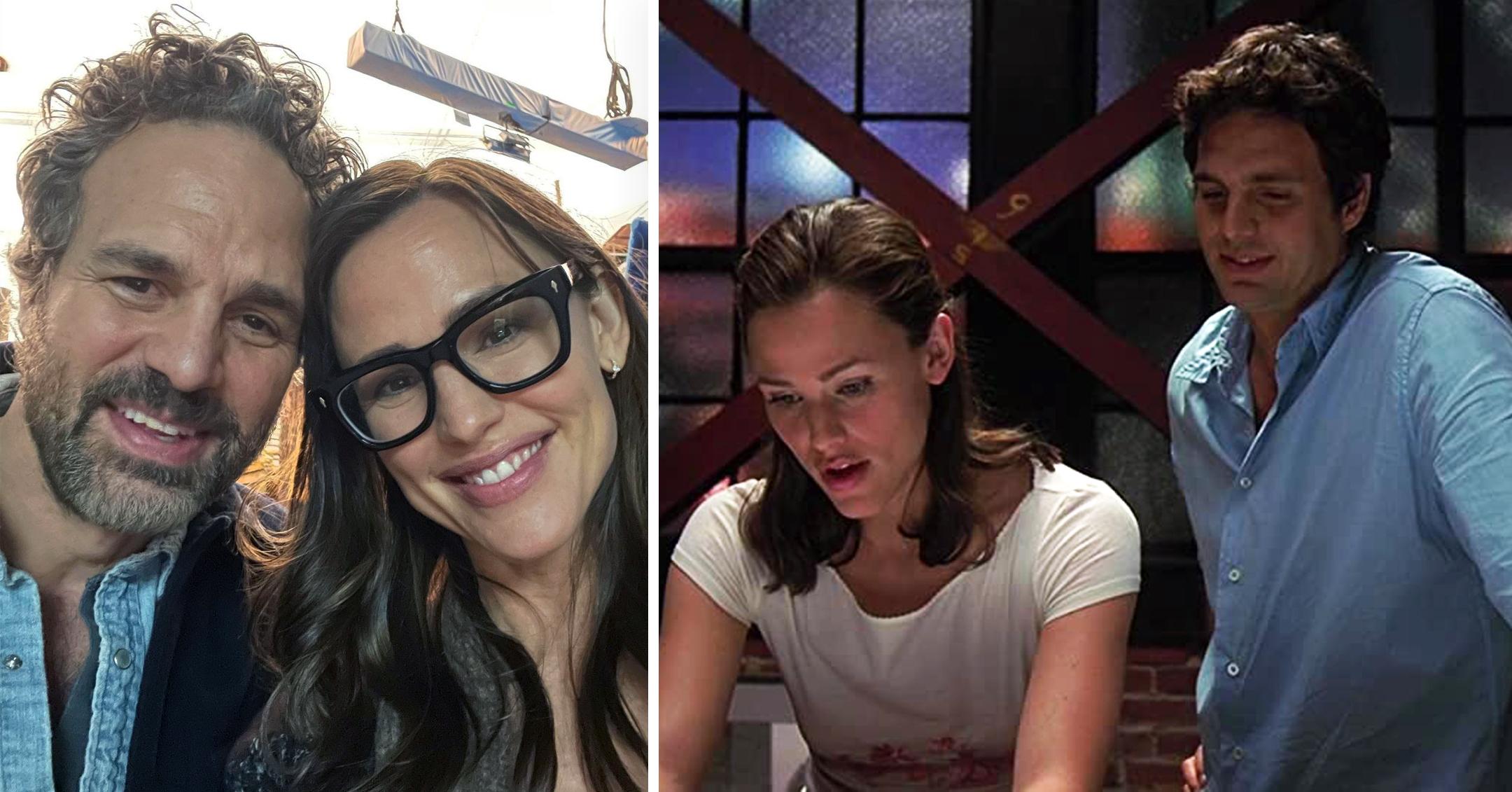 Razzles For Everyone! '13 Going On 30' Stars Jennifer Garner & Mark Ruffalo Reunited For Their New Movie And It's Too Cute
There's nothing better than a celebrity reunion!
13 Going on 30 stars Jennifer Garner — who played magazine editor Jenna Rink — and Mark Ruffalo — who played nerdy Matt Flamhaff — made fans very happy when they posted a photo of themselves on Tuesday, February 23.
Article continues below advertisement
"Reconnecting with an old pal," the 53-year-old actor captioned a photo of himself with Garner via Instagram. "Anyone know where we can get Razzles in Canada?"
For her part, Garner, 48, shared the same snap, writing, "Wishing dust worked! And I got a perfect day with my old pal."
Article continues below advertisement
Of course, celebrities quickly became obsessed with the photograph. Juliette Lewis wrote, "Oh my goodness. I love this so much and the two people in it!!!" while Chelsea Handler added, "The two nicest people in the world."
Ree Drummond commented, "Razzle Red!"
The two Hollywood stars are currently filming The Adam Project in Vancouver, Canada, in which they play Ryan Reynolds' parents.
Even though the rom-com aired in 2004, the two have fond memories from being on set.
Article continues below advertisement
"We had the sweetest time," Ruffalo recalled to Entertainment Tonight in 2019. "[Jennifer] was a big star then but I was kind of just starting out. She was just so lovely."
"We were making this really sweet movie that had a great message for young girls," he added. "We were all sort of coming into our own in that moment. We really loved that story, and Jen was just transformed into a 13-year-old girl. It was really amazing."
That same year, the Alias alum also gushed about working on the iconic film.
"Fifteen years ago today #13GoingOn30 made her debut, directed with ❤️ by our beloved Gary Winick 😇 and a clutch of loving, hardcore producers (3 brilliant women—before it was cool to be led by women!)," she captioned a slew of scenes from the movie on Instagram.
She continued: "The movie benefitted from the performances of so many young actresses. Open and twinkly-magical then— now, 15 years later, they are ruling the world. (Hi #SixChicks—@brielarson, @ashleybenson, @christabrittany—who also played a young me in Ghosts of Girlfriends Past—and my own sweet @revjuliaroth)."
Article continues below advertisement
Garner even touched upon the epic slumber party scene, where she "danced with abandon" and "reminded me of the power of just saying yes — to being in a group, to vulnerability, to wearing a bra over your clothes."
Article continues below advertisement
"At the last minute I tossed my adopted LA family member Maddy Sprung-Keyser into the scene. @maddsk went on to be an Academic All American swimmer at Amherst, got her law degree from NYU, and is producing podcasts for @pineapple.fm," she said. "Looking back into her adolescence—with the hair and the men not wanting to jump her bones—is extra special today. Imagine if every 13 year old girl had an opportunity to dance and feel beautiful like the girls in this film. I am proud of all of you. ❤️."
"I feel so, so lucky to have had the experience of making this joyful movie. And even luckier to be part of something that, all of these years later, can still make people (hi, @arianagrande 🤗) smile. 😁," she concluded.
Well, we can confirm that Garner and Ruffalo are still making us smile all these years later!